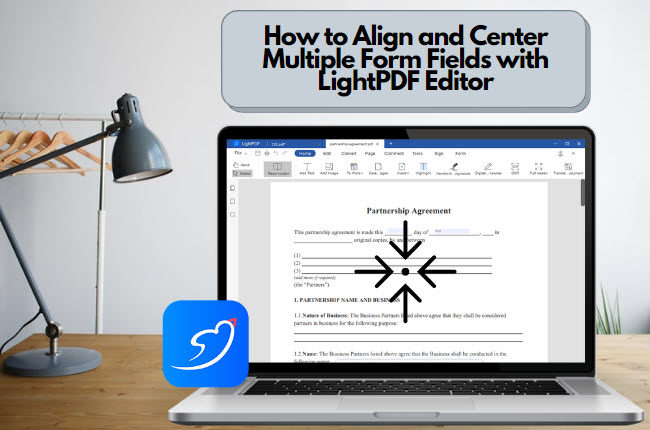 To ensure that the filled-in PDF forms are clearly arranged, several fields must be aligned and when making interactive forms. In addition, you can set some properties of PDF Forms, too. The following is a detailed tutorial on how to align or center form fields using LightPDF, please download and try it now.
How to Align and Center Multiple Form Fields
Open a PDF form with LightPDF, if you are not in form editing mode, choose the Form in the toolbar.

Select a field you want to align, hold the Ctrl key on the keyboard, and then select all of the fields that you need at the same time. If the border of the fields is as shown below, it means that it has been selected.

The Align tab will appear, please click it to choose Align Left/Right/Top/Bottom/Vertical Center/Horizontal Center, or Center Page Vertically/Horizontally/Both.

Alignment Tips

To align a column of fields, choose Align Left, Right, or Vertical. They align respectively to the left edge, right edge, or vertical axis (center) of the anchor form field.

To align a row of fields, choose Align Top, Bottom, or Horizontally. They align respectively to the top edge, bottom edge, or horizontal axis (center) of the anchor form field.

To center the fields, choose Center Vertically, Horizontally, or Both.

If you encounter any problems with LightPDF, please feel free to contact us.