Table of Contents
How ChatGPT Exentsions can boost our efficiency
We all know that ChatGPT web is a beneficial program that you can use to complete your daily tasks with its user-friendly interface. However, the interface also limits us if we want to scale our work. For example, the chatbot requires you to paste the content into the chatbot first. For people who have hundreds of documents which need summarization or modification, you can't imagine how heavy the task would be. But with ChatGPT extensions, your efficiency will be greatly improved. Below are the benefits that you can have by taking advantage of ChatGPT Chrome extension.
Seamless experience – Seamlessly incorporating ChatGPT extensions into your web browsers, you can use the AI-driven chatbot to handle your tasks without toggling between different websites, culminating in a more seamless and unified user experience.
Enhanced Customization – The general AI model usually can handle almost all sorts of problem but with poor accuracy and reliability of the generated answers. The extensions are exactly the opposite.
Improved Contextual Understanding – Extensions can be crafted to better understand the context of conversations, leading to responses more pertinent and dialogues that flow coherently.
Scaling your work – By using the appropriate extensions, you can scale your work efficiency 10 times.
Top 7 ChatGPT Extension You Need to Try 2023
LightPDF AI
LightPDF AI is undoubtedly the best extension to try. Most AI chatbot for files only support ChatGPT-3.5 because of the cose issue, while LightPDF AI has provided GPT-4 available for users to apply for analyzing the reports or articles on the website. With just one simple click, it starts the conversation automatically.
LightPDF AI is very friendly to people who have got some good-looking sources from goverment websites or authoritative websites, but are too lazy to read and summarize on themselves. It lets you chat with multiple files at a time, saving time and ensuring effeciency. One of the bonus feature is its follow-up question. It works when you want to follow up on the answer to a current question. As to the people who have no idea on the prompts, this is very helpful in getting deep thinking.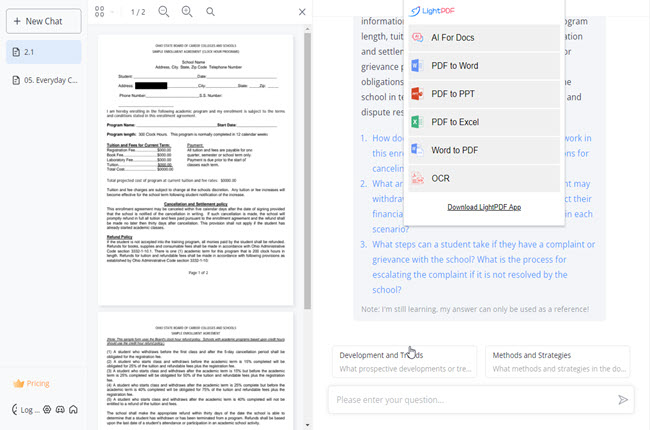 Pros:
Capable of summarizing websites.
It has the ability to chat multiple docs.
Almost supports popular document formats including PDF, DOCX, XLSX, PPTX, ePub, TXT, and scanned files.
GPT-4 Ready.
Cons:
NoteGPT
NoteGPT is the Chrome extension that offers access to summaries of YouTube content and enables note-taking while watching videos, saving you time and enhancing the learning process. Leveraging the power of ChatGPT's artificial intelligence, it effectively recreates the summary of the content. You can easily capture screenshots and create timestamped notes for the YouTube video. Additionally, it provides a convenient way to copy information from both YouTube and chat.openai.com pages. With this ChatGPT Chrome extension, you can know about what the video is talking about in minutes and drop to the clip that you are interested in.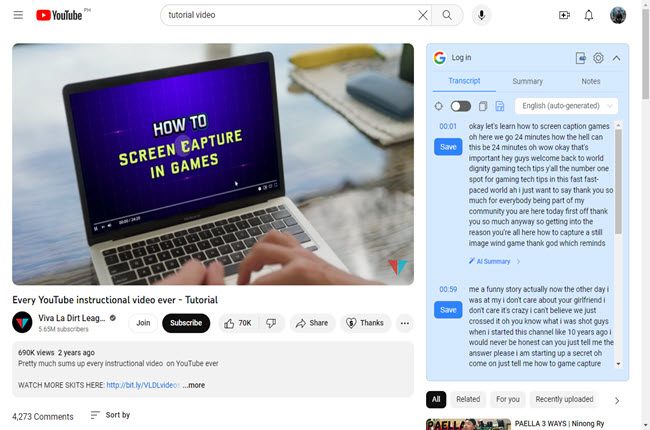 Pros:
Straightforward user interface.
Easily take timestamped notes and screenshots.
Saves you time from watch the video.
Cons:
Paid extension with limited trial.
ChatGPT Writer
ChatGPT Writer is an AI extension that empowers you to compose complete emails and messages. This extension is an ideal choice if you need to generate letters for business, school, or various other purposes. It is compatible with all Chromium-based browsers, including Opera, Mozilla Firefox, Brave, Google Chrome, and Edge. Not to mention, this extension offers support for nearly all languages, enabling you to craft emails and messages seamlessly, regardless of your location or region. Meanwhile, this ChatGPT for Chrome extension functions seamlessly on all websites and performs exceptionally well, particularly on Gmail.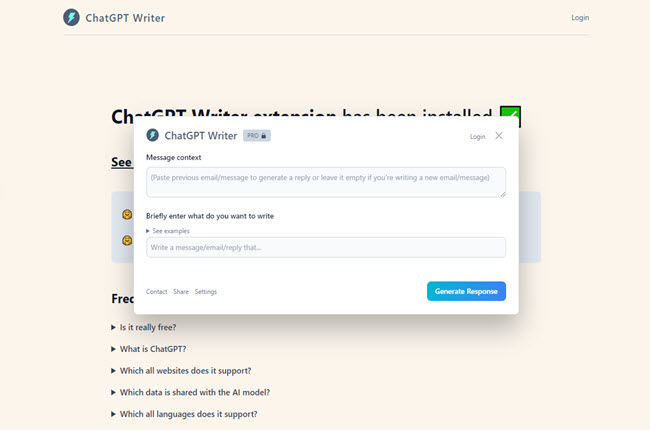 Pros:
Works on all websites.
Supports all the languages all over the world.
Compose quality responses among other AI tools in the market.
Cons:
Privacy concerns.
Limited contextual understanding.
Wiseone
Wiseone seamlessly integrates ChatGPT with your browser to help you enhance your online reading experience. It automatically breaks down complex sections to improve comprehension. The extension offers a range of valuable features, such as Discover, Cross-checking, Ask Anything, Summarize, and Suggestions, collectively transforming how you approach online reading and information exploration. By using this ChatGPT extension, you can better understand complex concepts and verifies information using multiple sources, ensuring accuracy and reliability.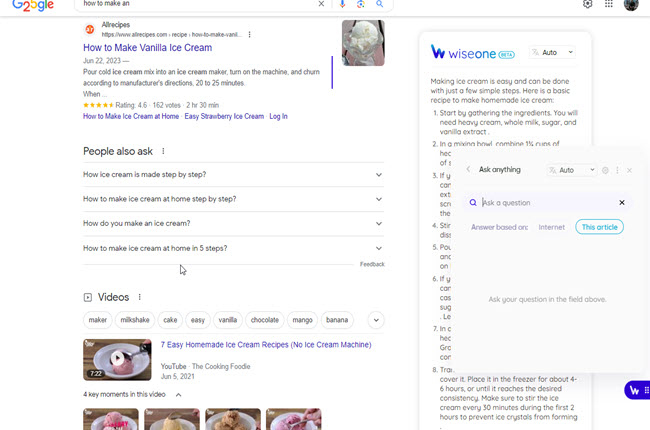 Pros:
Lets you understand complex concepts and phrases.
Capable of answering any questions regarding the web page you're reading.
Helps you to read more efficiently with cited sources.
Cons:
Only works with Google Chrome.
Potential access issues with new websites.
Monica
Monica is a versatile AI co-pilot ChatGPT chrome extension you will need. One notable feature of this extension is its ability to answer complex questions. Apart from that, it can compose emails, read articles, and perform smart searches, simplifying time-consuming tasks. And it even offers the access to summarize YouTube videos in your web browser's sidebar. Compared to other extensions, this one looks more like a toolkit including many practical and commonly used tools in one.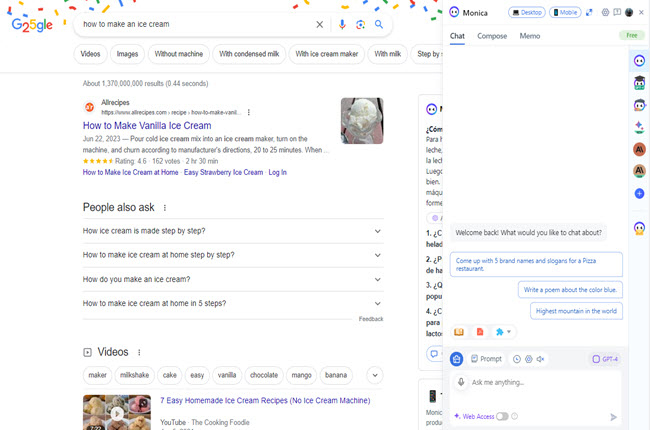 Pros:
Suitable for multi-purpose.
Capable of generating images.
Lets you ask questions or input prompts by voice.
Cons:
There are times that this extension can't answer complex questions.
MaxAI.me
MaxAI.me is an extension that makes your web browser like a ChatGPT interface. Once activated, it opens a sidebar within your active browser tab, granting you the instant access to the AI chatbot. MaxAI.me doesn't only brings the power of ChatGPT to your browser, it also integrates with other popular AI models including Bard, Bing AI, and Claude. You can utilize the keyboard shortcut Cmd/ALT +J for easy access to the chatbots.
Additionly, this ChatGPT Chrome extension isn't limited to online usage, it can also be employed with local PDF files for tasks such as adding AI-generated text, refining content, or translating text.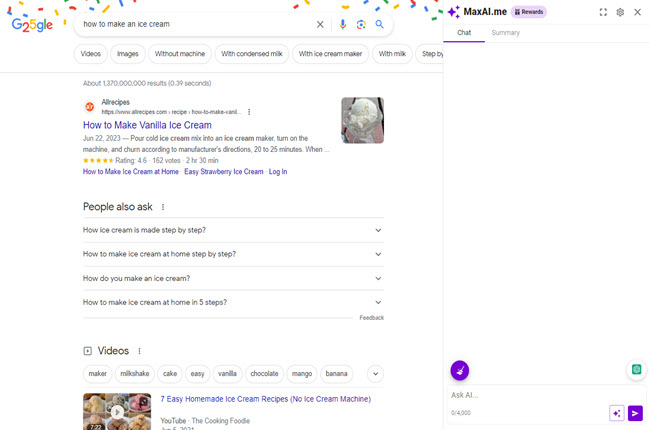 Pros:
Shortcut settings make the usage experience more convenient.
Capable of generating codes with ease.
It can re-write any form of text document.
Cons:
Offers 7 days of unlimited free use.
The chat responses are not being saved.
Talk-to-GPT
The last one is Talk-to-GPT. This one provides an effective solution for individuals who prefer not to type their inquiries. It facilitates spoken conversations with ChatGPT by utilizing your microphone to convert speech into text, delivering AI-generated responses audibly. This extension supports a wide range of languages and smoothly integrates with the ChatGPT homepage. This ChatGPT for Chrome extension presents a user-friendly approach to enhance your ChatGPT interaction, tapping into the speech recognition and text-to-speech technologies inherent in Google Chrome.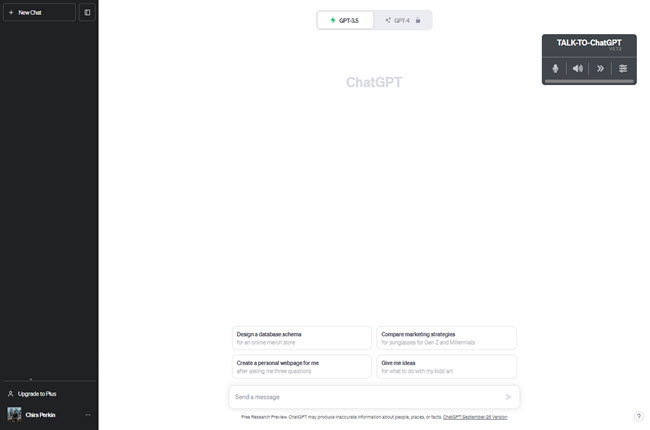 Pros:
Allows you to ask questions through speech.
Wide language support.
Free to use chrome extensions.
Cons:
Only works with Chrome browser.
Its interface is only located on the top right corner.
Conclusion
In the rapidly evolving field of artificial intelligence, Chrome extensions emerging as transformative tools in the realm of AI-driven chatbots and virtual assistants. These extensions offer a multitude of benefits that ChatGPT web can't provide. Choose one of them to start optimizing your work and boost efficiency.