Three Ways to Easily Have ChatGPT Read PDF
Offer the link to ChatGPT
We are aware that ChatGPT is an AI model that analyzes and responds to text using natural language. However, it is not equipped to open file formats like PDFs, or other document file like Words, Excels, and PPT. One of the most effective ways to process a PDF in ChatGPT is to share the file's link in its chatbox. This is a straightforward and helpful method to utilize if you want to process your PDF using the program. Below is simple steps that guide you on how can ChatGPT read PDF files through the document's direct link.
Open ChatGPT and the PDF on your web browser.
Then copy the url of the PDF file.

Paste

the link on the chatbox, and submit.

Wait for a few seconds

to let ChatGPT start analyzing the content of the PDF.
Cons:
ChatGPT can't respond to all links that you provide.
Paste the text from PDF
Another approach to process your PDF file with ChatGPT is to directly copy and paste the content from PDF into ChatGPT. One issue that you may have is the format might be messed up, and you'll have to spend time adjusting them. Alternatively, you can also choose to use some free online tool to directly convert PDF to Text or Word, LightPDF is one of the best try to go. It is a user-friendly yet professional one-stop PDF solution software that enables you to convert PDFs from various file formats or vice versa, such as Word, PowerPoint, Excel, Text, JPG, PNG, and others. Before you have ChatGPT read PDF file, here is a easy guide to convert PDF with LightPDF.
Head on to the tool's official website using your frequently-used browser on the computer.
Then, proceed to the "PDF tools" menu to select "PDF to TXT" function.

From here, click the "Select Files" button to upload, or drop the PDF file into the area.

Then click the "Convert" button to start the converting process.

Finally, click the "Download" button to save the output. Then, open to access the content in Text file to start analyzing the content with ChatGPT.
Cons:
ChatGPT has a limitation on the long characters in one chat.
Using simple third-party software
Besides the above methods, there are a lot of third-party software or apps that can make ChatGPT read PDF. Most of them use ChatGPT API to process your tasks. Correspondingly, you have to pay for the service sometimes if your file is large and long beyond the limit.
LightPDF AI for Docs
LightPDF AI for Docs is one of those ChatGPT API-powered software that allows you to upload PDF to chat. The answers are completely ChatGPT generated. It almost covers all features that ChatGPT empower people can do in terms of documentation processing. It allows you to summarize content, extract data, generate outlines, and obtain answers from large PDF files. Upon uploading the document, the chatbot offers several preset questions about the content uploaded which you can follow to put forward your prompts. An excellent feature is many other file types are supported besides PDF, including scanned files, Word, Excel, PowerPoint, and ePub. And it has three mode for answers – balanced, precise, creative, which you can select one mode for the style of answers you prefer to get.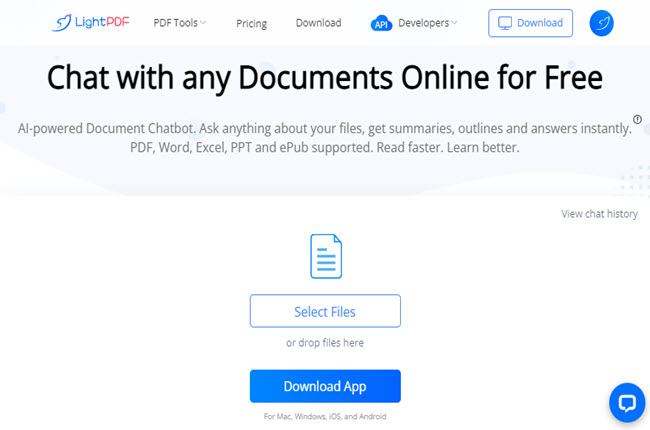 Pros:
Offers Free and paid plan for users to choose.
Free version supports to upload up to 200 pages per PDF without file size limit.
Works beyond PDF, including Word, PPT, Excel, ePub, and scanned file.
Give the citation source for the generated answers.
Accessible with all devices that have installed a web browser.
Allows to download chat history.
Cons:
Free version has limits on file type and number of pages per PDF and chats.
ChatPDF
Another online program is ChatPDF, which is powered by ChatGPT that offers a convenient way to understand textbooks, handouts, and presentations in PDF format. With ChatPDF, you can save a great deal of time in searching and firguring out the key points from the long file. No matter what type of the content is – financial reports, sales reports, business proposals, etc, it can always generate the content you want based on your prompts only if it's encoded in PDF format. There is no deny that it can be one of the best alternatives to using ChatGPT read pdf file.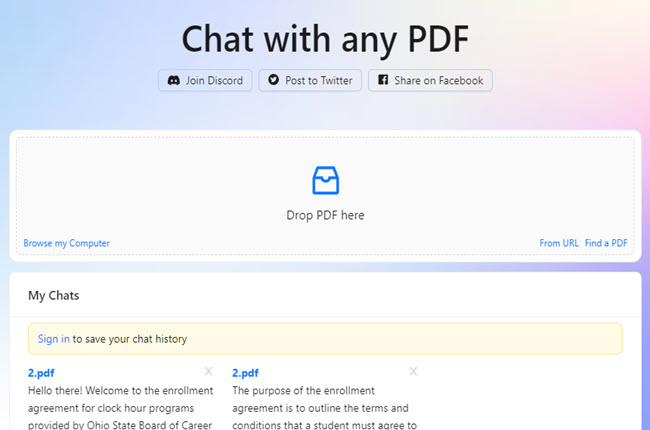 Pros:
Provides free and paid plan for different users.
Supports to upload PDF via URL directly, or drop file.
Saves the chat history on its website for later access.
Cons:
Only supports PDF file format at the moment.
Free version has strict file and use limits.
ChatDOC
The final online AI program that can provide service for ChatGPT read PDF is ChatDOC. Powered by ChatGPT, this file-reading assistant enables you to extract, locate, and summarize information from PDF. It even allows for upload of a file folder and chat. As for the answer generated, it will also cite the source so you can quickly locate the content in the original file. Instead of wondering how ChatGPT can read PDF files, you can use this program as an alternative to process different kinds of documents, particularly PDFs.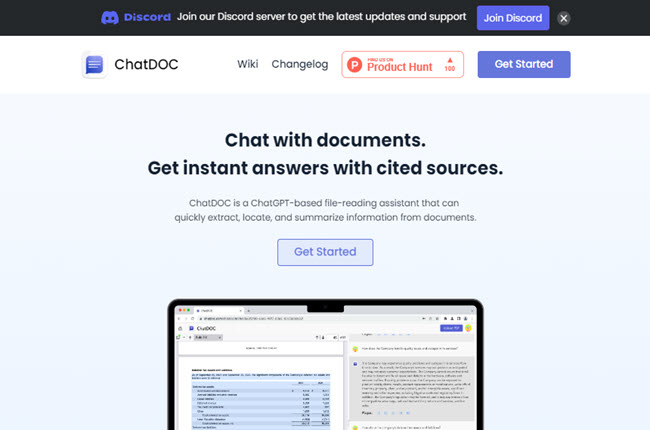 Pros:
Has a drag-and-drop feature for a faster uploading process.
Supports to select content in the file and ask questions.
Works with different web browsers.
Allows you to adjust the font size of the file.
Cons:
Takes long to process documents.
Free version only processes 2 documents per day.
Conclusion
That is the complete guide to enable ChatGPT read PDF files. You can choose the suitable method to try reading your PDF file based on the facts you are having. If you have large files for processing, try the third-party tools and its paid plan in your affordable budget, they really save your time and escalate your efficiency.