In this article, we will introduce the leading AI programs that you can use for your daily tasks. Additionally, we will also show you the simplest ways to summarize PDF with ChatGPT API programs and LightPDF AI for Docs. Start digging deep into this blog to learn more about this topic.
How to summarize PDF with ChatGPT
How Far has ChatGPT Developed and Why it so Popular?
ChatGPT has gained popularity due to its versatility, user-friendly interface, and ability to produce high-quality text. It has been widely adopted in various domains, including content creation, customer service, education, and creative writing, making it a valuable tool for diverse users. One good thing about this is that its capability to understand and generate human-like responses conversationally has also contributed to its popularity, enabling engaging interactions with users. However, it's crucial to note that as an AI model, ChatGPT has limitations and should be used responsibly, with human oversight to ensure the accuracy and appropriateness of its outputs. And if you're wondering about its capabilities, like if you can use ChatGPT to read PDF, you can read the next part of this article to see if it works with that matter.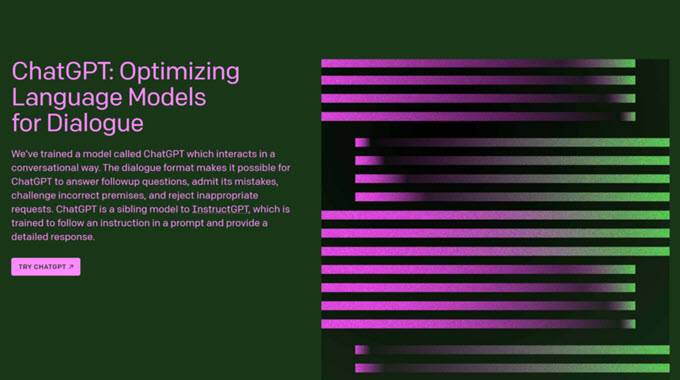 Impact of ChatGPT to Users
ChatGPT has brought about significant changes in the way people work and learn by leveraging its capabilities as an AI language model. Furthermore, it has revolutionized the different aspects of daily tasks, even if you're a student or a professional. These include content creation by providing a powerful tool for generating high-quality text, streamlined customer service by enabling automated and personalized support, impacted education by serving as a valuable resource for learning and teaching, sparked creativity and innovation by assisting in brainstorming and creative writing, and facilitated collaboration and communication through its conversational capabilities. In the next part, we will show the best way how you can use ChatGPT to analyze PDFs with ease.
Can we use ChatGPT to Analyze and Read PDF Files?
As one of the popular AI language models, ChatGPT uses advanced techniques to generate text that resembles human language. Apart from that, it can respond to prompts or questions in conversations, providing meaningful and coherent responses. Due to its ability to engage in interactive and dynamic conversations with users, it has been used in various areas. Despite its cool features, this AI has limitations also like you can't directly summarize PDF with ChatGPT.
You have to convert your PDF files to Word first and then copy the Word contents to ChatGPT to analyze. Luckily, we've got a quick fix using a third-party app named LightPDF so that you can summarize your PDF files with ChatGPT.
First, go to the LightPDF official website and go to the "PDF Tools" menu to select the "PDF to Word" function.
Second, click the "Select Files" button to upload the PDF.

Third, click the "Convert" button to start the process.

Fourth, click the "Download" button to save it on your PC then open it to copy the content of the converted PDF to Word file.

Fifth, visit the official website of ChatGPT to paste the Word contents to start summarizing.
Helpful AI tools to Read and Analyze PDF Directly
LightPDF AI for Docs
Since ChatGPT has a limitation in summarizing PDF directly, we will show the best alternative that you can use for free. Here we have the newly developed feature of LightPDF named LightPDF AI for Docs. This is a useful program in that users can quickly get summaries and outlines after uploading a file in various formats with ease. You can also ask any questions about your files and will get answers instantly. One good thing about this is that it supports the most popular file formats nowadays aside from PDF. In addition, you don't need to use third-party apps to read PDFs using this program.
Check the steps below to start using this program in analyzing large-scale PDFs with this program:
To start, visit the tool's official website and head on the "PDF Tools" menu, and select the "AI for Docs" tools.

Next, click "Select Files" to upload the documents from your computer.

After that, you can now start summarizing the PDF file or ask questions about the file being uploaded on its website.

You can also go to the "View" section to read or see a preview of the file you upload.
ChatPDF
After having an idea of how to summarize PDFs with ChatGPT, we will introduce another tool available that you can use to summarize PDFs directly, ChatPDF. This is an online software that offers quick access to lengthy PDFs and improves your learning process using AI-driven technology. Using this program allows you to understand textbooks, handouts, and presentations more easily without spending excessive time reading academic articles or research papers. As a professional or student, you can efficiently review diverse PDF documents, including financial and sales reports, project and business proposals, training manuals, or legal contracts.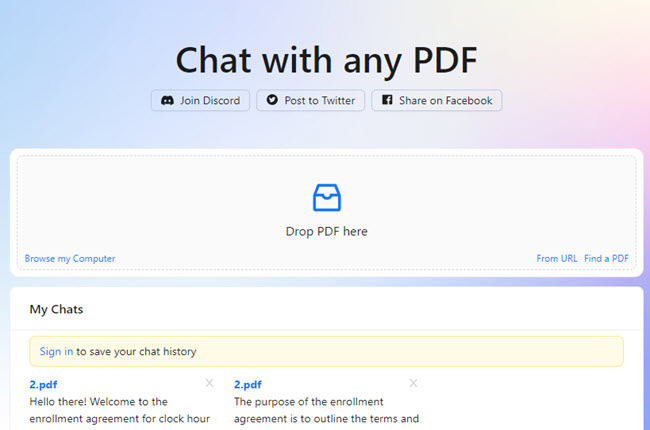 Conclusion
To sum it up, this article talks about how you can summarize PDF with ChatGPT and other AI programs on the internet. However, we recommend you use LightPDF AI for Docs because ChatGPT doesn't allow users to read or summarize PDFs directly. For more suggestions, feel free to write your comment below.