4 Tools to Let You Use GPT-4 for Free
LightPDF AI for Docs
LightPDF AI for Docs is a GPT-4 powered assistant for reading and analyzing documents. After you upload your files, it will automatically generate a brief description for the file, and you can prompt your follow-up questions based on the three basic questions. Almost all types of documents are supported to uploaded, including PDF, Microsoft office files, scanned images, TXT, and EPUB.
With the help of this GPT-4 powered tool, you can save yourself from long-time reading, marking and extracting for the keypoints. Another point worth nothing is that LightPDF AI for Docs is equipped with both ChatGPT 3.5 and GPT-4 model, and you will find the obvious difference on the answers they generate for one question. The answer generated with GPT-4 is more comprehensive, clear and understandable.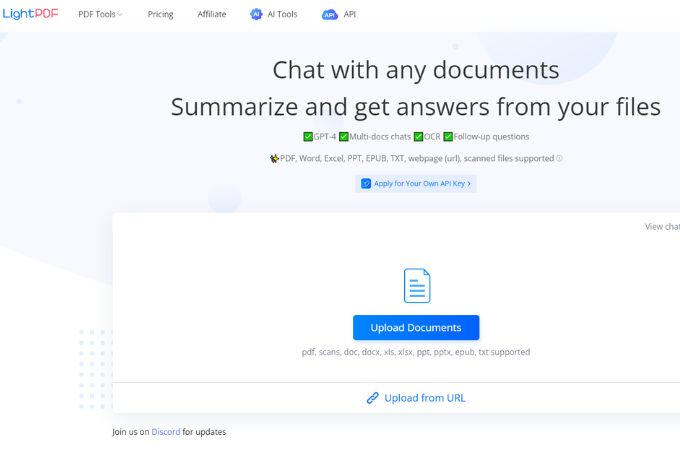 Pros:
Freemium software with trial version
A user-friendly interface to all ages
Integrated with GPT-4 AI model
Cloud-document features allows for team collaboration
Provides responses based on cited sources to ensure accuracy
It supports multi-platform and multi-language.
Cons:
It requires internet connection to access all its features.
It may be restricted to specific platforms.
Chatsonic
Chatsonic is an a full-feature AI chatbot for content writing, boosting efficiency for users. This versatile tool can create high-quality text, images, social media content, emails, and even entire website content. Now powered by the latest GPT-4 model, you cannot only use GPT-4 for free on this tool, but also overcome the limits of ChatGPT.
Chatsonic has made all steps very easy to start. You just need to input your data of your business, choose your content type, then let Chatsonic to create the magic for you. It will automately generate the content in your tone that suits your website or social account best , saving you valuable time and effort in writing your post or update. Although it's not available for free, Chatsonic offers a free trial with a monthly limit of 2500 words, making it an exceptional tool for various tasks.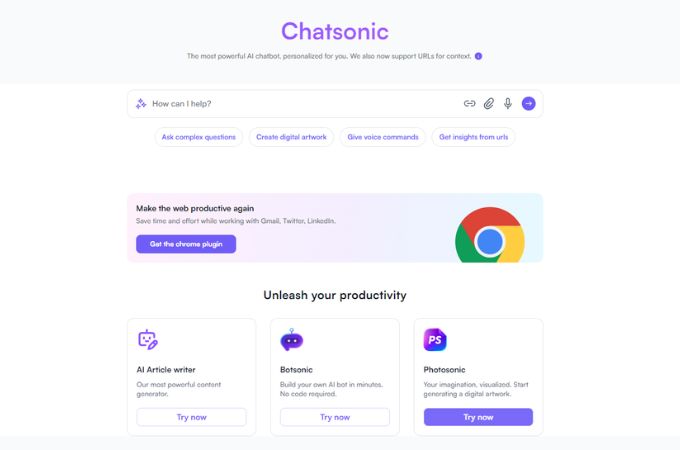 Pros:
Not only a text content generator but also an image generator
Provides a voice command feature
Translate text from one to another in more than 20 languages
It always has up to date factual responses
Cons:
Free trial version with 2500 words limit
Sometimes the app cannot give the exact image that you want
Bing AI
Another way to use ChatGPT-4 for free is by utilizing Bing AI, which is also powered by GPT-4 as well as DALLE 2. By typing your questions in the chatbot, Bing will search for the answers in the search engine first, then generate the answer based on them and give you the citations and links that are relevant to the answer it provides. In addition to that, Bing is also able to compose paragraphs, emails, blogs, and ideas in your preferred settings. If you set Bing as your default broswer, you can always take advantage of this free ChatGPT-4 tool anywhere on any device. Notably, there are some supplementary functions that GPT-4 lacks.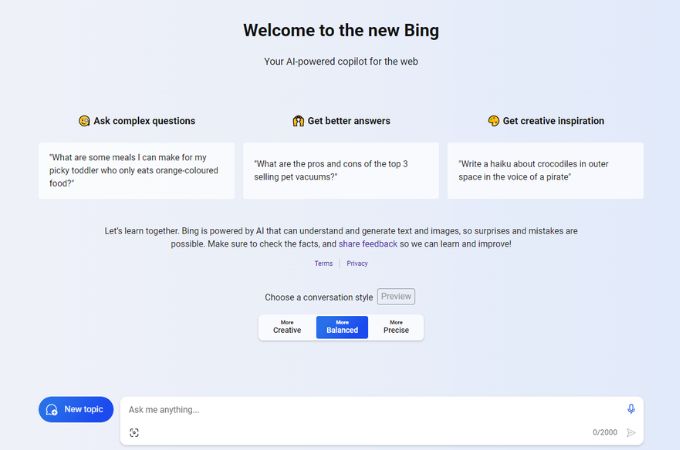 Pros:
It generates human-like responses
Supports a wide range of languages
It also consists of three conversational modes: Precise, balanced, and creative
Give you citation sources for generated answers
Cons:
It only offers limited chats per session
Most of the time chat responses are shorter than you expected
Ora AI
Ora.ai is a user-friendly platform which allows users to effortlessly create chatbots with personality by building natural language models and training them using real-world data. Ora.ai offers seamless integration with existing applications, setting it apart from other similar software solutions. This versatility makes it a valuable choice for individuals and businesses looking to craft chatbots for marketing, automating tasks, and enhancing customer support.
Ora.ai allows users to use GPT 4 for free. For people who cannot afford the budget for ChatGPT-4, this one is a worth trying alternative. And it has an awesome advantage over GPT is there is no message restriction at all.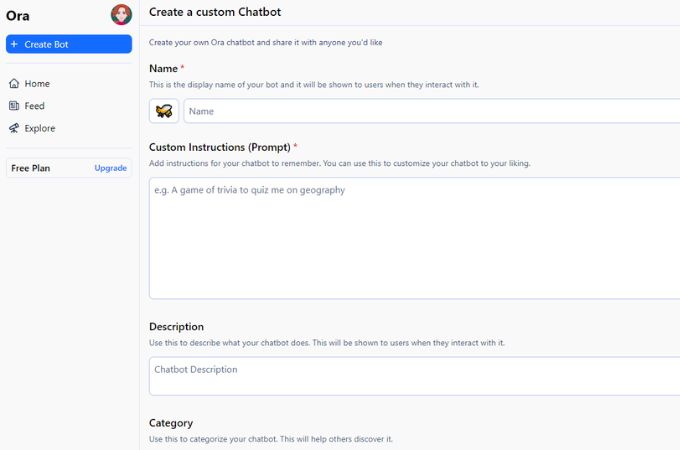 Pros:
Able to automatically generate language processing models
Easily integrated with existing applications
Create a chatbot with just a few clicks
Cons:
Limited options for custom chatbot designs and functionality
Learning algorithms may not be suitable for all cases
Conclusion
How to use GPT-4 for free? The AI tools mentioned are leveraging GPT-4 to help you complete different daily tasks. If you cannot wait to check the feature of GPT-4, but want to experience it at no cost, try those 4 ways first.