Best Solution to Edit PDF Files in Word
Microsoft Word
With the latest versions of Microsoft Word, you can edit a PDF without using any third-party solution. Unlike the outdated versions of this tool, it now has features that can allow you to directly edit pdfs and still give you the option to save it in pdf format. Currently, you can mainly use this tool for those pdfs which are mostly composed of text. Here is a simple trick on how to edit PDF file in Word.
Open Microsoft Word and Choose the Blank Document.

Select File option and then Open a pdf file on your computer.
Note: You can simply minimize your Word and drag your pdf file from your home screen to your blank document.
On the dialog box, click okay to continue.
Note: The pop-up message warns you that the content and layout of the content may not seem to be like your original PDF. Things may differ like its formats and font effects.
You can now modify your document. Save as a PDF file again.
Alternative Solutions to Edit PDF
ApowerPDF
As mentioned a while ago, editing a PDF document on Word may lose the original quality and content layout of the PDF file. For this reason, we are going to need a professional PDF editing software to modify PDFs without damaging its content such as text, pictures, and designs. As luck would have it, ApowerPDF is one of the best solutions to easily edit complex documents and still give you high-quality outputs.
To give you a better understanding of how to edit PDF files with ApowerPDF, here are some guides on its features;
a)Edit text and image
Easily modify your PDF documents with the Edit function of this tool.
Launch the app. Then. add the file that you want to modify.

You can add text boxes or remove texts from the document.

You can also insert images to your PDFs.
b) OCR tools, make the scanned PDF documents become editable
Convert PDF to editable Word with its OCR feature. It is a tool that recognizes text within a digital image or PDF format. With this, you can access and edit text which is converted with this technology.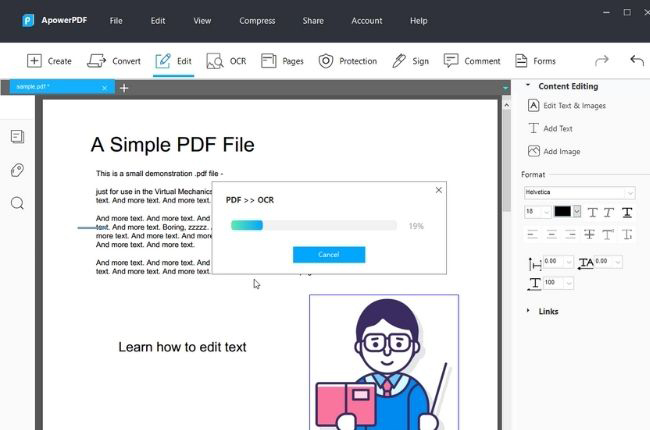 c) Make comments and annotation
Another feature of this solution is its ability to add comments or drawing markups and annotations. 
d) Sign and watermark
This innovative tool also allows you to insert signatures and certify your PDFs digitally. Plus, you can make your own watermarks using this tool.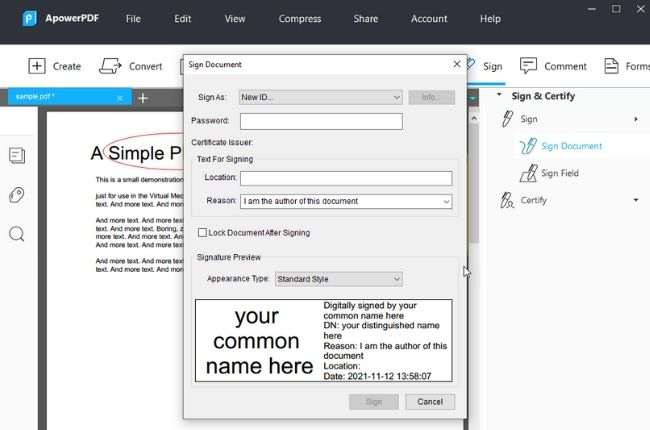 e) Crop, rotate, delete, and split PDF pages
Modify your pdf document with these helpful features. Easily rotate, crop, delete, and split your pdf pages. You don't need to worry for this process won't affect the quality of your pdfs.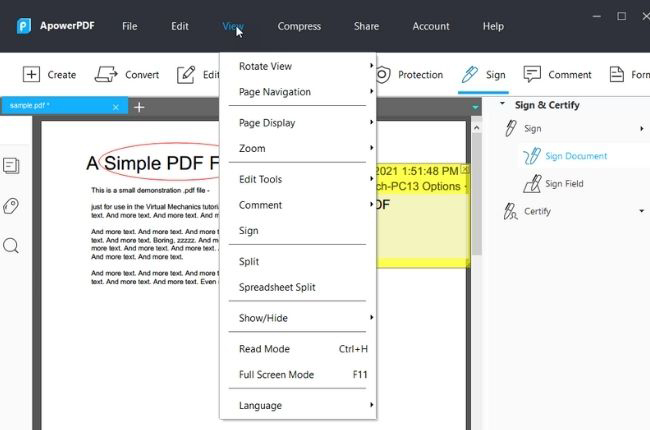 LightPDF
Another powerful tool to add text to a PDF document is LightPDF. It is a free online tool that has a wide range of features to help you with your PDF dilemmas, especially in converting and editing your files. It allows you to make changes to the PDF file like merge, split, sign unlock, protect, compress, and rotate the PDF content. 
See the guide below for detailed instructions.
On the main interface of the website , hit the Edit PDF option.

Click the "Open" button to upload the document that you want to edit.

Next, you can start to edit, add annotations, and insert images to your document. You can also add drawing markupson its Annotation feature.
Conclusion
We can't deny that editing pdfs is annoying and troublesome. But with the solutions given above you can easily modify your pdf documents. If you're looking for the best way to edit pdf on Word and give you professional quality output, we highly recommend ApowerPDF.