If you're a student, artist, vlogger, teacher, designer or any profession that involves images, there will be a time that you will need images for your project. Because its fast speed and convenience, getting photos on the internet can fulfill your needs instantly. It can also help you explore ideas, enhance creativity and sometimes you can find a great piece. In this article, we will introduce top 7 websites for free images.
Before we start, here are some other applications which may help you manage photos.
Helpful Tools to Manage Photos
LightPDF – It is a free online tool that will help you merge images to PDF files. You can directly use this tool without creating an account.
AirMore – This is an app that offers the transferring of files on your PC from mobile devices or vice versa, it supports Windows, Mac, Android, iOS.
Dropbox – is a cloud storage provider, while others use this as an online backup storage and some as a file-sharing tool.
7 Free Websites for Images without Copyright
Pixabay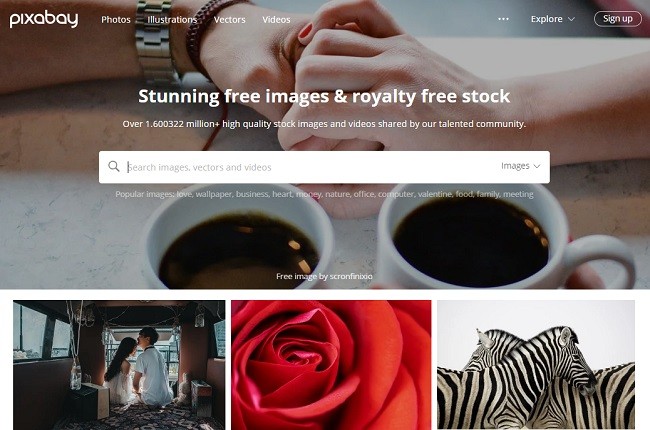 Pixabay is a website for people who are creative enthusiasts. This is one of the best websites to download videos and images. You can distribute, copy, modify, and use the downloaded photos personally or even for commercial purposes. You can use them all without asking for permission or giving credit to the image owner. But other photos are protected by watermarks, privacy rights, and trademarks. You can also use its images on social media flatforms. By creating an account, it will allow you to share your photos, videos, illustrations, and many more worldwide.
FoodiesFeed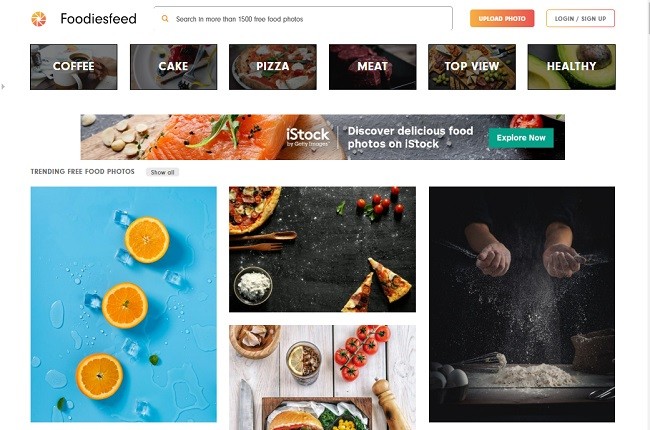 If you are fascinated with food images, FoodiesFood is the right place for you. It is a website for copyright free images. You can freely download photos in more than 1500 food photos. You can use it for personal use or for commercial use. It also supports multiple languages to encourage people of other nationalities to share their best food shots with the community. You can also register to their server for access to the forum and for them to continue upgrading their website.
Stocksnap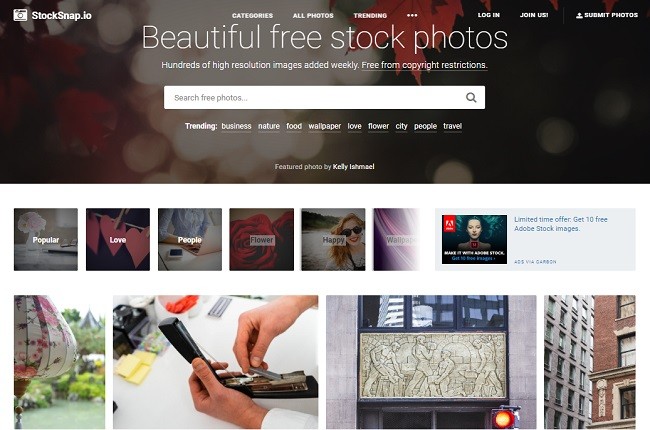 All photos on Stocksnap are surely free for both personal and commercial projects. All photos here are released under Creative Commons, It is a website for free images that has a license will allow you to copy, download, modify, and distribute images. If you want to contribute some of your photos here, you will first need to create an account. It will also allow you to save your favorite images in one place without having downloading the photos.
Unsplash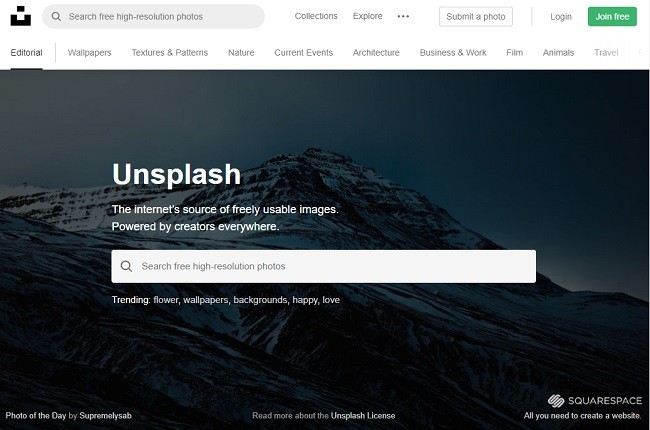 You can download over one million selected photos on Unsplash, they hand-picked every photo and accept only the high quality, that may help you find the photos the suits your preference. It is one of the websites to download images with the most number distributed. You can use the images for commercial and non-commercial purposes. You don't really need to provide credits to the owners. Although of course they will appreciate if you acknowledge them to your projects.
Gratisography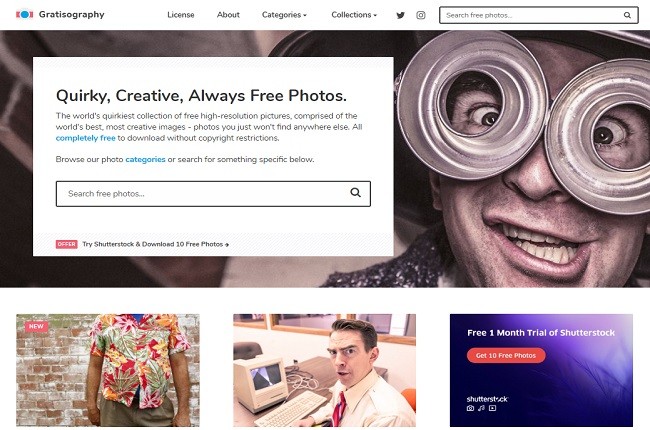 Gratisography is the world's most epic collection of high-resolution free stock photos. These are the collections you can choose from Gratisography amusing animals, artsy architecture, funky food, goofy grownups, hijinks hands, mischievous men, and whimsical women. You can use those images to your blogs, websites, books, advertising campaigns, magazines, and many more. This is a website for images without copyright as long as you don't redistribute its pictures itself.
Reshot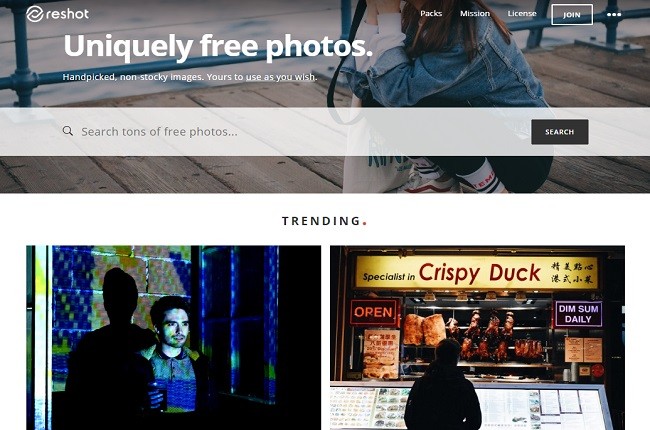 Reshot is an image location flatform for free to download. One of the best features of this service allows you to download the uploaded shots of the Reshot users. It will also grant you to copy, download, modify, perform, distribute, and use the images provided by Reshot for free without permission from the owners of the images. But the license of this has a limitation, you can't use their photos to duplicate and use it in the same service. Having said that, it is one of the great websites for free images.
Picography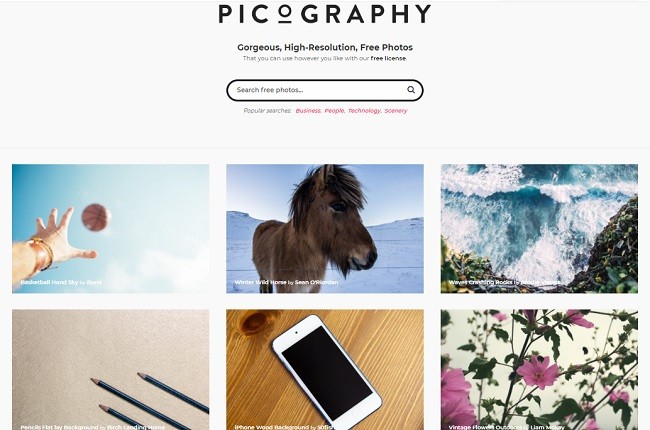 Picography provides amazing photos to millions of people for the past years. You use any of their free stocks images in all aspect, with no credits required. All of their photos are CCO licensed, so you can use, copy, edit, and download the photos freely. Picography now is one of the leading sources of photos for high-quality, stunning, and free of charge. Similar to those websites mentioned above, they don't require you to give an attribution to the photographers, they are just always encouraging you to include them. Moreover, you can rely on to this website to download images.
Conclusion
Overall, the websites mentioned above are truly helpful in downloading images for free. Aside from that, these programs can make your projects more attractive. In that case, it will give more life because, we all know that great photographs can inspire, change someone's view, educate, and most importantly inspire others. As I have said, this article provided very helpful websites for free images. On that note, you can use all of them depending on your preferences.