Reliable Desktop Apps to Add Shapes to PDF
LightPDF
LightPDF is a cross-platform app that you can use to put shapes in any kind of PDF file with ease. This app works with Windows, macOS, iOS, and Android operating systems. In addition, this tool offers a lot of features like its extensive editing functions that allow you to solve your daily PDF tasks. Aside from its editing functions, this also offers a batch conversion process that you can use to convert, OCR, split, merge, and compress multiple documents in a single process.
Below we will list the simple steps on how to insert shapes in PDF with this program:
Download and install the software on your computer. Then, launch the app to open the PDF file you wish to edit.

From here, go to the "Comment" section to select the shapes you want to insert into the document.

You can select the color and line size on the drawing toolbar.

After that, you can now insert it into the document after customizing the drawing toolbar.
Lastly, press "CTRL + S" to keep the changes made.
Adobe Acrobat
Adobe Acrobat is the first program that is used for viewing and editing PDF files like adding shapes to PDF. This program allows you to edit, convert, sign, and share your documents without experiencing any hassle. Besides that, it has a similar feature to LightPDF wherein you can collaborate with your colleagues or classmates to work on your projects at the same time. The only downside of this program is that you need to pay its subscription fee to access all the features of the app.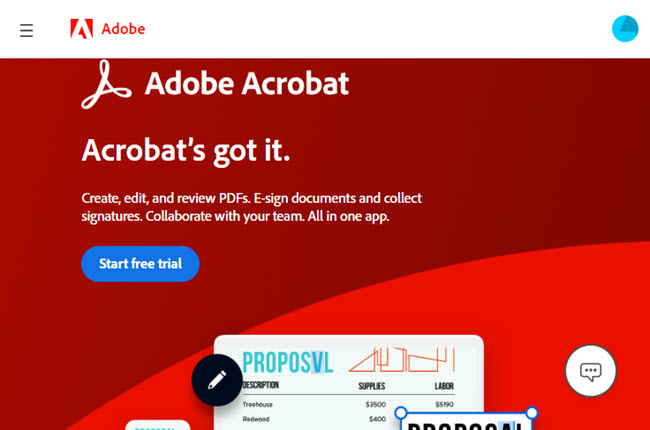 EaseUS
If you're looking for an all-in-one PDF program that you can download easily on your computer, here is EaseUS. This allows you to insert shapes in PDF on whatever device you're using. Besides that, this tool enables you to convert PDF files to different file formats. These include Excel, Word, PowerPoint, and other image file formats or vice versa. Meanwhile, you can also use this program to validate your documents by inserting digital signatures and watermarks into PDF.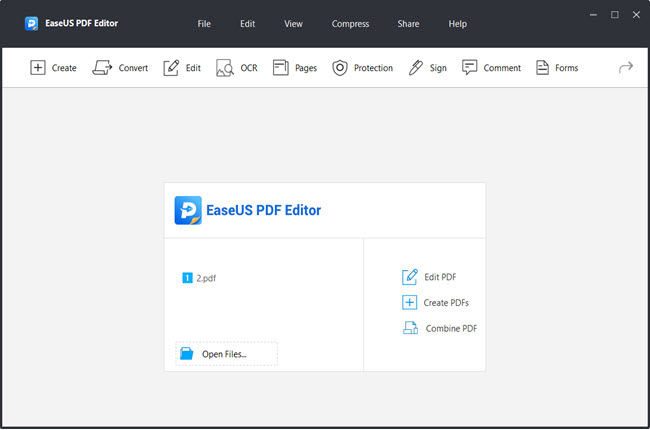 UPDF
Next, we have UPDF. This is another multi-platform app that works with the popular operating systems of computers and mobile devices. In using this tool, it lets you edit your documents like a pro using its beneficial features. Its editing features allow you to add shapes to PDF, and also text, lines, sticky notes, stamps, and many more. Additionally, this program is popularized because of its clean and appealing user interface. With that, it helps users to turn reading lengthy PDF files into an enjoyable experience.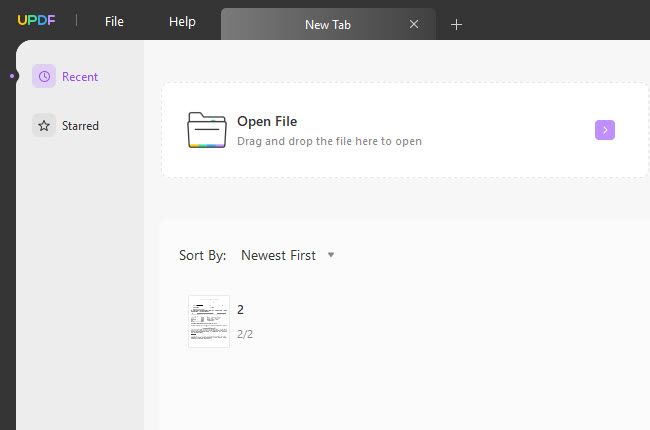 PDFill
The last desktop app for Windows computers that you can use in putting different kinds of shapes into your documents is PDFill. This tool has a different plan which includes Free Basic Version, Professional Version, and Enterprise Version. Luckily, when it comes to this case you can download its Free Basic Version so that you don't need to purchase anything to solve the problem. Wherein you can insert shapes in PDF right away using its free drawing tools without paying any subscription fee.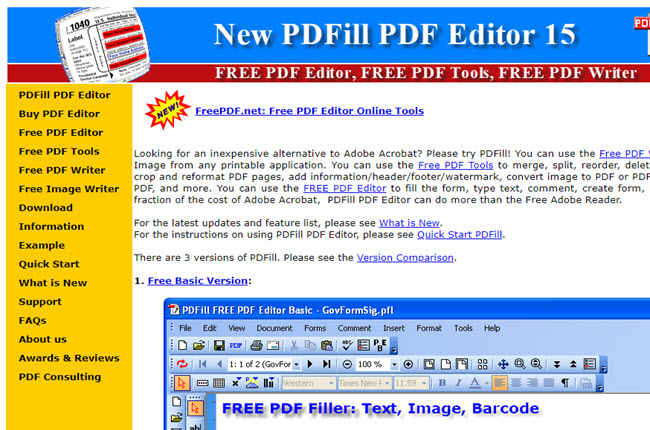 Best Online Tools to Insert Shapes in PDF
LightPDF's online tool
After we've talked about the desktop version of this program in the first part, now, we will be going to introduce the online version of LightPDF. This is a multi-purpose web-based program that you can use to convert, manage, and sign PDFs using your favorite browsers. Apart from that, this program has a Cloud PDF Editor that allows you to modify your documents. It lets you annotate your documents by inserting text, digital sticky notes, comments, lines, shapes, and many more.
Check the listed step-by-step procedure below on how to add shapes in PDF online with this program:
Visit the tool's official website and click the "Edit PDF Now" button.
Second, click the "Upload" button to import and open the file you want to edit.
Third, click the "Shapes" dropdown menu to select the shape you want to use and adjust the color, fill, opacity and thickness of the shape.

Fourth, you can now start inserting shapes by dragging the mouse on the documents.

Fifth, click the "Export" button to download the edited PDF file.
PDFLiner
Moving on, we have PDFLiner. This is another reliable online tool that allows you to draw and insert shapes in PDF even if you're a beginner. With this, you can attach documents from the Internet directly by just inserting the URL of the file on its website. Furthermore, this tool also allows you to add interactive fillable forms to your PDF after inserting shapes. After editing the documents with this tool, you can share the edited files with your friends via email or print them right away.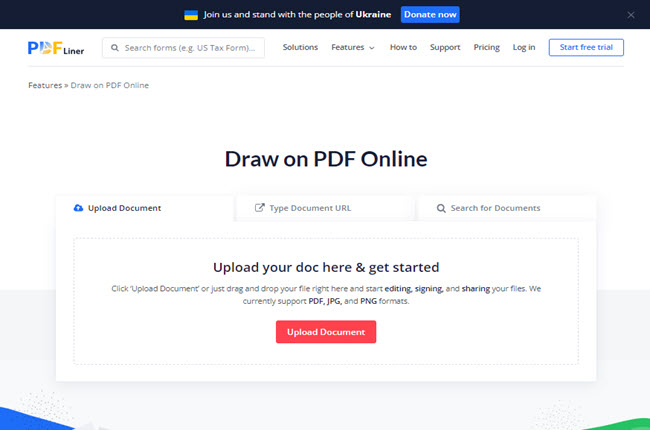 PDF Bob
PDF Bob is a simple yet powerful program that you can rely on to insert or draw shapes into your PDF documents. Not to mention, this program lets you add shapes to PDF and use all its features for free. This program is perfect for annotating your digital documents using any web browser. Apart from its annotating features, this also offers editing features that allow you to insert text and images into your PDFs. You can also use this tool in managing your documents like adding and removing pages to the existing PDF file.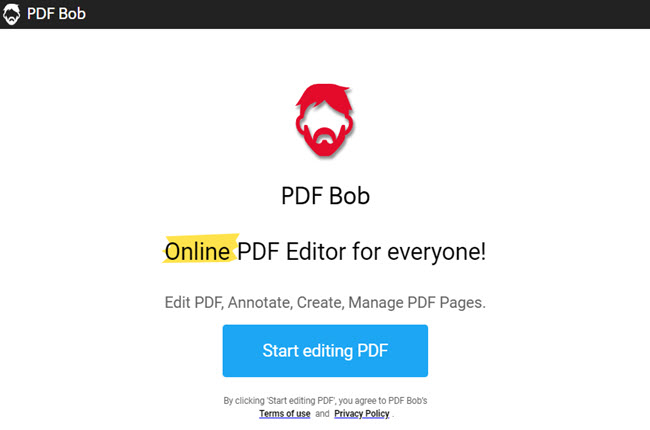 pdfFiller
pdfFiller is one of the popular PDF tools nowadays that you can use to edit, fill out, e-sign, and share your documents on any device. It allows you to upload files directly on its website from Google Drive, Dropbox, Box, and OneDrive. After getting files from different cloud storage services, you can now start to add shapes in PDF online using its editing functions. Moreover, this also allows you to insert different elements on PDF including signature, initials, and text.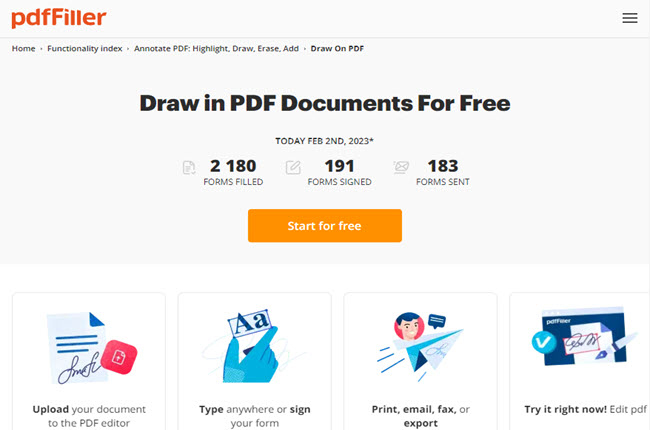 DocFly
Lastly, we have DocFly. This is one of the free editors that can help everyone when it comes to this matter. In using this free editor, you can use its drag-and-drop feature to upload files much faster. To add shapes to PDF, click the "Shapes" button on its interface to select the shapes you want to insert in your file. Besides that, this tool has a cool feature that allows you to create PDF forms and organize your files within a minute.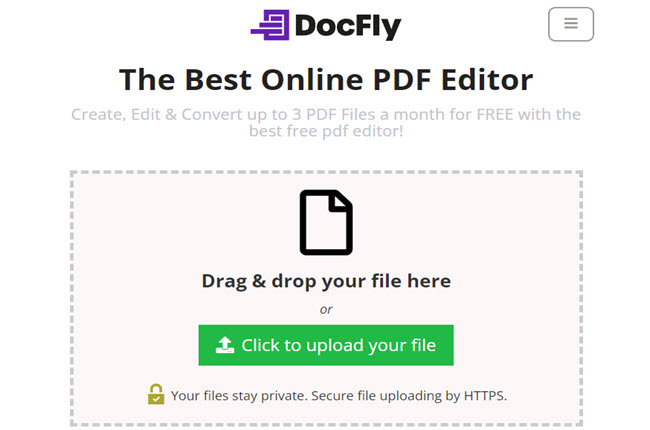 Conclusion
To sum it up, these are the leading desktop and online PDF editors that you can use in inserting shapes into your documents. Among these tools, LightPDF stands out because of its cool features like its Cloud PDF Editor and accessibility to different devices and browsers. In fact, this program allows you to add shapes to PDF with ease using Windows, macOS, iOS, and Android devices.