How to Add a Blank Page to PDF
An Intelligent Way to Add Blank Page to PDF on Desktop
Integrated with power-packed features, LightPDF is an excellent choice to be in control of your PDF tasks. It enables you to view, create, edit, merge, split, and convert a PDF file without compromising the quality of its contents. Furthermore, it can quickly sign, protect, and OCR your documents without exerting much effort.
Self-evidently, adding a blank page to your PDFs is as easy as pie with its uncomplicated interface that even beginners will easily navigate. Whether for business or personal use, LightPDF is a cost-effective solution to manage any demanding job related to dealing with PDF tasks.
How to Add a Page to PDF Documents using LightPDF?
1) Download and install LightPDF on your computer. Launch the program and click the Open button to upload the file that you need to put blank page.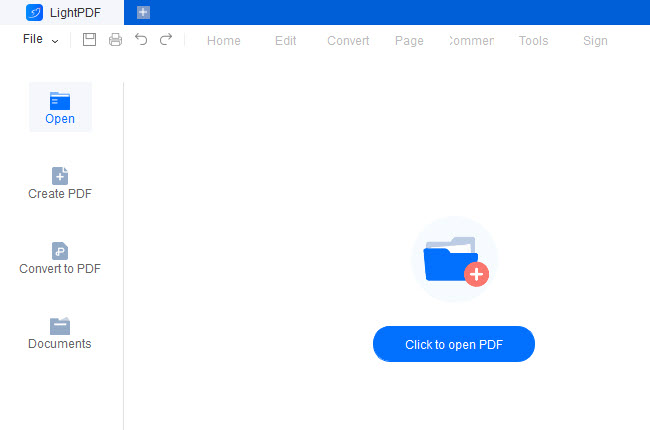 2) On the Page panel, hit the Insert option, and on the drop-down choose Insert Blank Page. A pop-up window will appear and will let you set the number, destination, and amount of pages that you want to add to your document. Then, click the Insert button to insert blank page in PDF.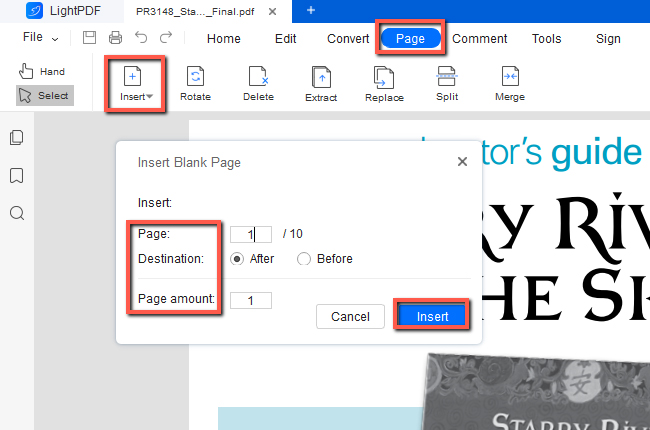 3) The program will straightforwardly add the blank page on your PDF. After this, you can also perform other tasks with the outstanding features that LightPDF offers.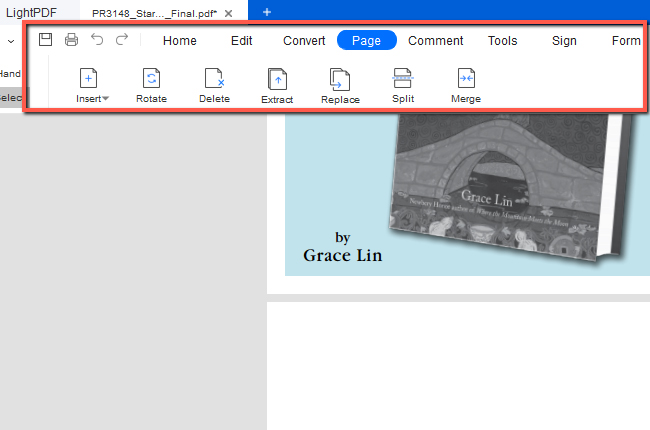 Practical Solution to Insert Blank Page in PDF Online
PDFux
A self-explanatory browser-based program, PDFux enables you to merge, split, extract, delete, reorder, flip, reverse, and resize PDF pages. It is also a flexible tool that lets you easily insert a new blank page into an existing PDF document. If you are having anxiety about using an online solution for privacy concerns, PDFux guarantees not storing any data on the platform.
Key Features:
Offers batch processing in a matter of seconds.
Edit Metadata in PDF like title, author, etc.
Create a Zip archive of one or multiple PDF files.
Interweave or mix several PDFs into one.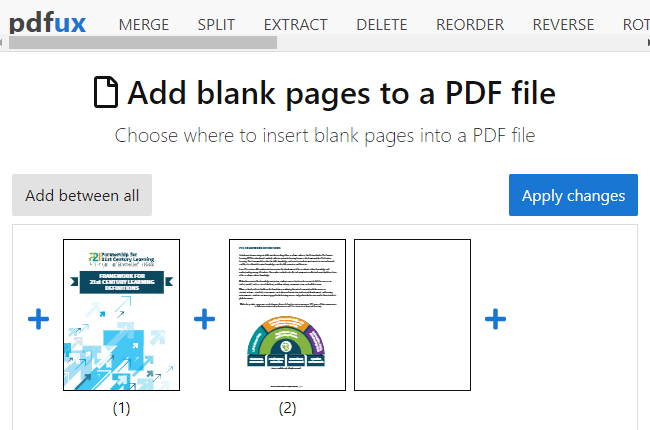 Follow the Steps Provided to Insert a Blank Page into the PDF
1) Visit the Add blank pages to a PDF file tool of this program. Click the Select files button to upload your document.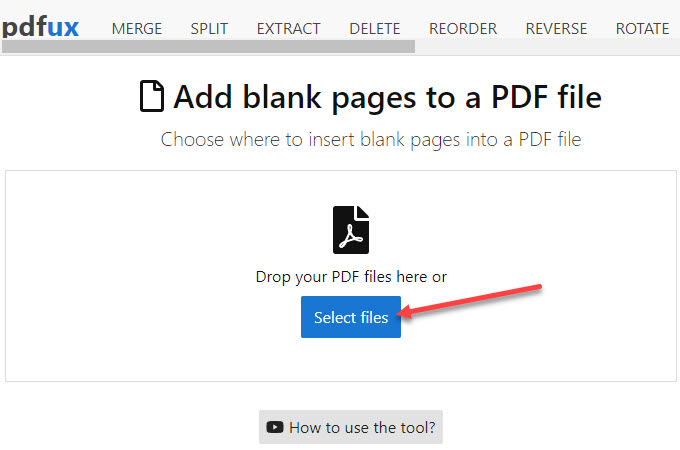 2) Once uploaded, choose where to add a page to a PDF document. You can add as many as you want and in any part of the document where you want to locate the blank page.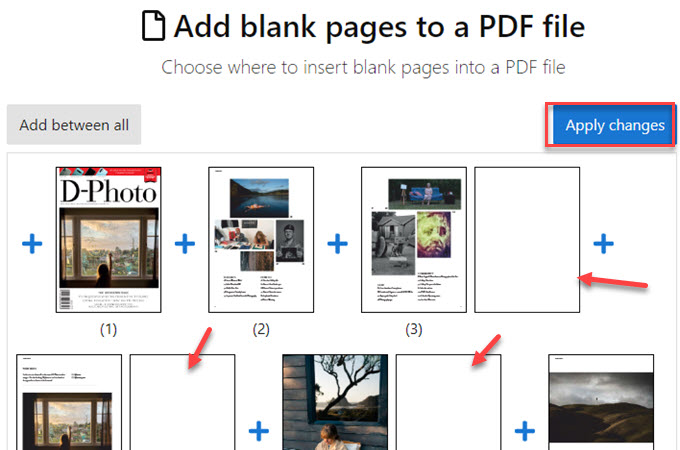 3) After that, hit the Apply changes button and the program will save the changes you made on the PDF. Hit the Download file button to save it on your device.
Paid Desktop Apps to Add a Page to a PDF Document
PDFescape
Get an all-in-one membership on PDFescape to get everything you need to edit, convert, and add elements into a specific part of a PDF document. Do not underestimate its comprehensive features to manage your PDF tasks while giving you high-quality outputs. In fact, this app is recommended for professionals who often encounter PDFs.
Key Features:
Transform PDF files into Word, Excel, HTML, and JPG.
Edit, insert, and review text and images.
Customize page elements and make annotations.
Secure permission of accessing the PDF files.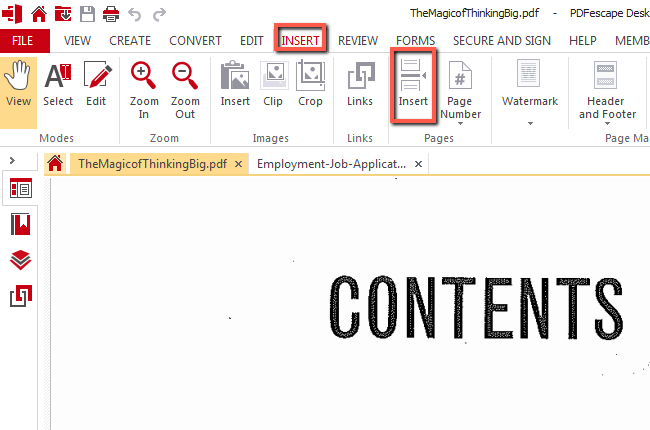 How to Add a Blank Page to a PDF?
1) Once you have availed a premium account of this desktop app, launch it to upload the file that you want to add blank page to PDF.
2) Go to the Insert panel and hit the Insert a blank page option. You can add a single blank page or a page from another PDF document into the current document.
3) On the Insert Pages pop-up window, select the number of pages that you wish to add, and the page size as well. Click the Insert button and the program will automatically add the page on the document.
Adobe Acrobat
Of course, when talking about PDFs, Adobe Acrobat will be one of the brilliant solutions. As the developer of the Portable Document Format, it is a widely-preferred application to deal with documents despite its being expensive. Besides, it has a collection of features to explore such as reading, convert. e-Sign, stamp, and fill PDF documents.
Key Features:
Collaborate with teams and track progress.
Compare two different PDF files.
Sync your digital signature.
Edit data even for scanned documents or tables.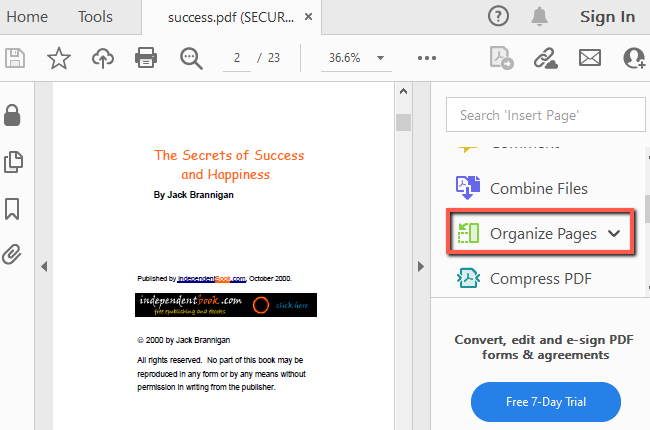 How to Insert Blank Page to PDF?
1) Visit the official page of Adobe Acrobat to make a purchase of this desktop app.
2) Once purchased, open a PDF file that you want to use and hit the Organize Pages tool located in the right corner of the program's interface.
3) After that, right-click on any part of the PDF document. On the pop-up dialogue, select Insert Pages and then the A Blank Page option. Configure where you want to put the blank page. Don't forget to save the file with the blank page on your device.
Conclusion
The online and desktop solutions we have prepared for you above can be used to add a blank page to a pdf with no hassle. Each offer intuitive features that you can check out besides its inserting blank page ability. Among these, LightPDF obviously stands out when it comes to its user-friendliness, out-of-the-box functionalities, and clever ways to deal with PDFs.