Recommended Tools to Change DOCX to PDF
LightPDF
LightPDF is a multi-purpose PDF solution that allows you to convert and edit PDF files in just a few simple steps. Its web-based program offers simple PDF functions you can access using Google Chrome, Safari, and Mozilla Firefox. But if you're looking for advanced features for PDF like OCR, you can download its desktop version for Windows computers. Follow the listed steps below to convert DOCX file to PDF using this incredible tool named LightPDF.
Free Download
Go to the official website of the tool.
From here, go to "PDF Tools" dropdown menu and select the "Word to PDF" function.

Then, click the "+" icon to upload the Docx file on your computer.

After that, click the "Convert" button to start the process.

Once done, click the "Download" button to save it on your computer.
Most of the users are worrying about the security of the files they upload on different online tools, on LightPDF website you can set your mind at rest. All uploaded files will only be stored under your account and nobody else can access them. If you want, you can delete the files at any time.
If you still have misgivings, we highly recommend the desktop version of LightPDF. This software will ensure the total security of every file you upload to the program. Aside from its DOCX file to PDF function, this is an all-in-one PDF program that allows you to convert and edit PDFs instantly.
iLovePDF
The second tool you can rely on to turn your DOCX file into PDF is iLovePDF. This online tool offers multiple converting functions wherein you easily convert different file formats into PDFs. Besides that, it also offers limited editing functions that can add an essential role to your PDF file, like signatures, page numbers, watermarks and more. Apart from that, this tool has a mobile version for Android and iOS smartphones.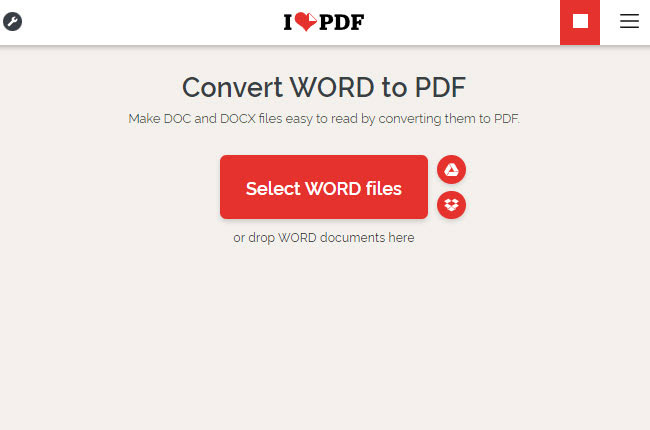 Smallpdf
Smallpdf is the following online tool that can help you to change DOCX to PDF using your favorite web browsers. Not to mention, you can use the full feature of this tool without downloading any plug-ins on your computer or browser. This tool has a drag-and-drop feature wherein you can easily upload your DOCX files to the website. Furthermore, this tool is also capable of performing different functions besides converting, like compressing and merging PDF files.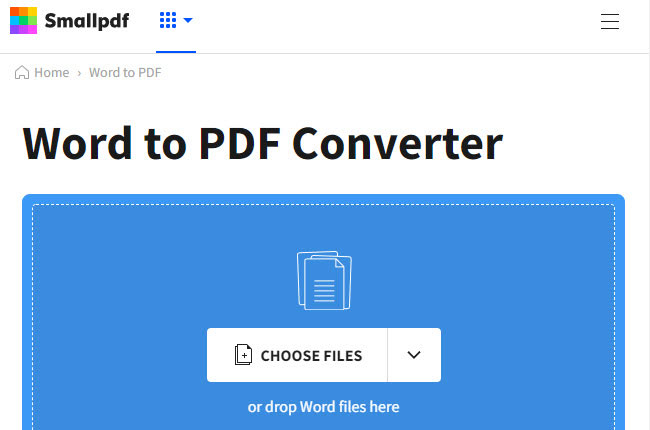 SodaPDF
If you're looking for another online tool, here comes SodaPDF. This is an easy-to-use PDF tool on the internet that allows beginners to convert DOCX file to PDF without experiencing any hassle. One good thing about this is that it allows you to upload DOCX files from different cloud storage services like Google Drive and Dropbox directly. You just need to log in to its official website using your Facebook, Google, or Microsoft account to use all the features of the tool.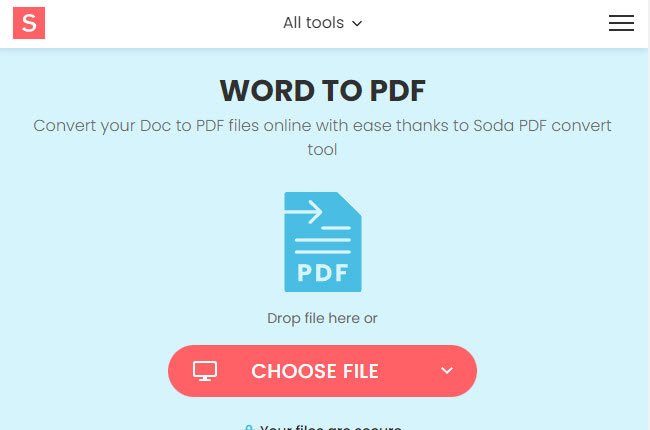 PDF2GO
PDF2GO is a program on the internet that provides the basic PDF functions that you can use to convert, edit, and improve PDF files. This tool has a cool feature that allows you to convert Word files with OCR, in this way you can turn scanned pages into editable text effortlessly. Even it is an online tool, this is considered as one of the practical tools to change DOCX to PDF format or vice versa.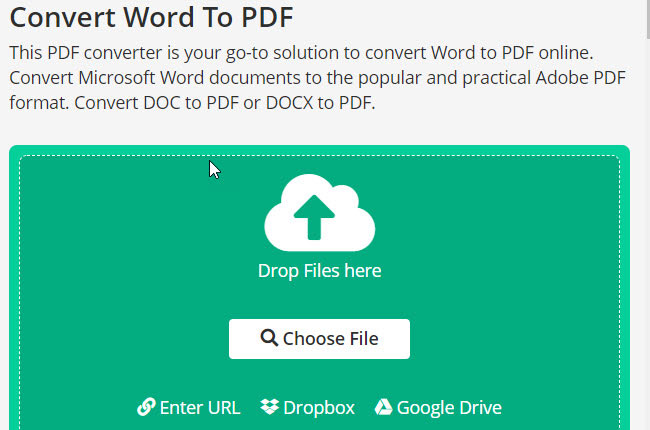 Online-Convert
Online-Convert is one of the popular conversion programs on the internet that allows you to turn different file formats to your preferred one. With this tool you can convert audio, video, documents, and many other files in just a few simple clicks. Apart from that, this tool can also compress different file formats without reducing the quality of your content. What's more, you can also access this tool on your phone by downloading its app on Google Play Store and App Store.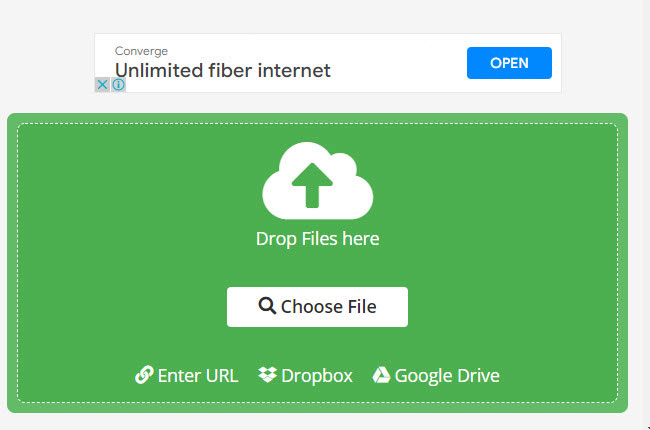 Convertio
Convertio is a flexible online program that allows you to turn your DOCX file to PDF from your computer, Dropbox, or Google Drive. Furthermore, this tool offers different functions and features, including adding subtitles to videos, converting video formats, and the OCR function. Meanwhile, this tool supports the most popular formats from different files and documents. You can also customize the conversion process by adjusting the advanced options of this program. The only downside of this tool is that there is a file size limit of 100MB in uploading documents.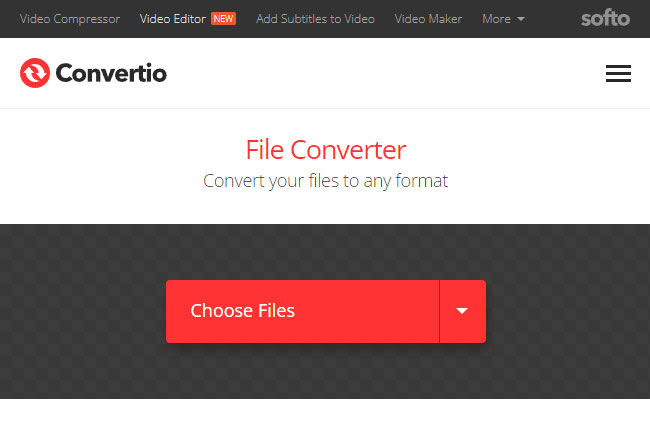 CloudConvert
The last online tool on the list that has advanced conversion technology you can use is CloudConvert. With this tool, you can adjust many options to have the best PDF output if you're using the latest Word version of Microsoft Office. This is an open-source software that you can access with different devices, as long as you have a stable internet connection. However, you need to subscribe to its packages to use all the advanced features of this tool.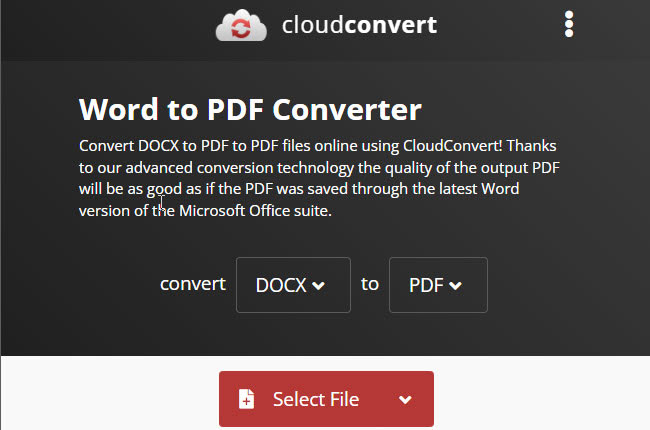 Conclusion
These mentioned tools above are the leading web-based programs that you can use even if you're a first-time user. Each of these tools has its advantages when it comes to converting DOCX files to PDF. However, we personally recommend using LightPDF to change DOCX to PDF or vice versa. Because this tool is loaded full of advanced editing and converting PDF features and functions.