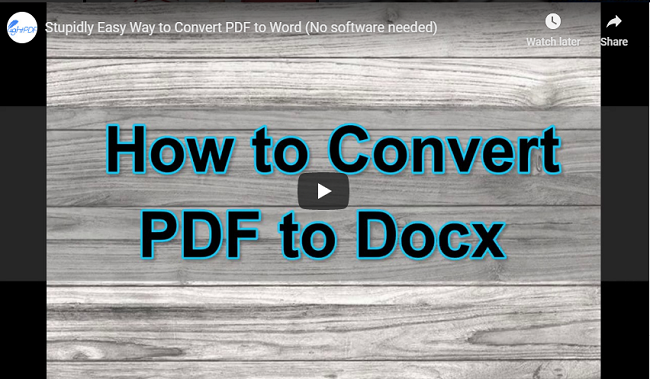 Use LightPDF to Convert PDF to Docx
LightPDF is an online tool that lets you convert PDF files to other formats such as Word, PPT, Excel, JPG, PNG, and TXT. This program has a simple and clean interface great for all users. So, it's definitely an excellent tool to convert PDF to Docx online. Moreover, it is compatible with all platforms such as Windows PC, macOS, Android, and iOS devices. Apart from that, this tool makes sure that the uploaded files are safe and protected since all the files are deleted instantly after the conversion process is complete. Follow the steps given below to learn more about it.
The first thing you need to do is visit the official page of the program.
Next, hit the "PDF to Word" button on the main page of the tool.

After that, hit the "Choose file" button to upload the PDF file that you wish to convert.

Wait for the file to be uploaded and it will automatically be converted.
Once the process is completed, download the file to save it on your computer.
In addition to converting PDF to Docx, there are still some files that cannot be edited because the PDF file is in an image format. In that case, you'll need another way to extract the text from the PDF. With the use of LightPDF's OCR function, you'll be able to edit the content of the document. This feature allows users to convert PDF files into editable formats. Furthermore, it supports several languages, including Italian, German, French, Spanish, Portuguese, Turkish, and many more.
Extra Tips
Now that you have an idea on how to convert PDF to Docx for free, let's find out some hidden tips of Word.
1. Add a Calculator to Word. Don't have a calculator with you? Word has a built-in calculator which can help users to solve the equation. To do it, simply hit "File" > "Options" and hit "Quick Access Toolbar" then select "All Commands" from the drop-down menu. After that, search the "Calculate" and hit the "Add" button then "OK".
2. Convert Word to PDF. This program can convert Word to PDF files easily. Simply "Save As" a file then under the "Save as type" choose PDF.
3. Show Hidden Characters. Sometimes, you will need to insert symbols, columns, and other formats on your documents. With this, you can easily edit and add special characters to your document.
4. Insert Equations. Adding a complex math equation is an easy task with this program. Just hit "Insert" then "Equation" after that choose the equation that you want to add.
5. Protect Your Document. If you want to protect your document, Word has built-in protection which lets you encrypt your text. To do it, click the "File" button then "Info" and "Protect Document". Lastly, choose your desired protection type.