The Best Sejda PDF Editor Alternative
Sejda Alternative Online
LightPDF Cloud Editor
It is safe to claim that LightPDF is a better alternative to Sejda. While having all Sejda's features here, its premium version is way cheaper. Its main advantage is that on LightPDF's free version, you can use any of its tools without a limit. This is a great upgrade compared to Sejda in case you will manage tons of PDF files. Additionally, it has an intuitive cloud service function to store all your PDFs in one place. Using this advanced function, you can share and collaborate your files to your colleagues or classmates. Lastly, it has a precise OCR tool that extracts texts from scanned-based PDFs of images.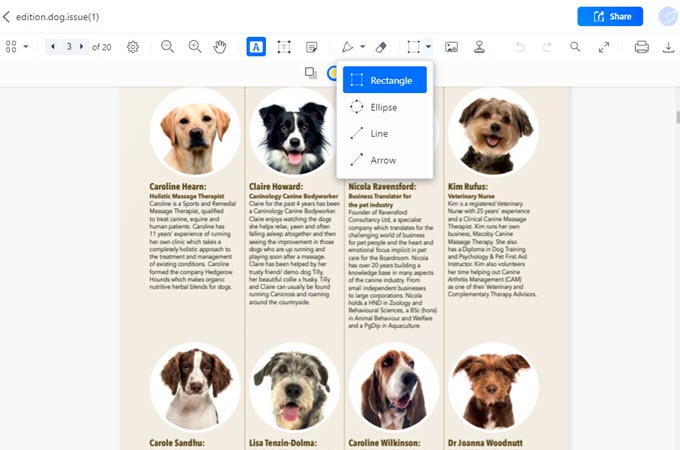 Pros:
Perform bulk PDF processes without any limit.
No file size limit for uploading PDFs.
Cons:
For its online version, expect a slow process if your Internet connection is acting up.
pdfFiller
Another Sejda PDF editor alternative on this list is pdfFiller. It is a multi-platform PDF tool that is also available for Android and iOS smartphones. So, you may choose this tool to manage your PDF file on the phone, unlike Sejda. Its main function is to edit and fill-out several PDF forms efficiently. Plus, it has a signature request manager to validate the online forms effectively. It also allows you to upload PDFs from cloud storage services like Google Drive, Dropbox, and others.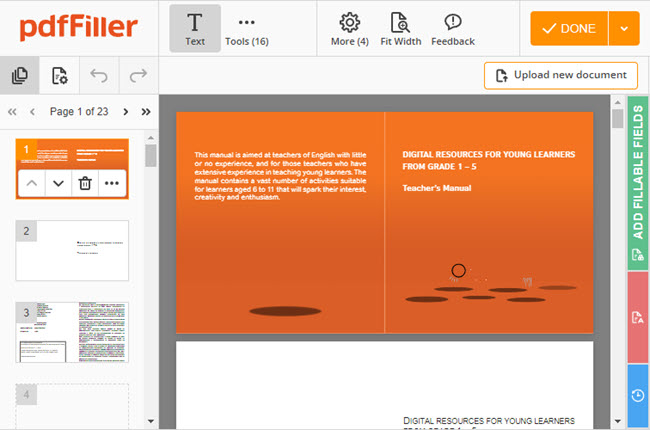 Pros:
Offers cloud-based PDF creator.
Has an online library of fillable documents.
Cons:
Can only upload documents for up to 25 MB.
PDF24 Tools
Next on the list of PDF editors similar to Sejda is PDF24 Tools. PDF24 offers more online PDF tools compared to Sejda. It has unique PDF functions such as creating invoice and removing PDF metadata. What most users like about it is its fast search function that has no loading time. Moreover, all files are encrypted to ensure the privacy of your documents. Finally, you can use all its online services for free.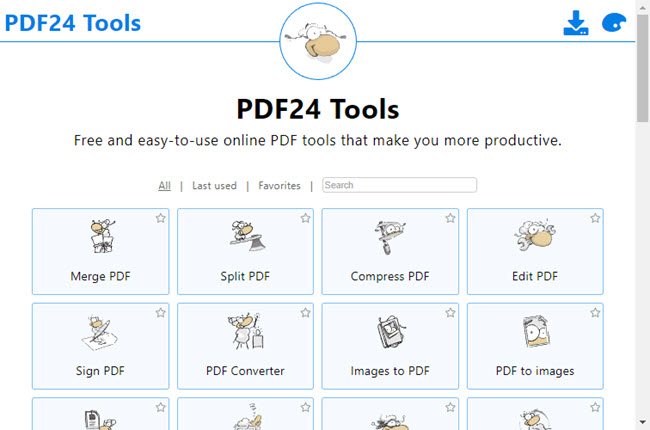 Pros:
Fast PDF conversion process.
Also offers a desktop version.
Cons:
Online2PDF
Let's discuss the last online Sejda alternative which is Online2PDF. This online tool is better than Sejda when it comes to the conversion formats. It supports converting almost all-known image formats (jpg, gif, png, tiff, etc.) to PDF. Moving forward, it has a comprehensive step-by-step tutorial on how to use some of its main functions. Its main interface also supports several languages. You can also customize or set the PDF layout using Online2PDF.
Pros:
Clean user interface.
Data is deleted after the process.
Cons:
Some content like symbols or characters might not be preserved in the conversion process.
Sejda Alternative for Windows and Mac
LightPDF Desktop
Let's move forward to the best Sejda PDF editor alternative available for Windows and Mac computers. Aside from its online and cloud-based PDF editor, LightPDF also has a software version that you can install. It will work well even if you only have an entry-level PC system requirement. Here, it boasts several advanced functions to edit or even create PDFs from blank. You can insert hyperlink, add texts, and layout PDF just like how you use Microsoft Word. It also has a strict security system that can set the password to your files.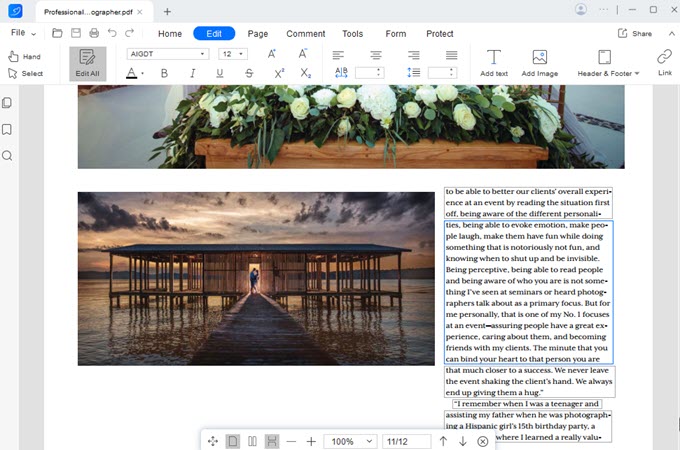 Pros:
Can prevent permission to print the PDF document.
Can disallow copying of text and images.
Cons:
Expect a longer process time for converting bulk or large PDF documents.
Adobe Acrobat
We can definitely say that Adobe Acrobat is way better than Sejda. Aside from providing all the necessary functions for PDFs, it ensures all of the outputs are precise and protected. Adobe Acrobat also allows you to literally work anywhere with your devices. It has its own cloud storage service to make it possible. Furthermore, it is a trusted PDF tool that most big companies use. Finally, it has partnerships with other document tools like Microsoft Outlook for broader collaboration.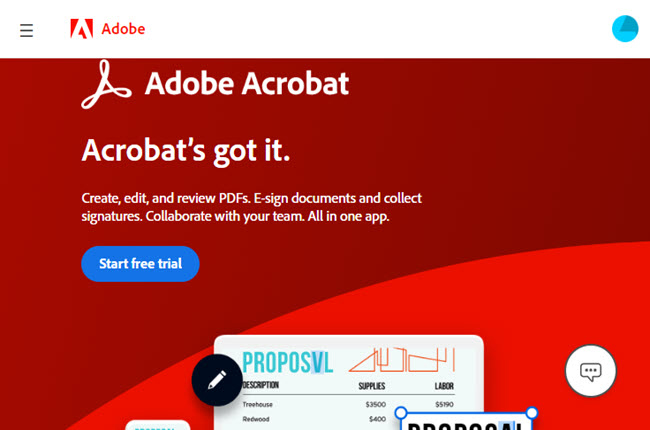 Pros:
Provide intense security function for PDFs.
Has Liquid Mode best for reading PDFs on small screen.
Cons:
Foxit PDF Editor
Moving on, Foxit PDF Editor is also considered as a better PDF editor similar to Sejda. Although its premium plans are more expensive compared to Sejda, you will enjoy more features on it. It proposes a Foxit eSign account that lets users create blank PDFs. It has an intuitive PDF editing function that supports almost all fonts available in Microsoft Word, which is absent in Sejda. You can also sign documents with your handwriting for authenticating forms.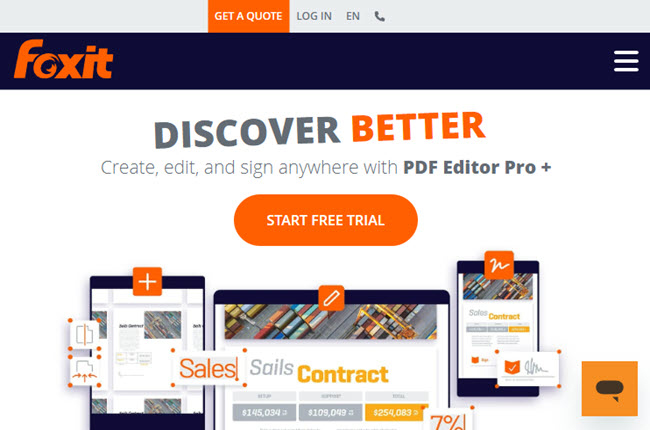 Pros:
Provides add-ons for Windows and Mac computers.
Presents an advanced AI-based redaction tool.
Cons:
Can't use most of its function if in trial version.
LuminPDF
Finally, let's discuss the last Sejda alternative on this post which is LuminPDF. Like all of the other PDF tools mentioned above, it provides the essential function to edit and manage PDFs. However, it is better than Sejda since users can integrate their work with different Google tools. Here, you can sync the PDF files you have to make collaboration way easier. Premium users can also enjoy advanced functions like adding fillable fields, extracting pages, and others.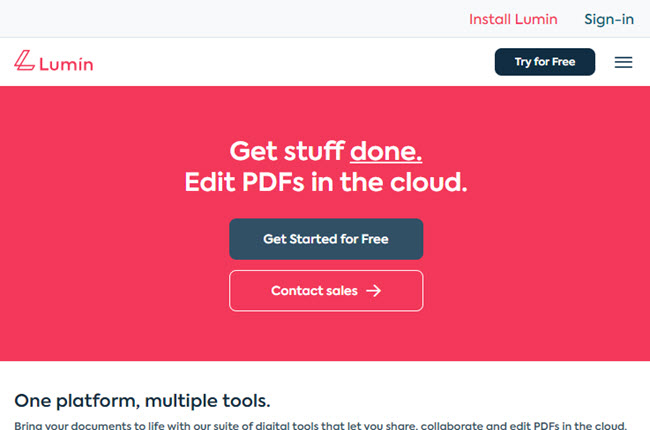 Pros:
Free users can also enjoy account data encryption.
Registered users can sync all their work in a single account.
Cons:
Can only sign for up to 2 documents per month.
Conclusion
Unquestionably, Sejda is an effective tool to edit, create, and even manage your PDF files. However, it still has several limitations especially if you're only using its free version. In that case, this article helps you find a better solution in each situation. We present several tools like LightPDF which you can use offline and online. It also presents several advantages and unlimited uses of its functions which is necessary for managing PDF files.