Recommended Methods to Transform PDF to Word on Windows 11
How to Transform PDF to Word using Microsoft Word with Windows 11 Computer
Microsoft Word is a document maker that allows you to create a text file that you can use for multiple purposes. These include paperwork for school or work, exams, brochures, invitation letters, and many more. In addition, you can also add a different element to a text file like shapes, images, and graphs. Besides that, this program also allows you to open a PDF file and save it as a Word file right after. However, this method is not accurate as others compared to online PDF converters.
If you're wondering how to transform PDF to Word with this program, you can follow the written steps below:
Launch the program on your computer.
Open the PDF that you wish to turn into a Word file.
Then, go to the "Save as" menu of the program to choose where you want to save the file.
On the window that will appear, click the "Save as type" menu and select the "Word Document" format and click the "Save" button to save it as a Word file.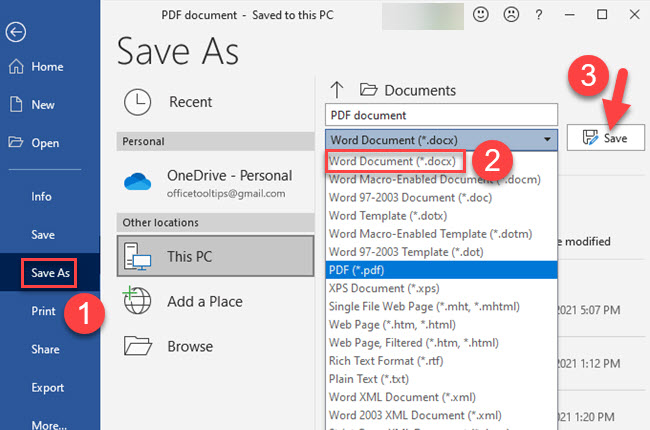 Best Online Ways to Turn a PDF into a Word Doc
LightPDF
LightPDF is an all-in-one PDF program on the Internet that allows you to create, convert, edit, and manage documents quickly. Not to mention, this app supports the most popular formats you can use for your work and studies including Word, PowerPoint, Excel, and image files. Furthermore, you can convert PDF to different file formats or vice versa. In addition, it has a Cloud PDF Editor that allows you to work with your colleagues simultaneously with its collaboration feature.
Below you will see the best ways how to transform PDF to Word files in just a few simple steps:
Visit the official website of the tool and proceed to its "PDF Tools" menu to select the "PDF to Word" option.

From here, click the "CHOOSE FILES" button to upload the PDF.

Next, click the "Convert" button to start the process.

After all, click the "Download" button to save it on your PC.
Free PDF Converter
The second tool that you can rely on to transform your PDF into a Word document is the Free PDF Converter. This is a simple yet powerful program on the Internet that you can use for converting your PDFs into other file formats. One good thing about this, it lets you upload files on its website from different cloud storage services and via URL. Moreover, it has a drag-and-drop feature that allows you to upload files from your computer much easier than ever.
Check the listed steps below to transform PDF to Word using this online tool:
Go to the tool's official website.
Then, hit the "Choose PDF file" button to choose the PDF from your PC that you want to change to word.

Once done, click the "Download" button to keep the output on your computer.
PDF to DOCX
Moving on, we have PDF to DOCX. This is the last online tool that you can change the format of your PDF into a Word file. In using this tool, it allows you to upload up to 20 PDF files and convert them into Word in just a single process. Another good thing about this tool is that you can use its batch conversation processing for free. Meanwhile, you can access this tool with different web browsers nowadays.
See the step-by-step procedure below to turn a PDF into a Word doc with this tool:
First, head on to the tool's official website.
Second, click the "UPLOAD FILES" button to import the PDF from your PC.

Third, click the "DOWNLOAD" button to save the output.
Advantages of PDF Format
In this part of this article, we will show the advantages and importance of PDFs. We all know, PDF is popularized because of its characteristics that preserve the formatting of the documents. Besides that, there are a lot of advantages to this format compared to others. Check some of the advantages listed below.
There are no changes on the display even if you're using different operating systems, devices, or software applications.
It allows you to integrate multiple elements into a single document like text, images, and vector graphics.
PDF is convenient wherein you can easily create and read.
It is secure properly by adding passwords.
Easy to share via email or URL.
Conclusion
To sum it up, this article talks about the best way how to transform PDF to Word using different methods. However, to make it more efficient in transforming your PDF files into Word we recommend you use LightPDF. This program is a cross-platform program that you can access with different devices, operating systems, and web browsers.