This article will show how ChatGPT for students can help them save time when processing large-scale data. In addition, we will also discuss the advantages and disadvantages of using ChatGPT while studying.
Scenarios to Use ChatGPT for Students
In the first part of this blog, we have gathered some cases where students can use ChatGPT. You can check the list below to learn more about the situations in which students can benefit from ChatGPT.
Research
Using ChatGPT, students can easily locate reliable and pertinent resources for their research assignments. Furthermore, they can request information about a specific topic. Apart from that, this tool can also offer links to trustworthy sources that are appropriate for their research.
Understanding Difficult Concepts
When students face difficulties understanding a particular concept or topic, ChatGPT for studying can assist in clarifying it in a simpler manner. In addition, by posing questions related to their coursework, students can obtain responses from this program that are easily comprehensible.
Writing Assistance
By giving feedback on sentence structure, grammar, and vocabulary, ChatGPT can aid students in enhancing their writing abilities. Meanwhile, students can request evaluations of their written work. Wherein this program can furnish them with advice on how to ameliorate their writing.
Exam Preparation
ChatGPT is a program that can assist students in getting ready for exams by furnishing them with study materials, such as summarizing PDFs. This includes practice questions and recommendations for test-taking. By seeking advice on how to tackle a specific exam, students can receive valuable guidance from this program on how to prepare efficiently.
Time Management
This free chatbot for students can support students in enhancing their time-management skills by offering guidance on how to rank tasks in order of priority, establish study timetables, and minimize distractions. Lastly, when seeking advice on how to juggle academic commitments and other obligations, students can rely on ChatGPT to suggest effective strategies for success.
Advantages and Disadvantages of ChatGPT for Studying
Advantages
Using ChatGPT can help students to overcome academic challenges, enhance their learning experience, and achieve their academic goals. Here is the list of the advantages of when students use ChatGPT while they are still studying.
Access to instant assistance.
Improve productivity
Enhanced understanding
Customized learning experience
Accessible and convenient
Cost-effective
Disadvantages
ChatGPT for students can be a useful tool while studying, it is important to be aware of its limitations and potential drawbacks. Not to mention, students should use it as a supplement to their studies, rather than a replacement for human interaction and support. Here are some of the disadvantages of using this program.
Dependence
Lack of human interaction
Inaccuracy
Limited scope
Language barriers
Lack of motivation
Helpful and Free Chatbot for students to Deal with Documents – LightPDF AI for Docs
We all know that ChatGPT cannot process different file formats on its website, such as PDF. Luckily, we've found a beneficial program that offers a free AI chatbot that can process PDF and other file formats. LightPDF is a simple yet powerful program that allows users to convert, edit, and manage PDF files with ease. Due to the trend, this program has added a new feature that takes things to a whole new level. LightPDF has developed a free chatbot for students called AI for Docs, which allows students to extract information from lengthy PDF files.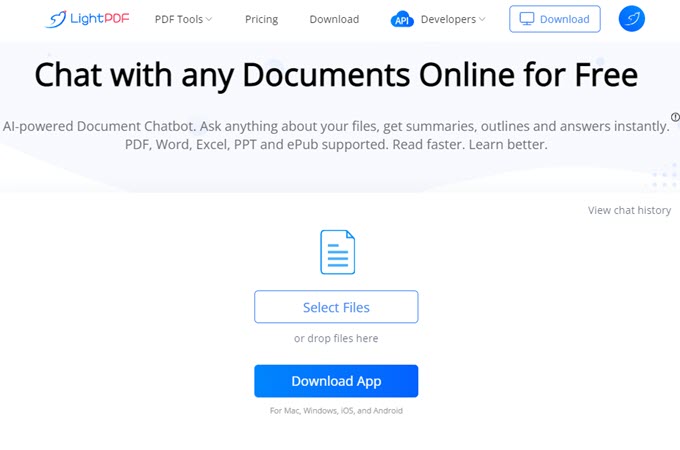 AI for Docs is an artificial intelligence document chatbot that allows you to ask anything about the files you upload to its website. This allows you to summarize, extract important data, get outlines, and receive answers instantly from large PDF files. Additionally, this feature allows you to take notes from the content that you upload. After uploading the document, the chatbot provides several preset questions regarding the uploaded content. Moreover, it can also generate tables from the data in the document. One good thing about this is that it supports many file types, including scanned PDFs, Word, Excel, PowerPoint, and ePub. Lastly, it supports over 100+ languages that you can use to communicate with its chatbot.
Conclusion
As we mentioned above, these are the cases and situations where ChatGPT can help students while they are studying. Aside from that, we've also listed the advantages and disadvantages of using this program. Lastly, we also talk about the ChatGPT for studying alternatives named LightPDF AI for Docs. This is a useful AI-powered chatbot that allows you to get answers and summarize the content of your PDF documents with ease.