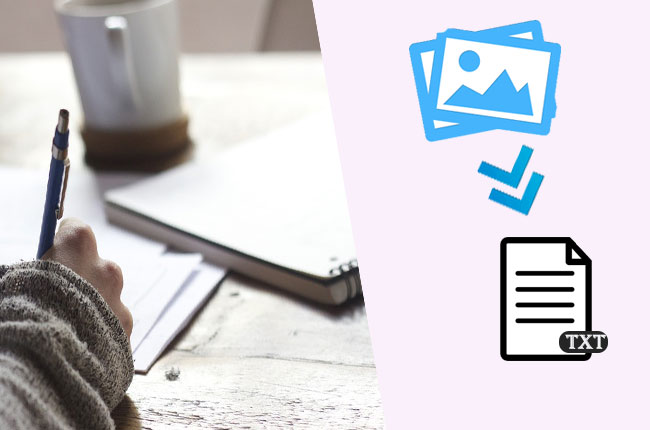 To convert image to text is necessary, especially if you need to extract some important content that is printed on reading materials. Yes, writing or typing the text manually is an option, but if you're in a hurry and if the text is too long, it would be better to take advantage of the technology to extract it in a quicker way. Here we will recommend some excellent tools to help you save time in converting and organizing the text from images.
3 Tools to Convert Image to Text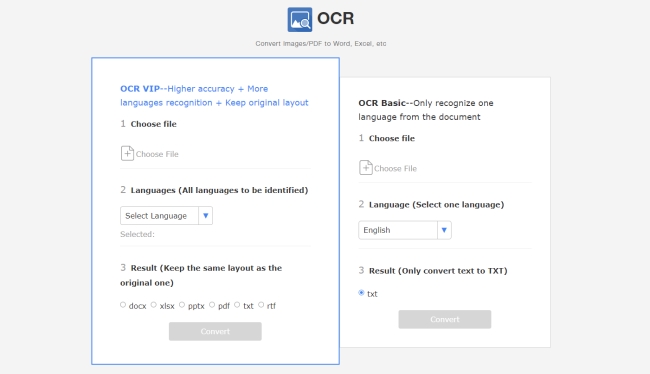 It is easy to convert image to text online, and LightPDF is one of the most powerful web-based PDF apps that can help you process OCR. It currently supports recognizing multiple languages including English, Italian, French, Japanese, etc. And it works in high quality that the extracted text in Word, Excel or PPT keeps the same display as the original PDF.
With this tool you will be given two options for getting text from a certain image: OCR VIP service and OCR Basic service. The former can turn a photo into an editable Word document and other formats, while the latter can convert an image into a TXT file. Both functions can perfectly turn image to text, but if your file contains more than one language, then you should opt for OCR VIP, because it recognizes more than one language at a time.
File formats supported: PDF, JPG, PNG
Price:
LightPDF OCR Basic – Free
LightPDF OCR VIP – Paid, the price depends on how many pages you need.
Pros:
It works fast and efficiently.
It has a friendly user interface and doesn't contain any ads.
It can be used on computers as well as on mobile devices.
Cons:
Even for OCR VIP members, the largest file size it supports is 30 MB.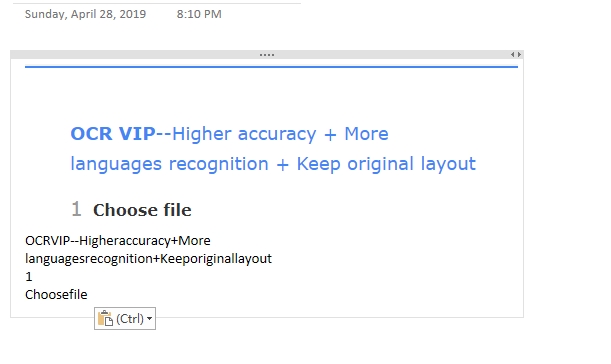 Another way to turn image to text is using OneNote. This tool is usually a part of the application that you can get as soon as you install Microsoft office on your computer. With it, all you need to do is to insert the image that you want to process, then right-click on the mouse and choose "Copy text from images". The text will be saved on your clipboard, which you can paste in programs like Note and Word.
File formats supported: JPG, PNG, TIFF, GIF, BMP, etc.
Price: Free
Pros:
It has no limitation to the file size.
It can convert image to text in no time.
Cons:
The function seems to be only available on the desktop version.
It doesn't leave a blank space between the words it extracts.
Sometimes, this function fails to respond.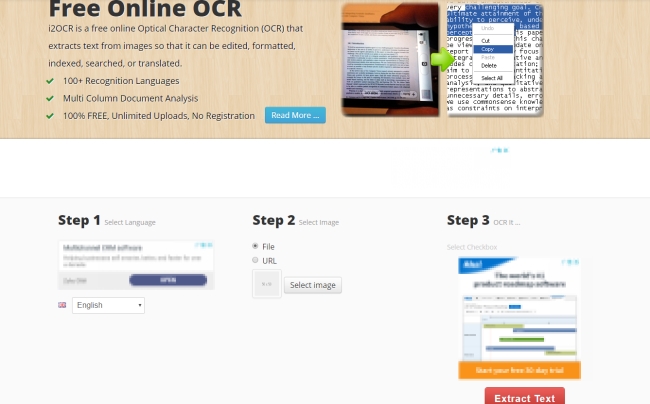 Its name already indicates that it offers OCR service. So, upon utilizing this program, users can extract text from any image and turn it into its editable state. Furthermore, this program supports major picture formats, can recognize 60-plus languages, and provides unlimited uploads. Unlike LightPDF, it doesn't generate a new document for you to download after you convert image to text online, it just extracts the text and will show the result below the processing area. You can directly modify and copy the content.
File formats supported: JPG, PNG, TIFF, etc.
Price: Free
Pros:
It has a simple interface and is easy to use.
It supports a lot of languages.
You can upload images via URL.
Cons:
It will not tell you which files are not supported before the conversion.
It requires a captcha verification every time you convert a file.
The ads on the website are a little bit annoying.
Conclusion
These are the optimal ways on how to convert image to text. Now you can extract any text from images that you came across, no matter how long the content is. According to our test, among the three, i2OCR is enough for people who just want to copy the text from an image, while LightPDF OCR VIP is your best choice if you want the converted file to keep the same layout as the original one.