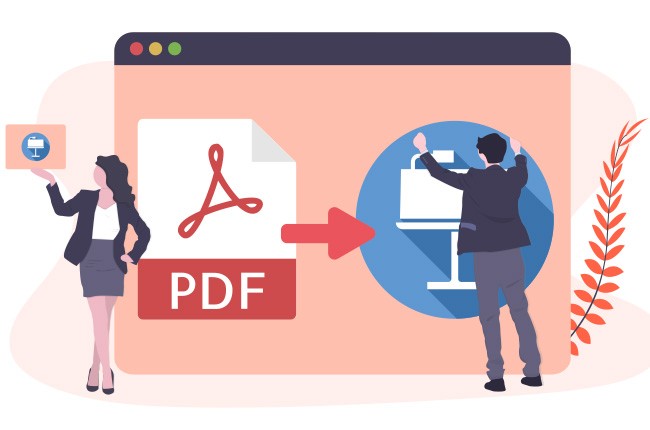 For Mac users, Keynote is one of the most amazing and useful presentation apps that has ever been designed. It can help you produce a more attractive and vivid presentation that will keep your audience's attention. However, many documents are kept in PDF format. Therefore, you will need to convert PDF to Keynote. There are some easy and safe methods of converting your PDF file into Keynote.
Best Ways to Convert PDF to Keynote
Use Mac Keynote
The first method you can use is Mac Keynote. This software can help you to make out astonishing presentations which can insert photos, audios, and even videos. This tool allows you to create edit and view presentations on your Mac. Furthermore, it enables you to export PDF to Keynote in just a few clicks. See guide below for the detailed steps.
Firstly, you need to go to your Mac and launch the Keynote app, and then choose a theme.

Once done, open your PDF file with a PDF reader, then drag and drop the PDF pages that you want to convert to the left side of Keynote.

After that, save the Keynote file by simply going to the name "Untitled", then rename it and choose a folder to save it, and press the enter key. Your PDF file will now be successfully converted into Keynote.
This free PDF to Keynote converter can also be used on other iOS devices such as iPhone and iPad. This allows you to collaborate with others on a project regardless of time or location. Also, you can experience smooth slide transitions and animations by adding effects using Keynote.
Use PDF2Office CR for iWork
Another way to convert PDF to Keynote is using PDF2Office CR for iWork. It is a powerful tool which can aid you in creating PDF files rapidly. This application can convert PDF files into Pages, Numbers, and Keynote in a convenient way, enabling you to batch convert PDF files with just a few clicks. It also serves basic functionality of a PDF viewer. Follow the simple steps below to convert PDF into editable Keynote format by using PDF2Office CR for iWork.
Download PDF2Office CR for iWork from Mac App Store, and then launch the program on your Mac.
Click on "Add files", or drag the PDF files that you want to convert and drop it on the program.

Once the file is loaded, right click on the PDF file and click "Convert selected". Then, click "Conversion Format" and select "Keynote".

Then, tap the "Convert" button on the upper part of the program and select a location to save the converted PDF file.
Once done, your file will be converted into Keynote, and you can check it immediately.
This software is remarkably accurate by recreating PDF files' layout, applying styles, placing images and graphics, paragraph forming, and it can make tables automatically. You can be assured that you will retain the same level of quality in the new Keynote file as the original PDF.
Conclusion
These are two practical methods on how to convert PDF to Keynote. Mac Keynote is a totally free tool while the PDF2Office CR for iWork is a paid one, which has some added features and benefits, especially the larger batch conversion option. Both of these techniques are easy and fast to use. If you only want to convert a few pages in a PDF to Keynote, then Mac Keynote may be a better choice. However, if you need to convert all the PDF pages into Keynote, then you can try PDF2Office CR for iWork.