How to change Pages to PDF
Pages for iOS: Change Pages to PDF on iPhone/iPad
Price: Free
System: iOS
There is Pages for iOS, a really powerful mobile app like the Pages for Mac, which probably is the easiest way to convert a Page document into PDF format on iPhone and iPad. The compatibility issue is always a major problem when it comes to sharing files between different systems. Pages for iOS makes it simple and people can even convert their Pages files into a PDF.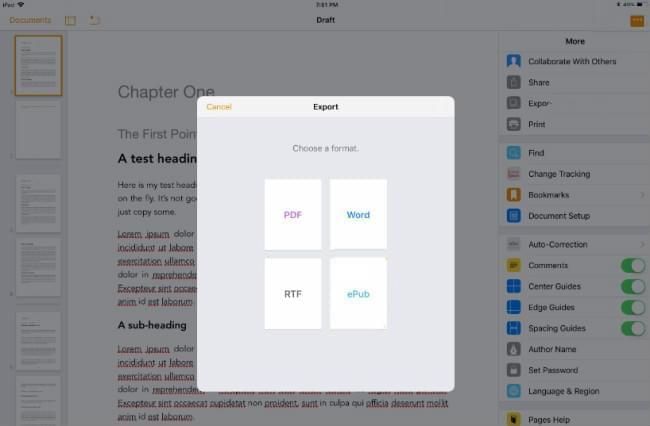 Open the Pages document, tap the three dot button at the top right corner of Pages for iOS, then tap "Export". Choose PDF and select a location to save the converted PDF file. Note that if the original file has a password, it will be applied to the converted PDF file.
Pros:
Cons:
Available for iOS users only
Note: When we searched Google for a way to open Apple Pages files on Android devices, there was very little information available. We could not find any apps or solutions for fixing the problem. Even the Apple official forum gives no effective solution for this. If you have any great solution, you can leave a comment to tell us.
Pages program: Export Pages documents to PDF easily
Price: Free
Systems: macOS
If you are using a Mac, you no longer need another third-party program or app to help you process the file. Pages for Mac is able to export the document into another format directly. It can save the file in PDF, Microsoft Word, Plain Text (txt), ePub, Pages '09. The new created file will have no effect on the original Pages file.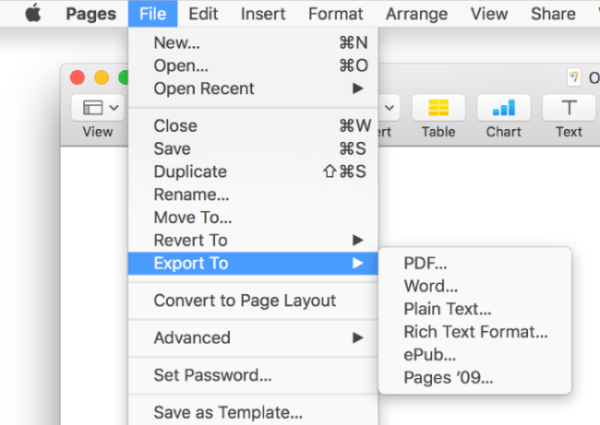 The process is also very simple. Just open the file, drop down "File" menu at the top left corner of the screen and choose "Export to" > "PDF" from the list. A window "Export Your Document" will pop up, in which you can specify the setting for the image quality and encryption. The higher the quality you choose, the larger the file size of the exported file. To protect the file with a password, check the "Require password to open" option and complete the information required. Click "Next", type a name for the document, enter a tag for it and choose a path for saving the file, then click "Export". The Pages file will be saved to PDF format.
Pros:
Simple to export PDF file
Different image quality options
Protect the exported file with a password
Cons:
Available for Mac users only
CloudConvert: Convert Pages to PDF online
Price:
25 conversion minutes per day with 1GB file size limit
$8 prepaid package for 500 conversion minutes with unlimited file size
From $8 per month subscription for 1,000 conversion minutes per month with unlimited file size
System: Windows and macOS
CloudConvert is a well-known file converter. It supports over 200 file types conversion. We used it to convert video and audio files. It also offers a super fast way to convert Pages documents to PDF online. No need to login or signup. There are 6 ways to upload a file. Users can directly retrieve the file from a URL, upload from a computer or choose from the four popular file storage platforms: Dropbox, Google Drive, Box and OneDrive. And it allows you to add as many files as you want. It supports batch converting. Although CloudConvert is free to use, it also has selling points for users. People can have 25 conversion minutes per day with a 1GB file size limit and regular technical support. Usually, a document file takes 1 conversion minute.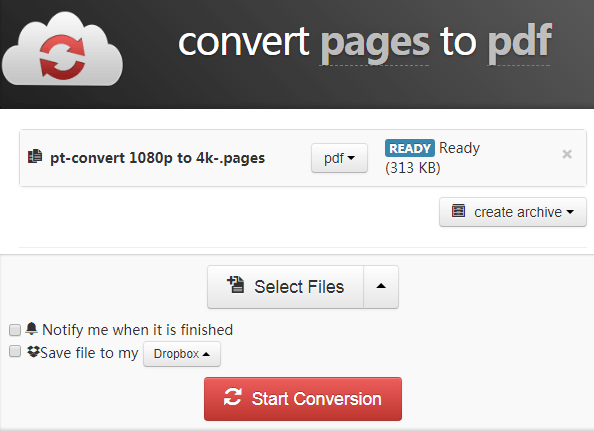 Click "Select File" and you can upload a Pages file to convert from your computer. If the files are from the Internet or saved in your Dropbox/Google Drive/Box/OneDrive account, click the button marked with a back triangle to bring out the corresponding options. When the file is uploaded, drop down "Select format" and choose "document" > "pdf" from it. Click "Start Conversion" and wait for the file to be processed. Click "Download" to save the PDF file to your computer.
Pros:
Simple to use
Batch file conversion for Pages documents
Upload files and save converted files in multiple ways
Customize the settings for file conversion specifically
Cons: