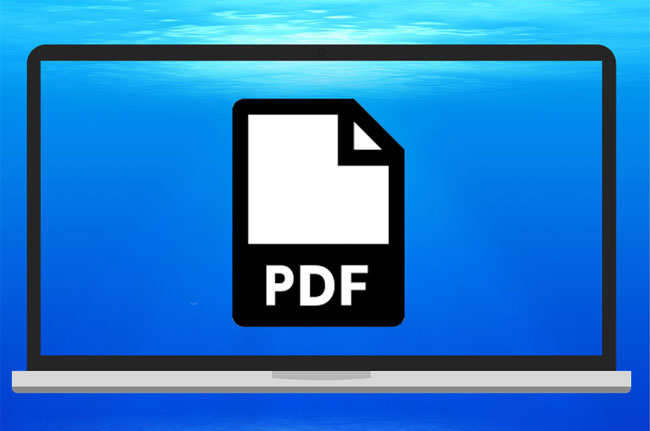 Portable Document Format or PDF is a flexible format that works on almost any device. This format is known for its reliable saving feature. When saving a file using this format, it guarantees there will be no quality loss, and the final appearance of your file is not affected. There are some cases that you may need to save a blank PDF document, so you can edit it and insert anything you want in the future. In this article, we will introduce some practical methods to help you create blank PDF. So, what are you waiting for? Check out these solutions below.
Use LightPDF to Create Blank PDF Online
LightPDF is an online PDF editor, as well as PDF converter, which is available on Windows, Mac, iOS, and Android devices. You can use this tool to manage all your PDF documents without any installation or sign up. Whether you want to split, merge, compress, rotate or OCR a PDF file, you can use it. Plus, when using this online editor, you don't need to worry about the annoying ads or your output watermarked after the process, since it is absolutely free to use and doesn't have any advertisements on its page. To create blank PDF, you can follow these steps.
First, create a blank Word file.
After that, open your web browser and visit its page for "Word to PDF".
Next, hit the "Choose file" button and select your saved blank document.
Once converted, click the download button to save your converted blank PDF file on your computer.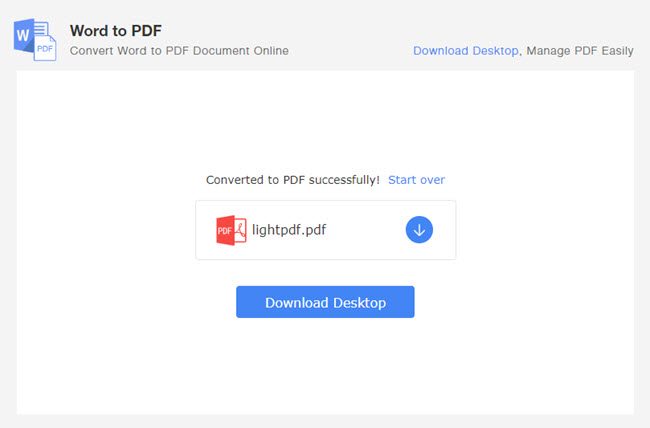 Use Soda PDF to Generate a Blank PDF File
The next program you can use to create a blank PDF is the Soda PDF. This PDF editor offers a desktop and online solution. The program is powerful, as it contains many useful features, and the online and offline versions look similar. The organized interface looks like the Microsoft Word interface, but it can actually process PDF and many other formats. Here are the steps on how to create blank PDF with Soda PDF online version.
Go to its online site.
Click the "CREATE" button and then find "Create PDF" tab to hit "From Blank" button. You will see a blank page generated.
At the upper left corner, find the "Save" icon to store this blank PDF.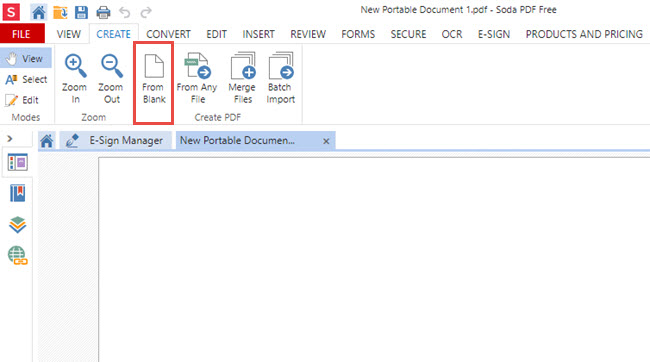 Note: Generating blank PDF is a free feature on both online and desktop software, however, Soda PDF is not totally free. For some of the functions, users need to pay for them.
Extra Tip
Once you have successfully learned how to create blank PDF online, LightPDF can also assist you in editing your file. You can use it to add signature, watermark, text, and figures, like shapes and arrows on the blank PDF. Below are the steps on how to use it.
Go to its "Edit PDF" page.
Drag and drop the blank PDF to the specific area.
Use the tools on the website to edit the PDF file and click the save button.

Last, hit the download button to get your document on your computer.
Conclusion
There are lots of programs you can use to create blank PDF. However, the mentioned solutions are two of the best tools you can use. Don't hesitate to try them, especially LightPDF, which can help you handle PDF files effortlessly.