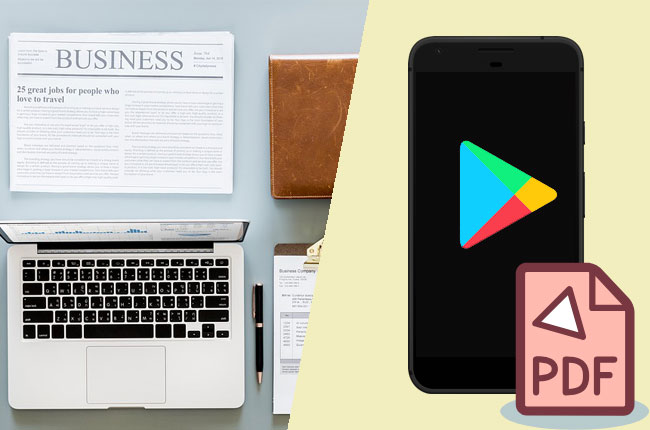 In our daily work or study, we may encounter some documents in PDF format. With this format, we can read the content easily on any devices, even on our Android devices, and the layout or fonts inside the documents won't be affected. But if you do get a PDF file on an Android mobile, but we want to convert, read or edit it, what should we do? Now, let's find out the best PDF apps for Android which will surely help you with your PDF files.
8 Recommended PDF Apps for Android
3 PDF Converters for Android
System Requirement: Android 5.0 or later
The first app we recommend is Apowersoft PDF Converter. This is a handy PDF apps which can convert PDF files to other formats that include Word, Excel, PPT, JPG, PNG, TXT and vice versa. Moreover, users can convert multiple PDF files at a time since it supports batch conversion. Aside from that, even novices can use this application without experiencing any trouble. And people who take advantage of this converter won't need to spend time optimizing the output files, because the converted documents are all exported in high quality.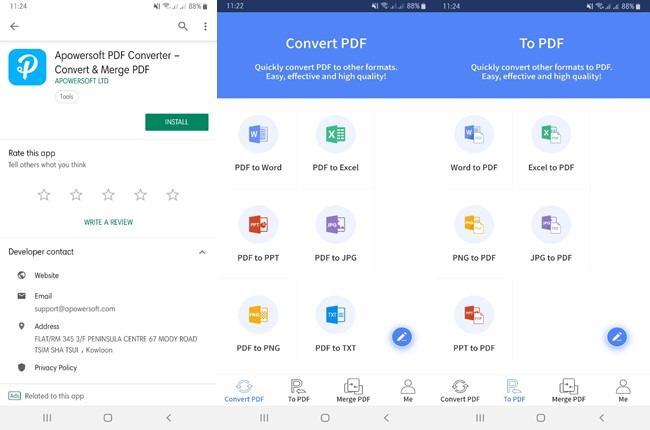 System Requirement: Android 4.0 or later
As for the second PDF converter for Android we recommend, it also allows users to convert PDF files to numerous document formats such as Word, PPT, XLS, TXT, and so on. Furthermore, users can upload files not only from the device storage, but also from Google Drive, OneDrive, and Dropbox, etc. Apart from converting document files, it can also convert many different images file formats.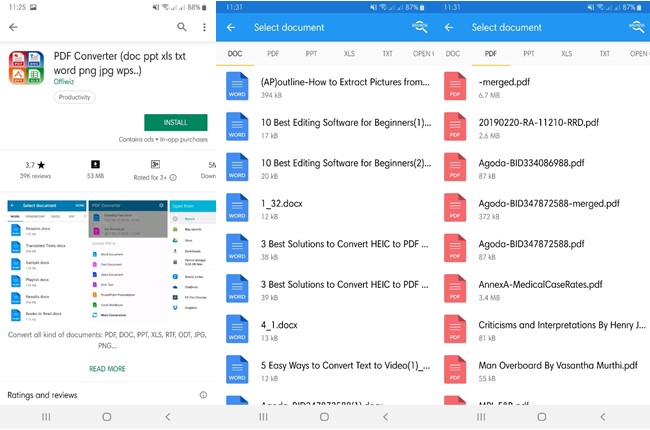 System Requirement: Android 4.0.3 or later
This PDF converter scores 4.4/5 in Google Play Store. It has a simple and straightforward program interface that is perfect for all users. In addition to that, it has a high conversion rate that converts files quickly. Also, it can works even while offline, so that people can convert PDF files anytime and anywhere.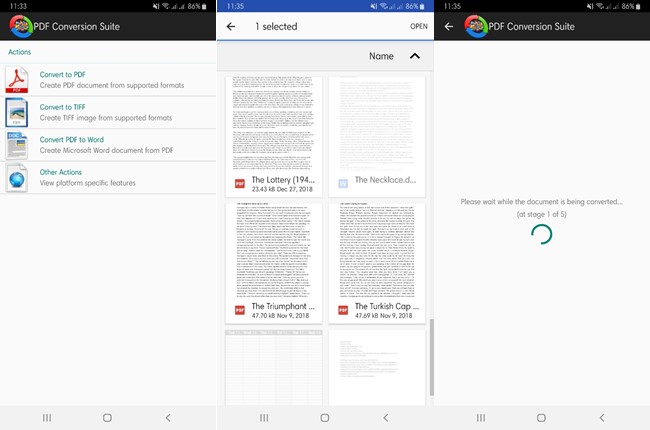 3 PDF Editors for Android
System Requirement: Android 4.1 or later
If one is looking for a simple-to-use PDF editor, then he should try Foxit PDF Reader Mobile. Even though its name implies that it is a PDF reader, it allows users to edit the content of the PDF files using their Android phone. Moreover, it enables users to add images, audio and even videos to the file. Better yet, users can also sign PDF files, optimize PDF documents and organize pages easily.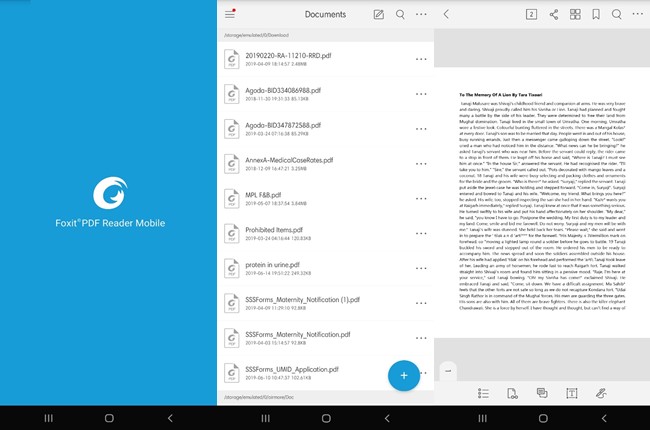 System Requirement: Android 4.1 or later
AndroPDF is another PDF editor for Android that allows users to annotate, write, draw and navigate PDF files. This application is able to search for text included in the PDF, highlight, underline, and strike through text on a PDF file. In addition to that, users have an option to create a PDF file using a HTML template. The good thing about this app is that it has two main modules which are the PDF module editor and file manager.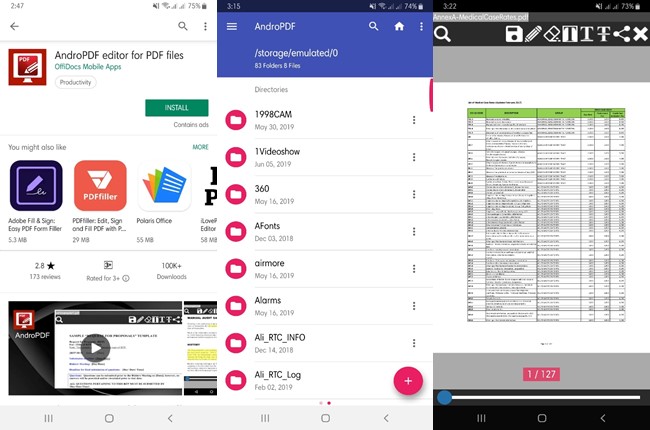 System Requirement: Android 4.1 or later
MaxiPDF PDF editor & builder enables users to enhance PDF files with its editing functions such as adding and deleting text, inserting images, and drawing lines, curves, paths, and other objects. Furthermore, users can use this app to create PDF files from its basic templates. However, its interface can be quite difficult to use for beginners.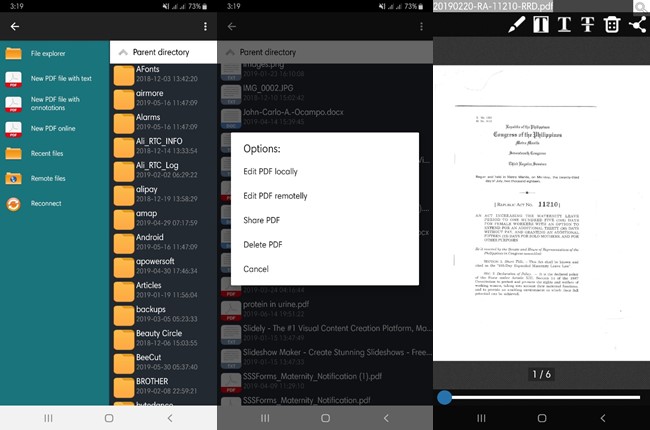 PDF Reader for Android
1. PDF Max – Fast PDF Rendering with Large PDF Support
System Requirement: Android 4.0 or later
To view a PDF with Android devices, people can use PDF Max. This app supports reading PDF files with smooth scrolling. It comes with page thumbnails, annotation list, search panel, text to speech and a lot of other features. Aside from that, it also has a smart zoom feature, so users can zoom in on the file by just double-tapping it.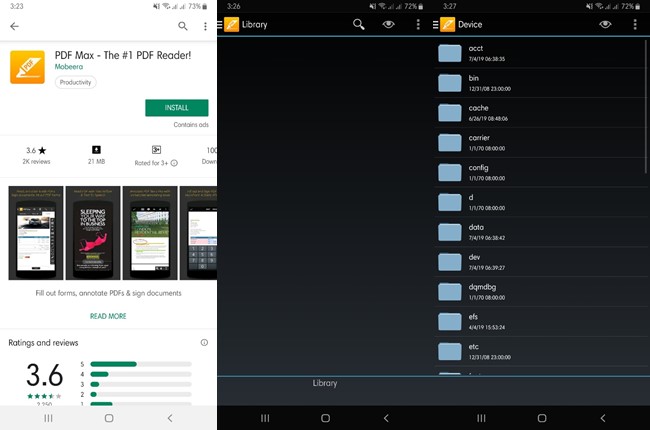 Conclusion
All the PDF apps for Android mentioned above could be helpful when you need to convert, modify or read PDF files. Each of them has some unique features you can try depending on your needs. Please let us know if any of these programs have helped you or if you know of other programs that are useful for all your PDF conversion or editing needs. Feel free to leave a comment below.