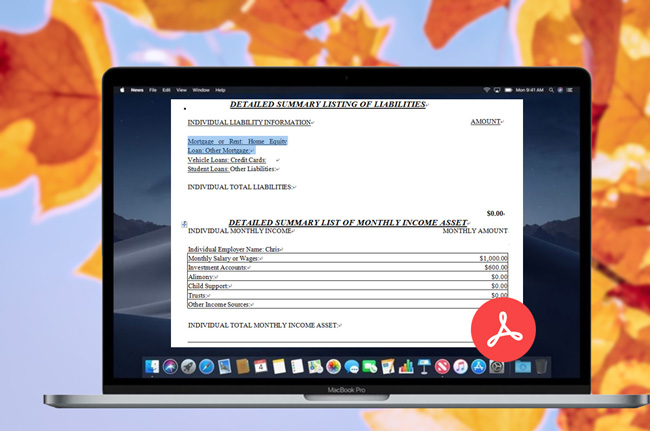 Have you ever been in a situation when you want to copy the content from a PDF file yet don't have the time to re-type word by word? Don't worry! We have several practical methods to extract text from PDF with just a few steps.
LightPDF is a powerful online PDF tool which can be applied for PDF conversion, editing, combination, protection, OCR, and more. It is compatible with Windows and Mac devices, and it supports the latest macOS – Mojave. All the PDF-related operations you need can be completed without installing any additional software onto your computer. What's more, it works quickly and efficiently. Using this web app to copy words or text from the PDF can simplify your life, allowing you to easily get the files just the way you want them. This guide will introduce different solutions to help you get words from your PDF using this great, free, online-based PDF tool.
3 Ways to Copy Text from PDF with LightPDF
Convert PDF to Word and Copy the Text
Visit its PDF to Word page on your Chrome or Safari browser.
Next, click "Choose File" button, and then select PDF file that you want to convert.

Once the file is uploaded, it will be directly converted to Word.
Lastly, download the processed file, open it and copy the text.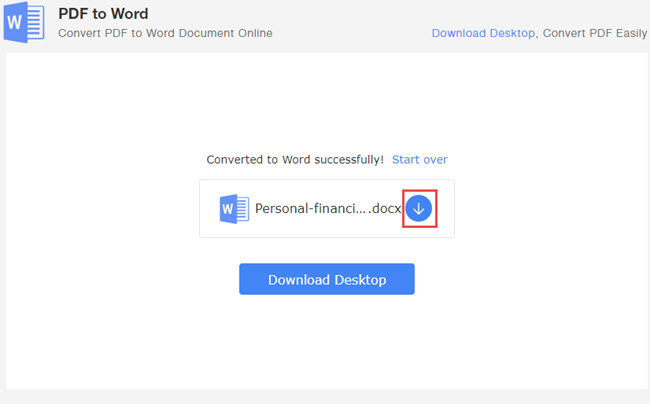 This method can output the file in high quality, and the display of the converted file stays the same as the original one. But it can only work for the editable PDF documents, so if your PDF consists of images or scanned files, you might want to try the solutions below.
Extract Text from Scanned PDF with OCR VIP Service
This OCR VIP Service allows you to copy words from PDF online. It can recognize the content in PDF and images, extract the text, and then convert the content to Word, Excel, PPT, RTF, TXT, etc. Better yet, if your file contains more than one language, you can select all the languages the document has to recognize. The output content is high accurate. Check the step-by-step process below to see how it works.
On your browser, go to the OCR page and log in your account.
On the left side of the page, click "Choose File" to add a PDF.

Select language(s) and output format, then hit the "Convert" button.

Once it is recognized successfully, hit the "Download" button to save the file on your computer.
Open the document and copy words from PDF.
If you want to work with the processed file elsewhere or you want to share it with others, you can click the share button beside the name of the document, and then click "Copy" to get the link of the file. After that, all you have to do is to share or paste the link.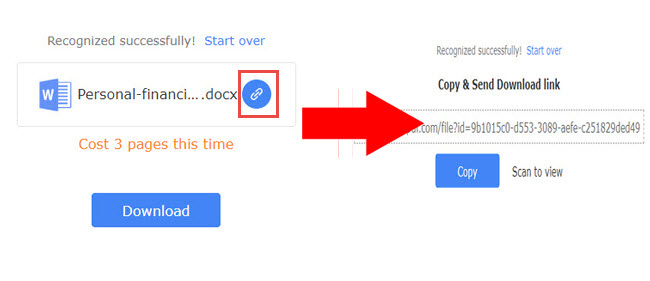 Extract Words for Free with OCR Basic Service
On OCR page, click "Choose File" under OCR Basic Service.
Upload the document and select a language.
Start converting and wait until the process is done.

Save the converted file on your computer and extract text from PDF online.
The OCR Basic Service is free to use, thus, you can make use of it to get all the words, sentences, paragraphs from your converted TXT without paying a single cent. It works as well as the OCR VIP service, but the limitation here is that it only converts it to .txt files, which will not keep the all the same formatting. For that, you need to try the VIP service.
Alternative Solution
Jinapdf.com is also a one-stop PDF website. Although it doesn't contain as many features as LightPDF, it can also work for OCR files. This tool is easy to use, and you can copy words with its Image to Text feature.
Browse its Image to Text function page.
Choose the language and upload the file.
Once done, click "Download Text file". Open the file and select the content to copy.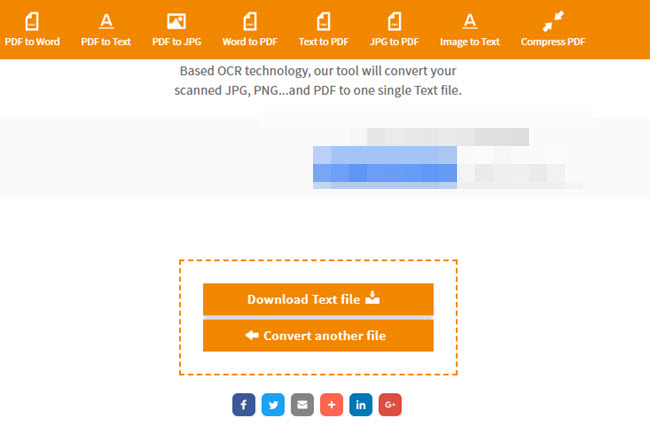 Its PDF to Word/Text pages can also help you copy words from PDF, if the PDF content is editable.
Conclusion
Now you can try one of the methods above according to your situation and needs. When comparing each of these services, LightPDF comes out on top as the best choice for copying words from a PDF, as well as the whole array of other PDF editing options it has, and it has a simple and clean interface without any disturbing ads popping up. Meanwhile, OCR VIP service is the best choice if you don't mind paying for it, because it offers professional features that others don't have.