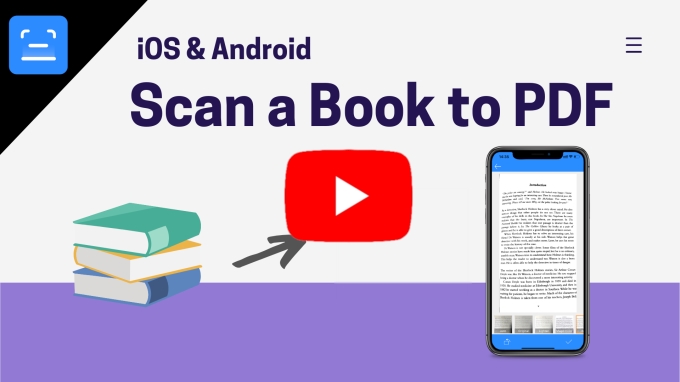 How to Scan a Book to PDF with Phone
Apowersoft Scanner (iOS&Android)
If you're looking for an on-the-go book scanning software, Apowersoft Scanner is the first option. It has a simple interface that is perfect for students, teachers, or anyone who needs a portable scanning device. With this, you can scan books, notes, and any document is as easy as winking especially if it is operated with auto-recognition and OCR technology. Furthermore, you can add signatures, extract texts from images, optimize your scanned documents, or even send them via Facebook messenger, Whatsapp, and email. To have a better experience on how to scan a book using your mobile phone, see the steps below.
Open the app and press the "Scan Document" icon

.
Next, hit the Camera icon to capture the document. You can choose the "Single" or "Batch" mode.

Choose one effect to optimize the scan. You can modify your processed document by resizing, cropping, and adding a signature. If you are finished.

Then click the icon "Done" to save the digital file in the app or export it as an image and PDF. Moreover, you can share it via Facebook messenger, email, Whatsapp, etc.
CamScanner
Another comprehensive book scanning software is the Camscanner. With its OCR and auto-recognition feature, it lets you scan any text, notes, or paper document with just a snap. With this, you can crop and enhance your files and still give you high-quality and clear scanned documents. Further, you can send your scanned book right away to your recipients. And to give you a better understanding of how to scan book pages using this app, here are the steps to follow.
Open the application. Then, press the camera icon in the middle of the interface.

Once the picture is captured, you can modify the scanned page by cropping and rotating it. Press the check arrow icon when you have everything in place.

Press the checkmark and the photo will save as a new document.
QuickScan
Next on the list is QuickScan. This book scanning app can digitize a book to pdf in just a few taps. It was developed for the students who struggled with their PDF schoolwork during the pandemic. With it, you can easily scan your documents because of its OCR feature. Even if it is just a newly innovated application, its ability to turn papers into PDFs is incredible. Below are the steps guide on how to scan a book to pdf using this program.
Launch the software. On its main interface, tap "New Scan".

Capture the page that you want to digitize. Then, modify your scanned document with its editing features.

After that, tap Done to save the file in PDF or JPEG format.
Adobe Scan
Adobe Scan is another powerful portable scanner that gives you the best way to scan a book into pdf. It recognizes text automatically through OCR technology and allows you to save your processed book pages into PDF or JPEG. Also, it enables you to edit your documents and send them to your recipient straight away. To give your further details, see the steps on how to scan a page from a book below.
Open the Adobe Scan app. Tap the circle icon on the lower middle of the interface and the scanning will start.

After this, you can either choose to retake the scanning or proceed to edit your scanned book page.

On the upper right corner of the screen, tap Save PDF to file your document.
Genius Scan
It seems cumbersome how to scan a whole book but through Genius Scan you can easily do it. This mobile application has no scanning limits so you can produce numerous digitized documents quickly. Moreover, it has smart algorithms that automatically detect your document, apply perspective correction, and enhance the colors. Additionally, you send it through email to your recipient. Explore the best way to scan a book into pdf with the steps provided.
Launch the program. Tap the camera icon in the bottom right corner of the interface.

After the capturing and scanning process, you can edit pictures and add effects to them.

Tap Done to save your document.
Notebloc
Last but not least is Notebloc. It is an application developed specifically for teachers and students who are searching for book scanning software. This app is equipped with smart detection, cropping, and editing features that make the scanning process very fast and efficient. Plus, it gives clear scanned documents without any watermarks and shares documents online: e-mail, instant messaging, social networks, etc. Here are the steps for using this tool.
Open the application and press the camera icon.

Once done with the scanning, you can modify the processed document.

Hit Save to file your scanned file.
Conclusion
Overall, the app listed above can help you convert book to PDF with no hassle. Each has a unique interface and features that will surely help you to turn printed papers into digital. Surely, these applications will let you scan your documents anytime and anywhere.