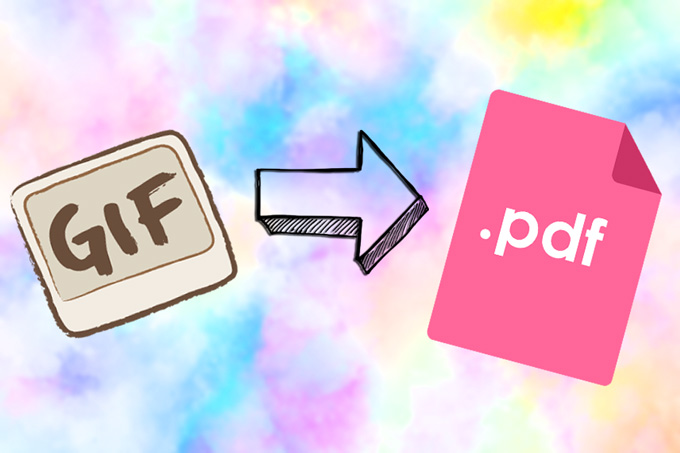 You may have already learned before how to convert JPG images to a PDF in order to create a portfolio, PDF book, or similar other digital content. However, for some other people, who want to view every image of GIF in PDF, finding a feasible conversion tool might not be so easy. Because some tools on the market just convert the first image to PDF rather than containing all the images and merging them to a PDF. After a few tests, we find out 3 free online programs which are feasible and can convert GIF to PDF perfectly on both Windows as well as Mac.
Free Tools to Turn GIF into PDF
Convert PDF Online
As its name implies, this site is mainly used for online PDF conversion. However, it offers much more as it also works for splitting, merging, protecting, adding watermark and more. It supports numerous formats, such as .HTM, .HTML, .DOC, .XLS, .PPT, .XML, .RTF, .EPUB, .GIF, .JPG, .PNG, .TIF, etc. This online tool can run on Windows and Mac devices. What's more, you could also use it for GIF to PDF on Android.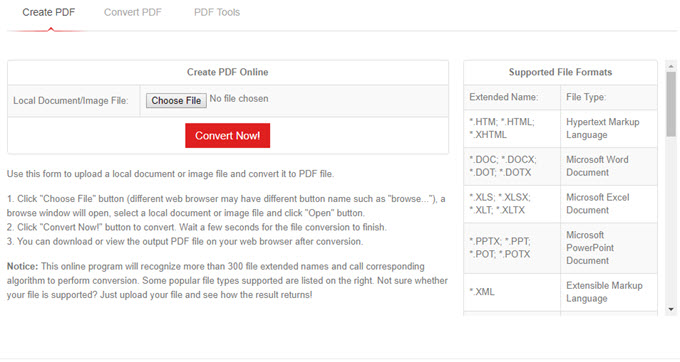 The functions of this site are very attractive, however, it has one disadvantage that it doesn't have any note for conversion, so when uploading a large file, users can hardly tell what is going on. Now, let's use the program to convert GIF to PDF online.
Go to its official site, and hit "Create PDF" tab.
Click "Choose File" to select and upload a GIF image and then click "Convert Now".

Wait until the conversion finishes, click the file name under "Output File(s)" to view and save the file.
Ezgif.com
Unlike the previously presented online program, this one is an online GIF creator and editor, which can help users convert, create, and even customize GIF files. To let its users convert and create GIF more conveniently, it allows users to upload image from local drive as well as the internet. However, it limits the size of the uploading file. Different functions have different limitations, for example, people can only upload up to 35 MB files to this online GIF to PDF converter. Below is how to convert GIF image to PDF.
Go to the GIF to PDF page, choose a GIF image and click "Upload".

Once done, you can preview the GIF image and set the page size.
Click "Convert to PDF" to start the conversion process. Afterwards, just hit the "Save" button to download the converted PDF file.
Online Converter
This powerful online converter can do more than PDF converting. It can convert files to video, images, eBooks, etc. Just like the previous tools, this one is also available on both Mac and Windows PC. Each function is easy to use and it can convert a file less than 200 MB. Now, follow the guide to convert GIF to PDF online.
After visiting its GIF to PDF page, choose your image source (You can choose "Upload File" or "From a URL").
Upload the file and click "Convert".

When it jumps to another page, use "Click here" button to get PDF file.
This online tool has one advantage compared to the other two: when you want to choose GIF under its GIF to PDF page, it only shows you GIF images. However, others will display files in other formats, making users difficult to find the target file quickly.
Extra Tips:
Now, you know three ways to convert GIF to PDF on your Windows and Mac, you can choose anyone of them to help you. However, in case you need other tools for PDF or GIF conversion, here are the tools you can try.
Convert Other Formats to PDF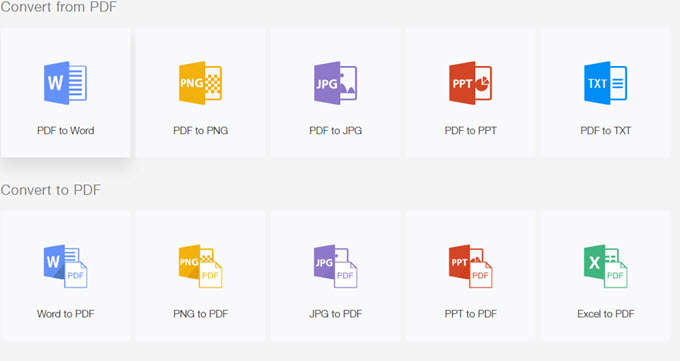 LightPDF is a mentionable free online tool that is able to convert PDF to other file formats and turn those files to PDF. The files it supports are PDF, Word, Excel, JPG, PNG, PPT, TXT. And it works well on all your devices, including Windows, Mac, Android and iOS.
Convert GIF to Other Formats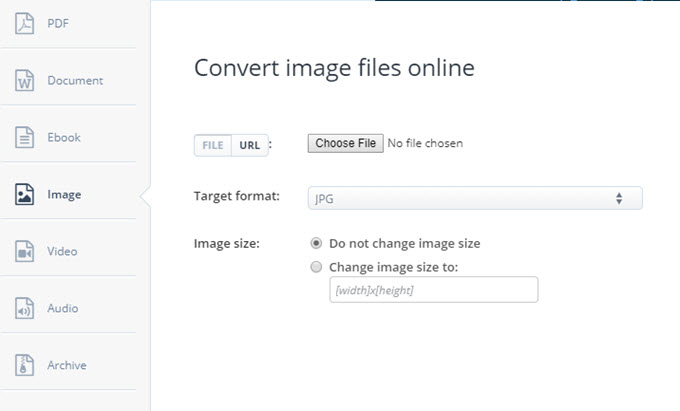 Aconvert.com is another powerful tool that can do many file conversions. And it can convert GIF on the internet or your computer to different formats, such as .JPG, .PNG, .TIFF, .PSD, .PDF, etc.