What are Interactive PDFs?
Project Proposal

Magazine

Brand Story

Catalog

Interactive PDFs allow you to put elements that can make your documents look more engaging. With it, you can add electronic hyperlinks, buttons, text boxes, movies, bookmarks, signatures, etc. It can also help you to create presentable and impressive designs for your magazines, catalogs, ebooks, newsletters, and many more.
6 Tools to help you Create new Interactive PDFs
Flipsnack
The first solution that we are going to discuss is Flipsnack. It is an excellent software program that allows you to create interactive PDFs and publish them as flipbooks. It has a library of templates to choose from and they are customizable to make them more realistic. With Flipsnack, you can make digital magazines and catalogs.
Follow the steps below to make interactive pdfs:
Visit Flipsnack's official website. Click the Get Started button and the program will ask you to sign up for an account.
Once done, click the Create from scratch button to make a new interactive PDF. You can also upload a PDF file from your device or your Drive.

Choose a size for your document, then hit the Create button. Then, you can select a template or customize it according to your preference. You can also add a link, text, video, shapes, and more.

You can Save your output on the program or share it with your team. And you can download it directly to your device as well.
Key Features:
Offers a collection of free premade templates
Add tags and captions for product promotions
Allow access and collaborate with team members
Add videos from platforms like YouTube
Share via email or any social media platforms
Bit.ai
Another flexible interactive pdf maker that you may use is Bit.ai. This platform is like WordPress, which allows you to add content to your PDFs digitally. Aside from this, it helps to manage workflows and documents which makes it ideal for businesses. It is also a secure platform and allow you to set admin controls and for team members only.
Here's how to use this solution as an interactive PDF maker:
The first thing that you need to do is to set your profile. After setting it up, you can access its interface.
Click the Create New button to get started. It will let you open a blank document, insert a template from the gallery, import a document, and add a new folder.

For now, let's choose a design from the Template Gallery. Once you have selected a template, click the Use template option to proceed.
You can modify Headings, texts, links, and symbols to make them more professional-looking. After customizing, you can export or share it with your team members.
Key Features:
Allows you to attached files
Create and organize folders with no limitations
Integrated with Cloud platforms
Document live sharing
Offers almost 100 professional templates
Publuu
Publish eye-catching catalogs, magazines, and other PDFs by converting them into flipbooks using Publuu. It is another web-based solution to help you add logos, links, videos, and sounds to your documents. In addition to this, you can also make page-turning animations to make flipbooks even more stunning.
Learn how to create interactive PDFs with this program:
Upload PDF or drag it to the conversion box. The platform will automatically process your document in just a few seconds.

Once the uploading process is finished, you can customize the document such as adding a name and description.
Moreover, you can set your flipbook's background including its colors, themes, and images. You can also put your logo by uploading it to the platform,

After modifying the content, download and print out the flipbook. You can also add password protection to it.
Key Features:
Website integration and embedding
Add flipping sound and animation
Output password protection and security
Online publications and sharing
Easy and fast conversion process
InDesign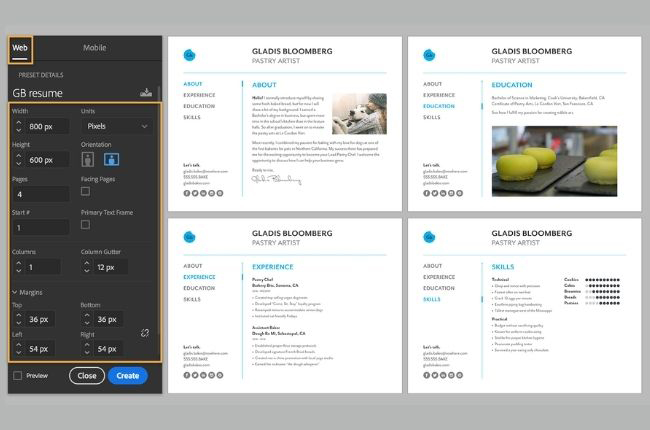 Make interactive PDFs using InDesign by Adobe Acrobat. This platform adds interactivity to your PDFs such as movies, hyperlinks, bookmarks, page transitions, and buttons. It can make your documents look more engaging and interesting to read. Moreover, you can easily use its interactive elements by just choosing Adobe PDF Interactive as the file format.
GraVoc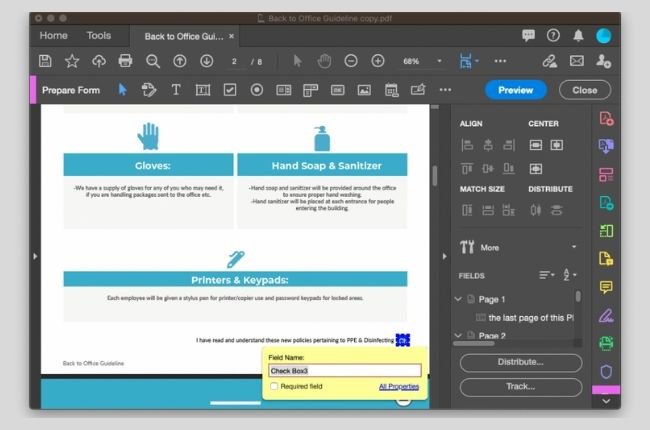 GraVoc is another powerful solution to make PDFs creatively. It offers engaging features that you can use to make stunning documents. Further, you can insert videos, clickable buttons, interactive checkboxes, radio buttons, and many more. Develop your creativity and start to market your business using this tool.
Visme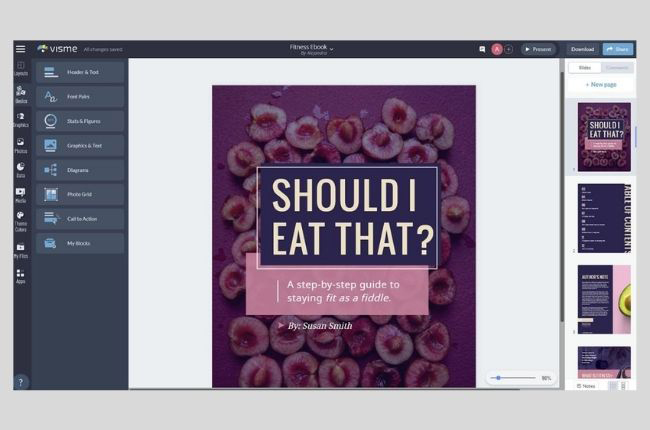 Transform your PDFs into stunning presentations with the use of Visme. It is an excellent tool that lets you create contents online such as presentations, documents, videos, and printables. Plus, it offers templates that make it easier for you to create impressive pdfs with ease. It also allows you to add the clickable menu, design infographics, pages, and link slides to your PDFs.
A Desktop PDF Editor
If you want a straightforward way to edit normal PDF documents, LightPDF Editor is the best solution.
It is an all-in-one program that lets you convert, OCR, sign, protect, merge, and anything else PDFs. It may be a lightweight application, but it can surely help you to edit and improve productivity in your workflows.
Why are Interactive PDFs important?
Reading PDF with only texts on it may be not so appealing for the readers. So, putting interactive elements may elevate their interest. Besides that, interactive PDFs are known to the business world to market brands and to create creative designs. We can't deny that PDFs are widely used and making them more fun is a challenge to the digital world.
Tips for Interactive PDFs
Let your imagination be your power.
Keep an eye on the details of your document.
For online publications, you can add videos, captions, and shopping buttons.
Put the brand logo on your online catalogs.
Choose a great tool to create your interactive PDFs.
Conclusion
PDFs may look lifeless without interactive elements. So, we have written down the solutions that you can try to bring your PDFs to life and can attract more readers to your websites. There is no doubt that with the innovation of technology now, Interactive PDFs are important. Use them today to market your business or even boost your presentations!