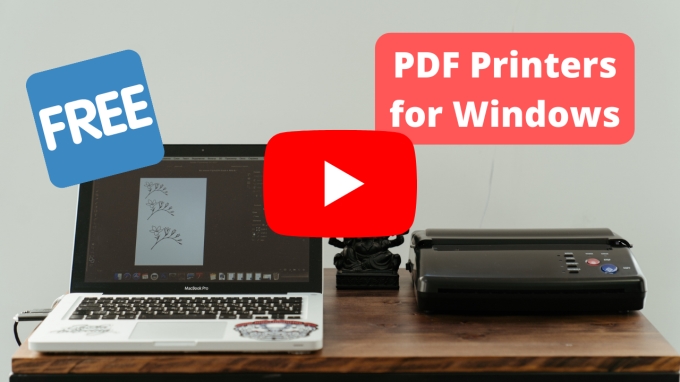 Portable Document Format (PDF) is developed to save files that cannot be modified contents but can be shared easily. In this matter, contents such as text, fonts, and information cannot be damaged or lost. This also means that when you hand it off to a printer, the content is still complete as it is and is not corrupted or missing. So, whenever you need to have a hard copy of your documents we highly recommend using a PDF printer if you want to feel confident in keeping your files looking professional without sacrificing their quality.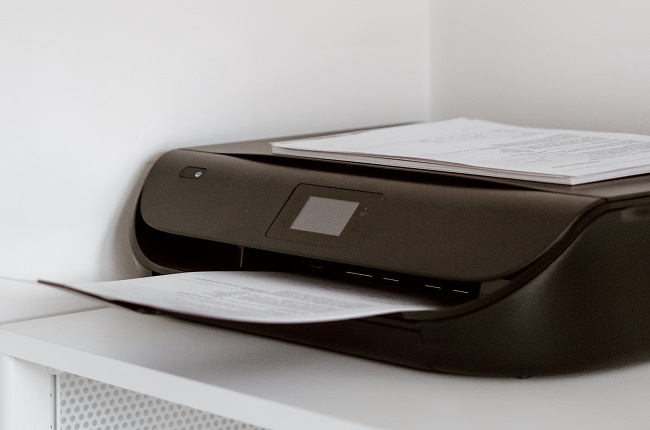 Why do we need to print a PDF?
There are some instances wherein you need to deal with PDF and have a printed copy of it. Let's say that you're working in the business industry, there are a lot of times wherein you need to have a digital and printed copy of your files. And if you're a student, it might be more convenient to have a hard copy of your book or lessons. Thus, there are still other cases where you might encounter PDFs and print them right away. For this reason, you may need a powerful tool to print PDF since Windows doesn't have a built-in feature to make a print-out copy of your documents.
PDF Printers Offline
LightPDF Editor
LightPDF Editor is the most comprehensible tool among the listed tools in this article. Why? As it is equipped with outstanding features to help you deal with your PDF tasks with no hassle. With it, you can use its edit, convert, merge, split, protect, sign, and many more features. On top of that, you can print PDF documents directly on this platform and it will make sure to give you high-quality hard copies that don't miss content on your documents. Additionally, you can configure printing settings such as size, number of copies, and page orientation before printing documents.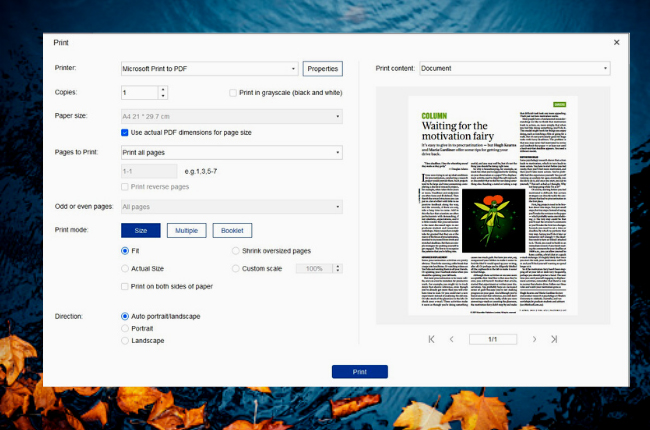 Pros
It is an all-in-one application with a wide range of features to manage your PDFs
Guarantee total security of your file
It gives professional-quality PDFs both printed and converted
Visually appealing digital and printed copy PDF files
Cons
To fully enjoy all its exciting features, it is recommended to have a premium account
ApowerPDF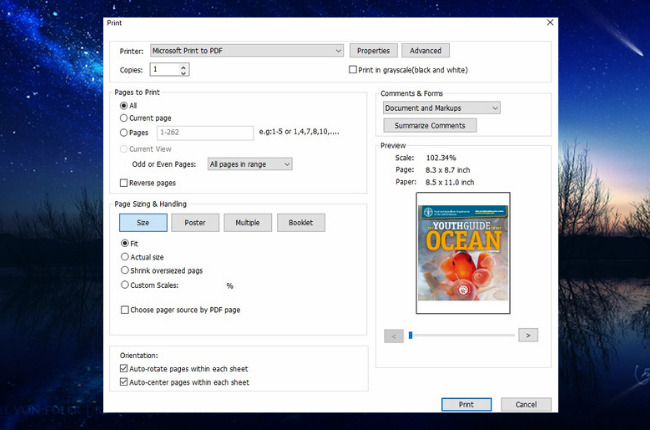 If you need a versatile solution when dealing with PDFs, then ApowerPDF is for you. It can be used as a PDF viewer, creator, editor, and converter. In addition to this, it also enables you to sign, merge, split, watermark, and print files with no hassle. Well, let's talk about its Print feature, it is very easy to use and you can configure its printing settings in a few seconds. It allows you to choose pages to print, set page sizing and handling, summarize comments, and configure page orientation.
Pros
Multiple PDF conversion for any formats
OCR technology to scan documents and turn them into searchable and editable contents
Easy and clean user interface
Cons
You need to avail of its paid version to fully enjoy other features
Win2PDF
Win2PDF is a comprehensive application in which you can create PDFs. It can be installed on your PC as a printer and it will give you quickly paper documents. Furthermore, it can also be used to merge PDF files from beginning to end of an existing file. It is also integrated with Outlook and other MAPI e-mail clients to instantly attach your files to share them via email.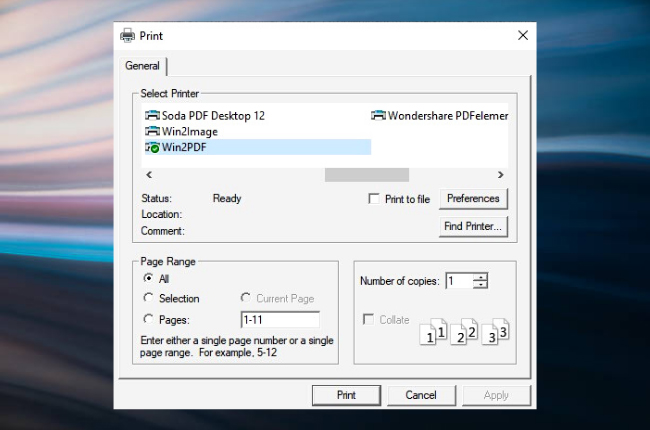 Pros
Offers a variety of features such as split, merge, encrypt, and compress
Advanced "Print File" feature
Cons
Needs to improve its creation and conversion feature
Compared to LightPDF and ApowerPDF, the content might not as professional from the first-mentioned apps
CutePDF
Made in our list of top PDF Printers offline is CutePDF. It is also user-friendly and enables you to convert a professional-quality PDF file to a printable document. Plus, it allows you to insert comments, create booklets, and interactive form fields. You only need to choose it from your list of printers on your PC to use to print your files straightforwardly.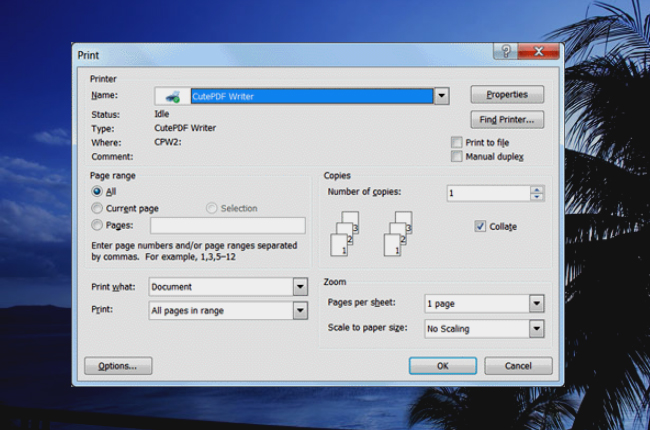 Pros
It is a feasible and free to use application
Offers 128-bit AES security to encrypt and restrict access from unauthorized users
Cons
Sometimes images contents on the PDF are missing
Need to install CutePDF Editor or a third-party app just to open a PDF
It cannot be used to convert PDF to other formats
Online PDF Printers
Docfly
Docfly is a flexible online tool to edit, convert, save, secure, and share PDF documents. Since this is a web-based solution, you can use it without downloading any software on your PC. What's more? You can save the time and energy you consume on using printers and scanners by just using to print PDF feature.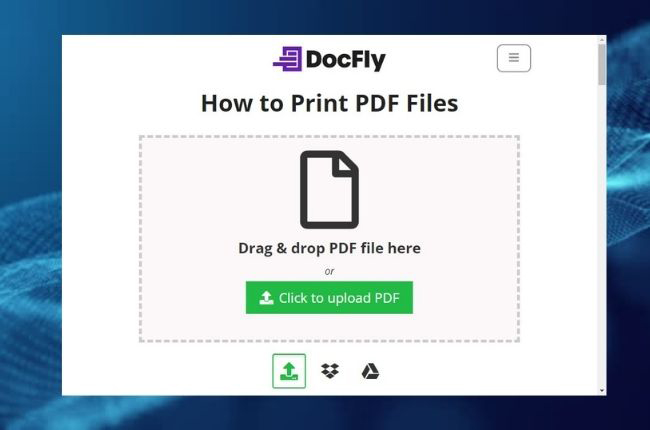 Pros
It enables you to schedule the deletion of your uploaded file
Great for merging PDF documents
It is an ideal online solution for PDF tasks
Cons
Slow processing of documents
Does not retain the original quality of the PDF
Doxzoo
Aside from Docfly, one more excellent web-based platform is Doxzoo. It offers an online document printing service wherein you can upload your files and they will print, bind and deliver your documents as early as 1 day. In fact, it is a very popular printing company that gives high-quality hard copies to its users.
Pros
Easy to use the website and the print quality is excellent
Quick and efficient printing service
You can just upload your file and Quickzoo will do the printing task
Cons
You need to pay for the service and delivery fee
Security of your file is at risk
Should I choose Online or Offline solution?
If you are having are a hard time choosing between online or offline solutions, then we will give a brief comparison of the two. Online printers are said to have fewer steps in the printing process and as a result, you can get your outputs quicker. It is also cost-effective and very convenient. There are some drawbacks of using web-based tools like without internet access you cannot print and use these tools. Also, there are cases that when you print out documents there is a possibility of losing contents. Frankly speaking, files are also unsafe to upload online and there are only limited platforms that are reliable and secure your uploaded files.
On the other hand, downloading offline printers may consume your effort, time, and money but in reality, it is all worth it! Yes, you read it right! There are testimonies of other people that they find offline printers safer and give more professional-quality printed copies of their PDFs. With the right solution such as LightPDF and ApowerPDF, you can be satisfied with the visually appealing documents that you aim for.
Conclusion
Overall, dealing with PDFs may be hassle-free with the listed online and offline solutions we have for you. Each of them has advantages and disadvantages that we should take note of. However, if you want a tool that will give you high-quality printed output, we dearly recommend LIghtPDF.