Are you tired of the old-school method of writing down notes on your lessons and then typing them on your mobile or computer again? Now, there is a technology called OCR, which can extract the text in a PDF or images and convert the content to Word or other formats. However, not all OCR programs on the market can recognize handwriting well. Thus, we searched and tested several OCR programs, and listed 5 awesome programs, you can choose one of them as your ideal handwriting-to-text app.
Handwriting Recognition Apps for Different Platforms
For Android & iOS
For Windows
For Mac

Apowersoft Scanner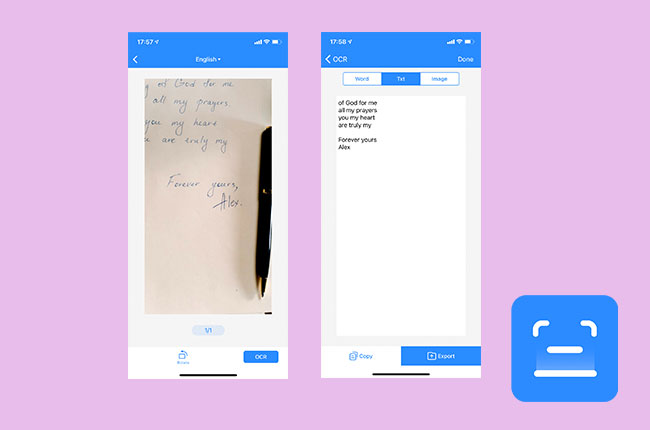 Listed as the best Android & iOS app for handwriting recognition, Apowersoft Scanner flaunts its powerful features to recognize what you write on the paper and even save or share it as Word, txt and image format to others via Facebook, email, WhatsApp, etc. Now, follow the step-by-step procedure for writing with this handwriting recognition app:
Install the application on your device, you can click the button below and download it.

After the installation, click the "OCR" button on the homepage.
Then

you can choose to select a picture in the album or take a picture on the spot

.

Lastly, by cropping and selecting filters, the handwriting can be converted into an electronic version.
Google Handwriting Input
If you use your Android device often, Google Handwriting Input can help you to write text using your Android device. This application provides cursive and printed writing with or without using the stylus. Moreover, users can express their emotions since it comes with numerous emojis. Android devices running version 4.0.3 and up can work without having any trouble.
You only need to download the app on your phone

from Google Play Store.

Then launch it then tap the "OK" button to agree on the Google Terms of Service and Privacy Policy and complete the settings, such as download languages.

And select the Google Handwriting as default.
Finally tap the text field and start writing.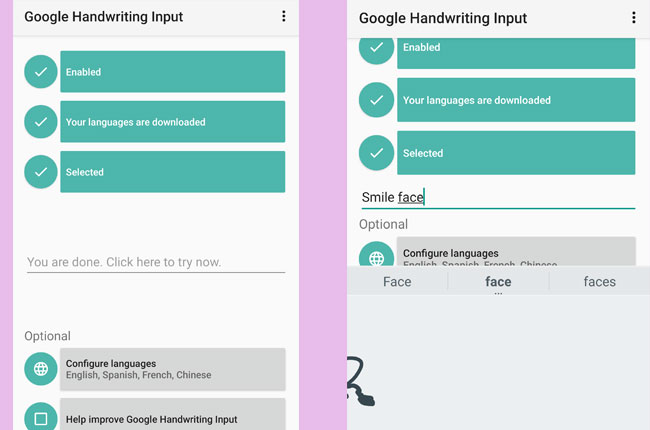 When you stop writing, your handwriting will move leftward and at the same time, it will show some choices about the content it recognizes. Choose the one you need and then continue writing.
There is an emoji icon at the bottom right when the writing field shows up, you can tap it to switch to draw emojis.
Pen to Print
Another handwriting OCR app is Pen to Print. This application can convert, scan, and recognize handwritten notes into digital text. It is designed for students, businessmen, teachers, secretaries, and more. Users need to make sure that their device runs an iOS version of 9.0 or later to use the app smoothly. In addition, it offers In-App Purchases for more features. See the procedure provided below on how this tool operates:
On your iOS device, install and open the app.
Tap the "+" icon, then select from photos, files, or camera.
Select the area that you want to scan. Then, check the text line by line and edit it if you want to.
After that you can save the text or export the text to other platforms.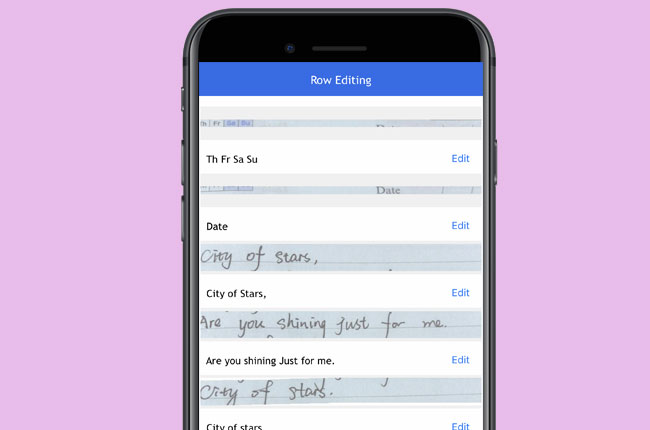 Nebo
Nebo is a perfect program for Windows PC that lets you take down notes, edit, and convert. With it, users can construct notes and headings using titles, bullets, and paragraphs. Aside from that, you can annotate pictures, add diagrams, equations, and much more. It also provides several languages such as English, Chinese, Portuguese, Japanese, German, French and Korean. In addition, users can export the file as Word, PDF, text, or HTML. To fully understand how this handwriting to text app works, see the steps below:
Launch the tool once installed.
Tap the "+" to create a new notebook, and you can choose the color of the font and use the pencil to write down the notes directly on your computer screen.
While you are taking the notes, the software will recognize your handwriting and once you are finished, double tap your handwriting, it will convert to text.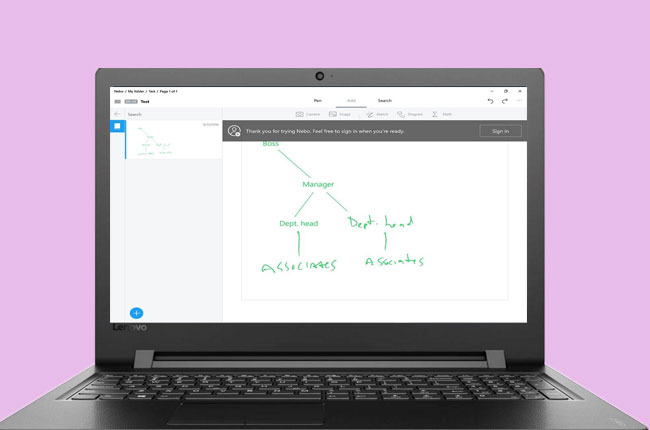 TIP:
If you want to highlight the text, you can double click the text and use your pencil to mark or underline the words and perform many more actions.
Ink
The handwriting recognition app we recommend for Mac is Ink. This is a built-in function for Mac that can recognize handwriting. This function only shows when a graphics tablet is connected to your computer. Users can easily enable handwriting recognition. Furthermore, this program is able to recognize German and French writing and text. Here are the steps on how you can utilize it:
Go to your Mac computer and plug in the graphics tablet.
Once plugged in, simply click on the system preferences and hit "Ink".
Enable handwriting recognition by clicking the "On" button beside "Handwriting recognition is".
Customize the pen, font, gestures, language etc.
Finally, open a program that accepts text input and you can start writing and drawing your content.
When you stop writing, this handwriting to text app will start handwriting recognition and the text will be added to the program.
Conclusion
It is a good idea to turn your notes into a digital format. Let's go back to the days without these programs, we may find it hard to remember what we wrote before, and it may not be convenient for sharing our notes. But now, with a handwriting OCR app, taking notes is becoming easier. Especially with Nebo, this can recognize accurately even when the handwriting is not good. Pen to Print is also highly recommended because it can turn our handwriting works in notebooks into text.