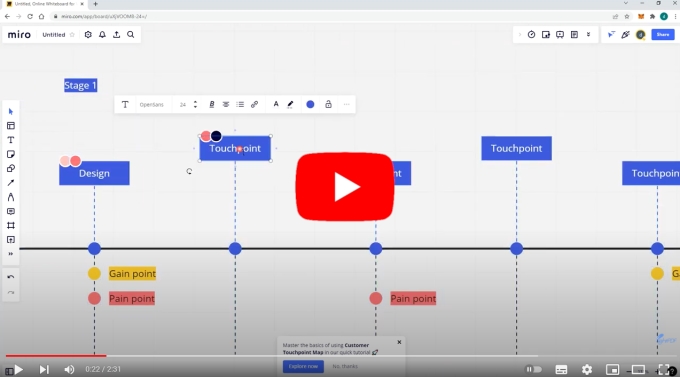 What is an online whiteboard?
An online whiteboard is a solution for learning, teaching, and collaboration purposes. It lets teachers manage classes and turn them into more engaging and interactive. Besides that, virtual classes can be conducted in the most creative way like in a real-time classroom.
What makes a good online whiteboard?
A good online whiteboard should provide a seamless learning experience for students and hassle-free teaching for teachers. Also, it should be user-friendly so that it will be easier to collaborate with students and for them to visualize everything that the educator is sharing. A good virtual whiteboard should be equipped with features that can make the class interactive and it should be an effective tool for learning.
8 Best Online Whiteboards
Miro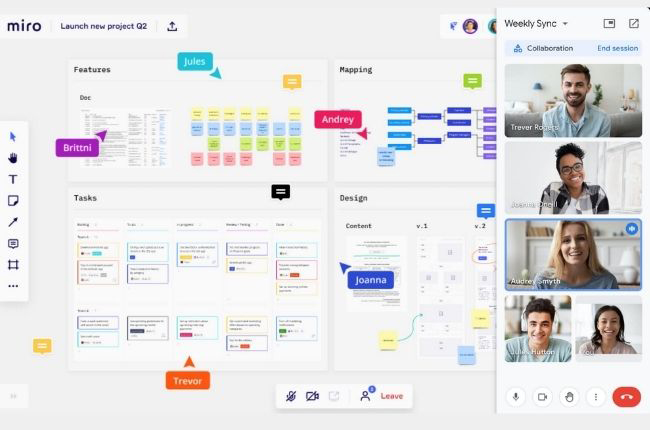 Bring teachers and students closer using Miro. It is a collaborative online whiteboard platform that makes studying efficient virtually. Moreover, It offers a variety of templates that you can use on zoom. This tool allows a group to brainstorm, assign tasks, hold a meeting, and teach online. You can also add texts, shapes, and sticky notes to make every presentation and lesson visually comprehensible and interactive.
Limnu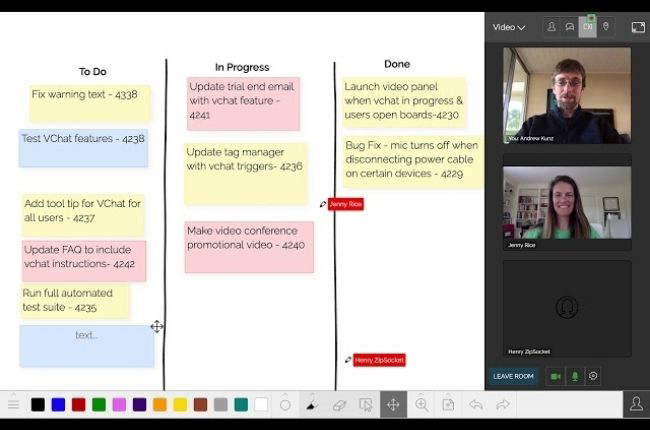 Limnu is a great online whiteboard for teaching with its intercommunicating features. It is the perfect tool for drawing and sketching, board organization, and group collaboration. One more good thing about it is that it keeps your ideas safe by giving the admin or teacher full control over who can access, share, or be invited on the platform.
Sketchboard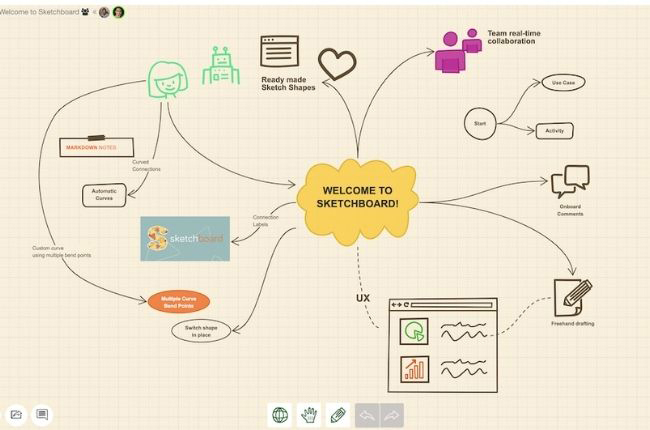 Let your ideas be heard by using Sketchboard. This whiteboard online software enables virtual learning fun and interesting with the use of diagrams, notes, images, and screenshots. You can brainstorm, collaborate ideas, and choose the visibility of your online diagramming and presentations to Personal, Team, and Public.
Stormboard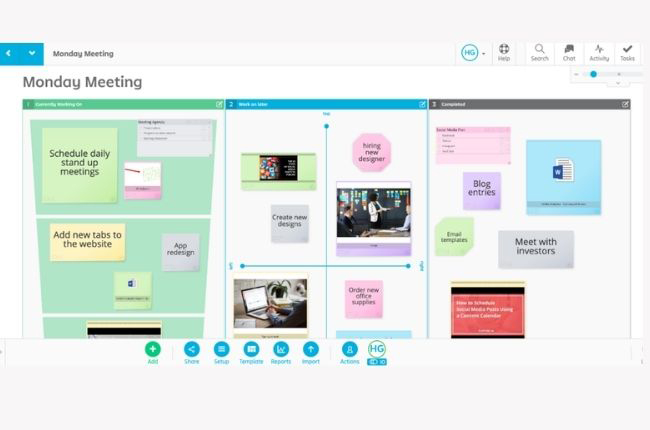 Stormboard is also another whiteboard solution for people who are working and studying remotely. It lets you engage and collaborate with others through its sticky-note style of sharing ideas. Further, it is integrated with applications including Word, Zapier, Google Drive, Slack, Cloud, and many more. This makes the collaboration and interaction with students and teachers more efficient and hassle-free.
NoteBookCast
If you're looking for another interactive whiteboard for online teaching, then choose NoteBookCast. There are numerous whiteboards template that you can use to teach, sketch, explain, chat, and brainstorm. Plus, you can make your distance learning fun with its integrated tools such as adding shapes, drawing, embedded texts, sticky notes, and laser pointer.
Moqups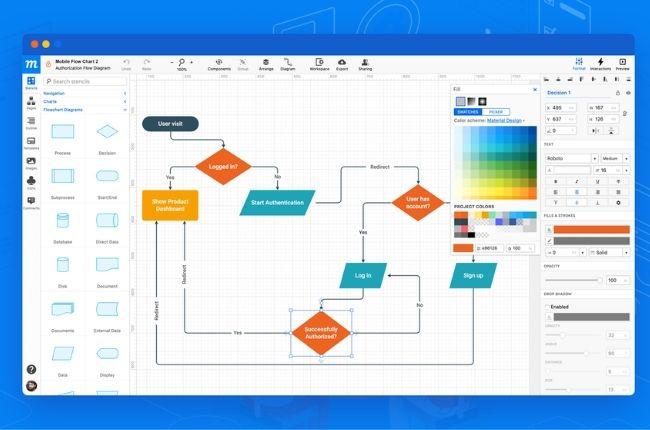 Visualize your concepts using Moqups and make your ideas into reality. It is a streamlined web solution that lets you create and collaborate in real-time through wireframes, mockups, diagrams, and prototypes. This flexible platform also helps maintain the students' focus and lets them communicate and cooperate on the discussion without any distractions.
Mural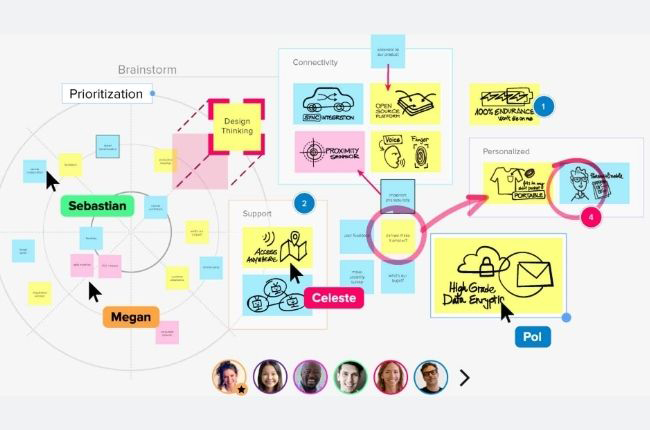 Mural promotes cooperation and collaboration through its exceptional features. It lets teachers and students contribute to brainstorming, learning, and problem-solving in a virtual setup. In addition to this, it has built-in templates already that make studying and teaching faster and effective. Build a strong connection to each other with its Zoom, Webex. And Microsoft Teams integration.
Lucidspark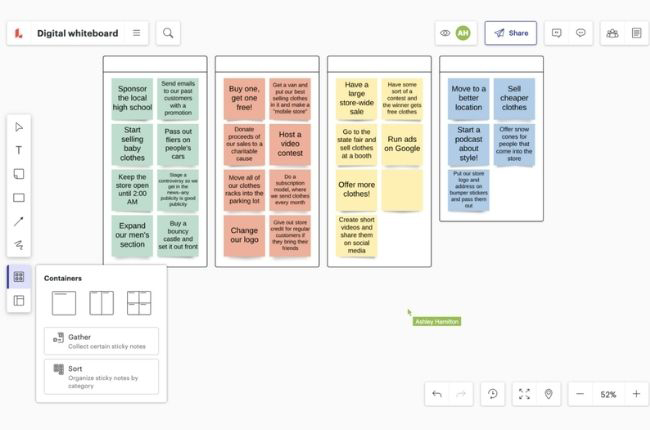 Work and study remotely with the use of Lucidspark. This online whiteboard platform enables teams to ideate and collaborate with its dynamic brainstorming tools. Further, it offers blank canvases and ready-made templates of boards that you can use to create fun activities and teach like you are in a traditional setting.
Conclusion
Online whiteboard is very beneficial nowadays whether for distance learning, a company meeting, or group brainstorming. The internet may offer you a wide range of online whiteboard platforms but choosing among these may give you some hard time. So, each solution listed above has its unique features that you may avail of based on your need.