One of the most celebrated days not just by couples but also by many people around the world is Valentine's day. It is a special celebration wherein you can express your love and appreciation to each other. Further, you may think about how you can put a smile on the faces of your loved ones and you want them to know how much they mean to you. Do you remember those days when you need to cut a paper into heart-shaped and write a message on it? Well, there's no need for you to complicate things because we got you covered!
Spread the love this coming Valentine's day with these thoughtful wishes and heartfelt messages we compiled for you.
Valentine's Day Wishes to My Lover
Looking for an idea on how to express your affection to your partner? Well, it's time for you to give her/him these valentines day wishes that will surely touch your heart. Do not let this special day pass by without making them feel loved and cherished.
Thank you for making my life wonderful and I just want you to know that you are the reason for every beat of my heart since the day we met. Happy Valentine my love!
Everything little thing about you makes you special and I hope this day reminds you how I deeply appreciate you for coming into my life. You deserve to be treated like a royal, Happy heart's day my beautiful human being!
When you came into my life, you made my dreams come true and you made my life worthy. My heart is full of love because of you and I just want you to know that this day is extra special knowing that you are forever in my life. I love you endlessly my Valentine.
On this day, I just want to say that I've never been sure of anything in my whole life until you bumped in and made everything magical. I am just truly grateful for everything that you do for me and you really the one for me. Hopefully, this day brings so much joy and love to us. Happy Heart's day!
I've been searching for love for so long and I can't believe that I have you in my life right now. This day I would like to remind you that being with you is the happiest place in the world. Thank you for the love and sacrifices my love, you are truly a blessing to me. Happy Valentine's day!

I may not tell you every day how much I love you but always keep in mind that my heart and my soul only belong to you. Happy Valentine's day!
You are a gift from above that I will treasure for the rest of my life. It may sound weird but my life will not be as perfect as now without you. You are my everything and I just want to celebrate this occasion every year only with you. Let's make this Valentine like never before.
I am a better version of myself because of you. Knowing you are by my side in every journey that I take and inspired me to reach my goals. Today, I hope your heart is as happy as mine.
You saved me from brokenness and made me believe that life has more beautiful things to offer. So today, my heart only desires to give the best valentines that you really deserve. I love you my Wonderwoman!
I only aim for one thing in my life, it is that you realize how beautiful a person you are from inside and out. Happy Valentine's day.
Valentine's Day Messages for SMS
Surprise your loved ones by sending them these romantic valentine's day SMS messages. Pick the best message that will surely catch your beloved's heart.
I would always be grateful to share my cup of coffee with you. Happy Valentine's day!
Love never gives up. Love doesn't surrender. Love is not Love without you. Let's share this valentine together and filled it with Love.
In your arms, I feel safe and loved. You are my comfort in times of trouble and my happy pill in times of sorrow. I will never let this day end without you knowing that I love you for the rest of my life.
I have been waiting for this time to tell you how special you are to me. Every day my feelings for you grow and grow. I don't know the exact words to say but would you be my Valentine?
You warmth my heart with your love and filled it with so much happiness. Today, I dedicate my whole self to you. I am yours forever my love, Happy Valentines!

You gave so much positivity to my life. Because of you, I appreciate even the smallest thing on earth. Thank you for everything and Happy heart's day!
There is no one on earth that will accept me for being who I am except you. So, this day is for us, for the love that we need to celebrate. Happy Valentine my forever!
Because of you, I will never wake up alone. I will never taste the bitterness of life. I will never look at this day as a simple one. Happy Valentine my better half!
Since you came, everything has changed in 360 degrees. You are the reason why I am happier and more confident now. I appreciate you and love you until my last breath. Cheers to more Valentine to celebrate with you!
Many people tell me that you are lucky to have. Well, they got it wrong because I am the luckiest person on earth for having an amazing person in my life. Happy Valentine's my favorite person!
Don't Forget to Send them to Friends
Do you know that Valentine can be celebrated with friends too? Well, this is the day to make them feel that you value the friendship you have by sending them these thoughtful messages.
You may be feeling down today, but do remember that you still have a friend that will support you all the way. Happy valentine's day!
We have shared a lot of memories together and I will forever treasure them as to how much I treasure you as my friend. May you enjoy this day. Happy heart's day!
A friend like you is hard to find and I would not let this opportunity pass by without letting you know that I'm blessed to have a friend like you. Happy valentines day friend!
F.R.I.E.N.D five letter word but only a few people deserve to be called as one. And today I'm glad to let you know you are one of mine. Have a great valentine's day!
FriENDships never ENDs when there is trust and loyalty. My heart is just so delighted that through the years we got this! Happy Valentine's day!

You never let me down and you joined me in all my fears and tears. I acknowledge all the times you have supported me. Happy Valentine's day Friend!
If I had to choose my friends, I will still take the chance to have you in my circle. You're a great person and hope you realize it today. Have a delightful valentine!
Many people walked away from my life and I'm so pleased that you stayed. And having a friend like you is a prize that I should be proud of. Happy Valentine's day!
Sometimes, all you need in life is a weekend getaway and a friend to share the journey with. We may get busy sometimes but I am still looking forward to bonding with you soon. Have a great valentine's day ahead!
A friend is like a living diary with whom you can share your happy memories and even dark secrets. I hope your Valentine's day is filled with the sort of love, joy, and friendship you bring to my life.
How can I make a Valentine Card?
You got some wishes and messages to send to your loved ones but if you want to make it more fascinating, you can use these listed tools to make a thoughtful Valentine card.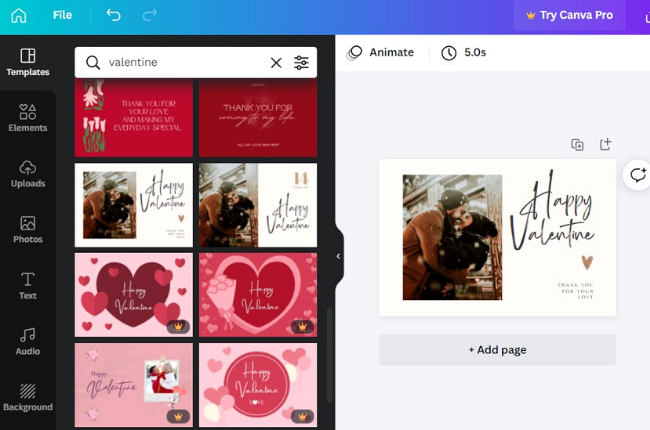 Canva is an innovative graphic design platform that is perfect for making invitations, business cards, Instagram posts, and many more. With it, you can create elegant valentines day cards without spending too much time and effort. One more good thing about this solution is that it offers ready-made templates that you can use. The first thing that you need to consider is choosing the right dimensions for your design, fonts, and background. Then, you can start customizing your card the way you want it.
PDFelement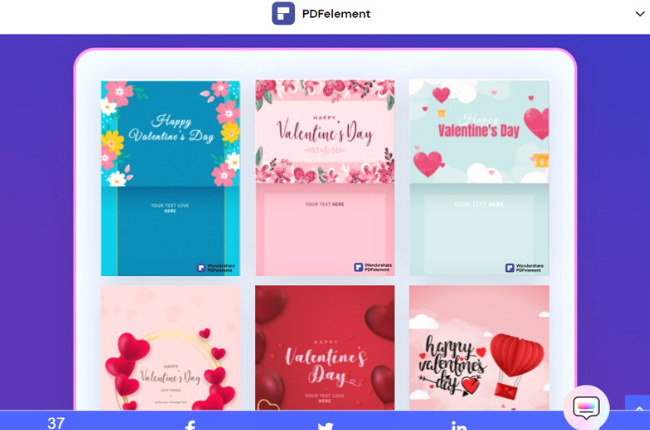 Another powerful tool that you can use is PDFelement. Aside from its PDF editing and converting ability this platform can help you make DIY Love Cards. You can choose among its Funny Valentine's Day Quotes, Sweet Valentine's Day Quotes, and Romantic Love Poems. Moreover, you can download greeting card templates and customize the printable templates it offers. Anyway, this site is giving away special promos that you can check out now.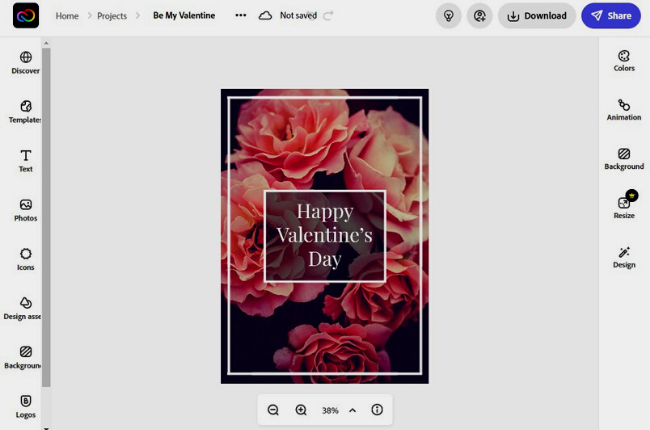 Make this Valentine's week extraordinary with Adobe Creative Cloud Express. You can use its available templates to design your Valentine's Day card. More than this, this tool is easy to use wherein you can pick a template depending on your preference or mood then add text or image that you want. Nevertheless, it has built-in templates that are editable, fun to explore, and can make your loved ones smile and be filled with admiration.
Conclusion
Valentine's day cards are very efficient to express our love to the people we treasure in our lives. As a matter of fact, there is great joy knowing that there is someone who remembers you on this special day. So, we have written messages, wishes, and tools to help you create a sweet valentine card. We hope that we helped you in our simple way and that you may have a delightful Valentine's Day!