2 Steps to Turn PDF to Long Image
Converting PDF into JPG with LightPDF
The first tool that could help you to turn PDF to long JPG is LightPDF. This is an online-based program that offers various editing functions that could help you sign, edit, lock, your PDF. In addition to its speech-to-text functions and OCR functions as well. On the other hand, it also provides reliable converting functions that include PDF to JPG, PDF to Word, PDF to PPT, and many more. It also provides safety and anonymity to the users by maintaining the privacy of the files uploaded and ensuring that they're deleted automatically after the file was processed.
To turn your PDF to long image here's what you need to do:
Go and visit LightPDF official webpage.
After that, browse through the tool's functions and look for "PDF to JPG" and click it.
Simply drag a file to process or click the icon located at the center of the box provided and locate your file.
When the file is uploaded click "Convert" to begin the process.
To save the newly converted images, simply click the "Download" button.
Combining multiple JPG into a Long Image
To finally convert multi-page PDF to single JPG you'll need a program to combine all of the converted JPG images into one. This is a must process for combining all of the images for free. We recommend you to use ASPOSE.
Enter the website and upload your images.
Select "Single page" and choose "Vertical" layout type.
Make sure the save file format is JPG, then click "Merge".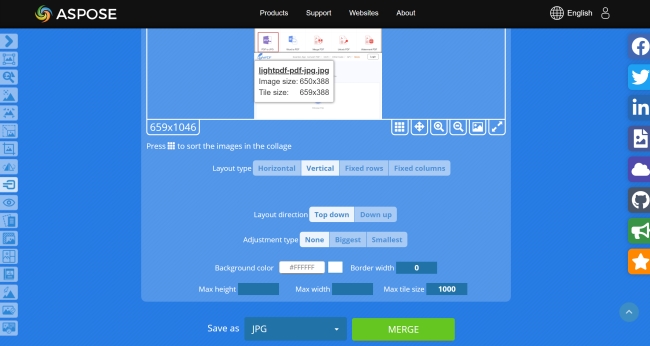 When do we need a long image?
Converting a PDF into a long image is necessary in cases where the device that you'll need to preset a certain PDF content only supports image and video files. It's also easier to share an image file rather than a PDF file especially if you wish to share it on different social media platforms.
Various LightPDF features:
It has a user-friendly interface
It doesn't have any limitations
Provides other useful editing functions aside from file conversion
It uploads and converts files faster compare to other programs
Moreover, if you prefer an offline program to do your PDF editing needs, then LightPDF also has a desktop version that you can utilize. This version offers more functions and can help you with your editing needs anytime regardless of your internet connection. Try and get it now through the button below.
Conclusion
And those are the finest ways for you to convert multipage PDF to single JPG. In downloading the processed images make sure to place them in a separate folder where you can extract all of the JPG files that you'll be combining later on. If you failed to do this, all of the images will be scattered across your desktop which causes a lot of mess, and you'll have difficulty arranging them.