Awesome Programs to Move Pages in PDF
Rearrange PDF Pages on Computer
1. PDF Candy
PDF Candy is a powerful web-based PDF program that is capable of moving a PDF page to a specific location. In addition to the reorder page function, it also contains convert, merge, split, delete, edit, resize and many more features. And you can manage your PDF documents on both Windows and Mac computers without any hassle. Below is how to use it.
Visit its "Rearrange Pages" website and choose an uploading method to import your PDF file.
Once it finishes uploading, you will see all the preview pages in that PDF, and you can put your cursor to delete, zoom in, or move PDF pages online.
After changing the order of PDF pages, click "Rearrange pages", wait for it to process and then download the file.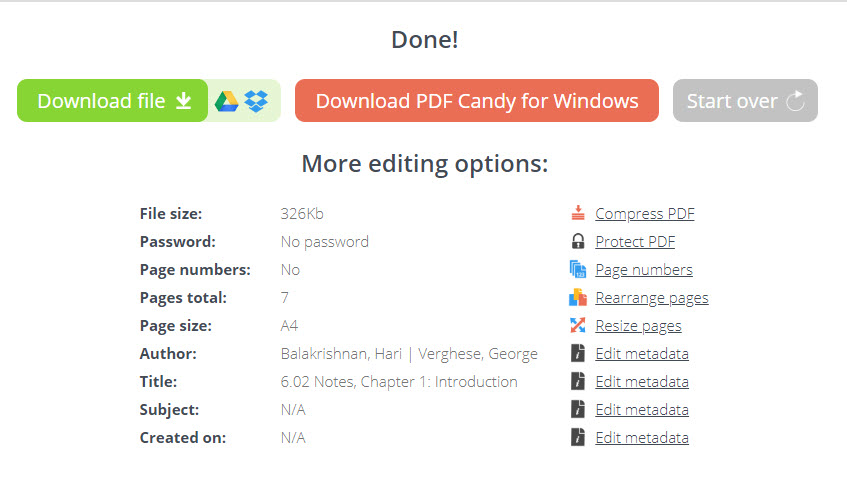 Pros:
It has a clear interface and is easy to use.
It offers more options for the user, so they can upload their files from different places and save them to different locations.
It allows users to manage the reordered document.
It provides many details about the processed file.
If you forget to save your processed file, you will see a notification at the upper right and have 30 minutes to keep it on the website.
Cons:
The processing speed will be affected by network condition.
Sometimes, for no reason, the webpage won't react when you click "Add file(s)" and upload a file.
2. Sejda PDF Desktop
Another way to move pages in PDF is using Sejda PDF Desktop. This online tool has an offline version, so you won't be bothered when there is no internet. The desktop software has the same interface and strong features as its online version. It can also work for PDF converting, merging, reordering, locking, unlocking, editing, etc. Follow the guide below to rearrange the sequence of your PDF pages.
Download the program on your Windows, Mac or Linux device and run the application.
Go to the "Visual Combine & Reorder" tab and click "Choose PDF files" to upload PDF file(s).
You can drag one page to change its position or use the "Shift" key to select multiple pages and move pages in PDF.
You can choose the storage place, rename the file, and then save the file.
Pros:
It can work without internet.
It can add more than one file, and can combine and reorder the pages within one tab.
It has preview image, and you can zoom in or out to check the content. Also, when you put your mouse on a page for a while, it will enable the magnifying glass function to look into details.
Cons:
It has limitations to the pages of a PDF document, file size, as well as the amount of the tasks.
Reorder PDF Page on Mobile Phones
In case you want to know how to move pages in PDF on your mobile and manage your PDF files on the go, here we introduce two apps to help you.
1. PDF Expert for iOS
This program not only can help you read PDF and change the order of PDF pages, but also help you edit PDF on iPhone and iPad.
To change the positions of some pages, simply get this tool on your device> hit the button beside "Documents" on the upper left > tap "Edit" > choose the page(s) you want to move > press the page(s) for about one second > drag and drop the page(s) to where you want to put > hit "Done" to save the changes.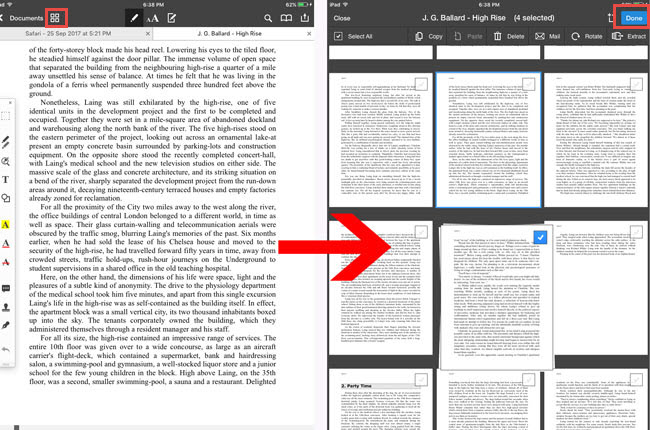 Pros:
It works just like the desktop PDF editors.
Cons:
Without the guide, users may hardly to know where to reorder or add PDF pages.
2. PDF Page Extractor and Removal for Android
As we can see from its name, this mobile PDF application works on extracting PDF pages and deleting unwanted parts as well. So, if you are going to manage your PDF page just like rearranging the pages, then you can consider this app. Now, let's move pages in PDF with this app.
Install the app from Google Play > tap "ADD" > choose where to select the documents and import the file > pick the file > hit "SELECT" > tap the three dots button at the bottom of the page > choose "Move page to position" to rearrange the PDF pages.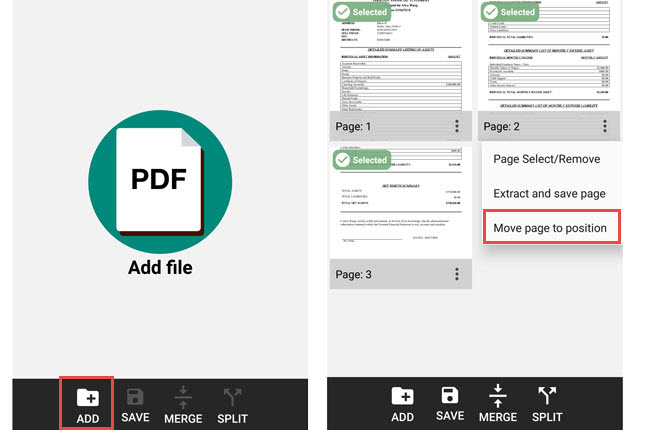 Pros:
Simple interface which makes it easy to use.
Can manage PDF pages with just a few taps.
Cons:
It needs a while to import large files even from the mobile file folder.
Conclusion:
The tools we recommended above can truly help you to swap page in PDF files. Even though you have never tried it before, you can get the ways in seconds. If you don't need to rearrange PDF pages very often, you can choose a online PDF tool without registration. It would be fast.