5 Recommended Protect PDF Solutions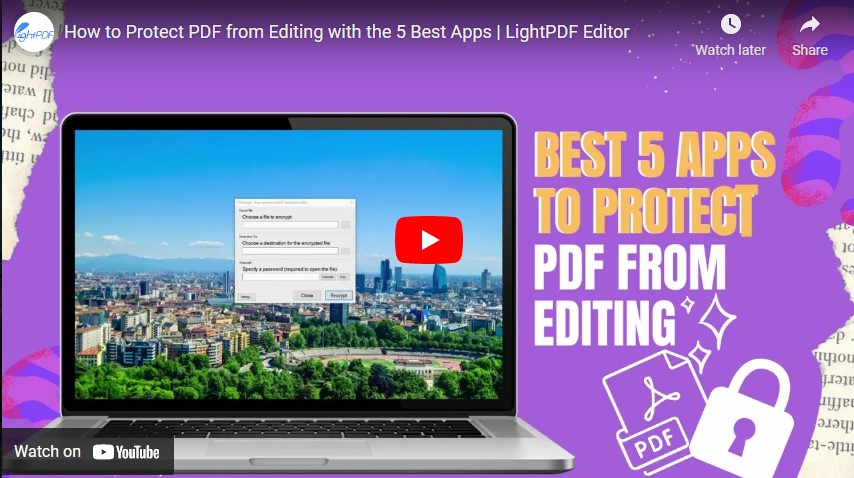 LightPDF Editor
Method 1: Set permission password
Have full control of your document with LightPDF Editor. Its Set password feature helps you to secure your confidential documents by encrypting them with a password. With it, you can guarantee that your files are safe from being accessed, copied, printed, and edited without your permission.
Protect PDF with a password:
Launch the LightPDF Editor on your device. Upload a document by clicking the Open button.
Once you opened the PDF document, navigate to the Tools panel and click the Set password option.

On the pop-up window, tick the box before Open password> Enter password> Confirm password. In this case, your file will require a password every time you will access it. Next, check the box before Permission password > Enter password> Confirm password. This will let you secure your file whenever you share it with others. You can configure the printing, modification, and copying settings of your file.

Lastly, choose the encryption algorithm of your document with up to 256 AES bits. Click the Save button so that the program will instantly protect your PDF with a password.
Note: Click on video tutorial to learn how to use the LightPDF Editor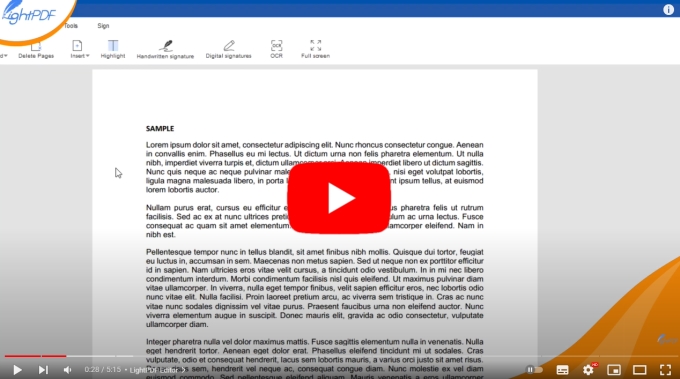 Method 2:Convert PDF to Image
As the LightPDF Editor is known for being an all-inclusive editor, it doesn't only password-protect your PDFs but also converts them to your desired format. Turning PDF to Image format is an effective way to restrict others to modify your files or edit their contents. Fortunately, this app helps you to quickly turn them into picture format without losing quality.
Turn PDF to Image
Open a PDF document on the loading panel.
Click the Convert button and hit the To Image option. After that, the program will instantly transform your PDF into JPEG.

To check the images, click the Open button and you can see that your PDF is already in image format
PDFEncrypt
As its name suggests, PDFEncrypt is an open-source tool that you can use to protect your PDF using standard algorithms. The content of your document becomes unreadable once it is encrypted. Plus, it can be only viewed in Adobe Reader or Adobe Acrobat and will require the password to open the file.
On the PDFEncrypt window, select a file on your device that you want to encrypt.
After that, choose the location of the encrypted file or you can create a folder to organize all your processed files.

Create a password or let the program generate it for you. Configure encryption settings and then click the Encrypt button.
Wondershare PDFelement
Referred to as a promising PDF software today, PDFelement enables you to manage PDFs with its different features. It includes its Protect tool to avoid unauthorized editing of the documents. In addition to this, it lets you choose the encryption level to protect PDF as you desire.
Once your document is uploaded, go to the Protect panel of this program.
Next, click Set password and a pop-up window will appear. You can check the box before the Open Password option to create a password whenever you want to access the file. Then, check the box before the Permission Password option so that you can set a password to grant permission for modification of your PDF.

Hit the Save button in order for you to save the changes you've done to the document.
Soda PDF
Soda PDF is one of the widely used PDF editors and converters that you may also use to add restrictions to your documents. It allows you to create a password for your file 256- with bit AES encryption. In this matter, no one can access it without your permission.
Open the file that you wish to add protection. Hit the Secure tab and choose Restrict Permissions menu.
Turn on the Require Password to Open the Document option and set your password.

Finally, click the APPLY button to add the password you've made to the document.
Adobe Acrobat
Last but not least, Adobe Acrobat is well-known for developing Portable Document Format (PDF). Aside from its viewing, editing, and converting features, it also offers its password protection tool for a premium subscription. With it, you can set a password to secure PDF from being accessed and used by other people.
Follow the instructions below to add a PDF password:
Upload a PDF file and click the Tools > Protect
Choose between restricting the file from editing or encrypting it with a certificate or a password.

Set a password and configure security settings. After that, click Ok > Save and the program will automatically restrict others to access or make changes to your file.
Conclusion
Making sure that your PDF files are safe from hackers and content misused is difficult. Luckily, these listed solutions can help you secure your PDF in their own way and with unique features. Above all, we can conclude that LightPDF is the most flexible and efficient tool to prevent others from editing and invading your data.