How to Convert Bank Statement to Excel online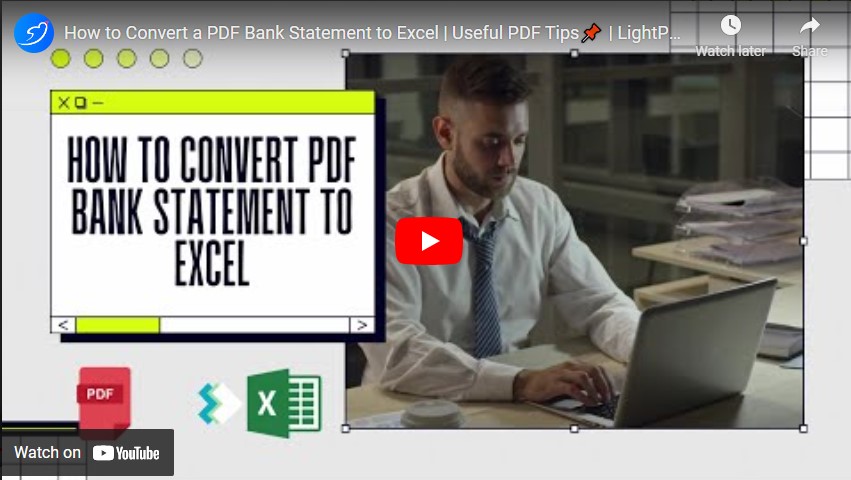 Using Free Online Tools
To successfully turn your PDF to an Excel bank statement, you have a couple of options that you can choose. The first one is by using web-based free applications that are capable of turning your PDF statement which is in PDF format into .xlsx which is an Excel file extension. You can find numerous tools online, and some of the finest ones are provided below.
1. LightPDF
In planning to turn your bank statement from PDF to Excel and free of any charge, LightPDF is the best tool that you can utilize. This web-based app is equipped with numerous PDF editing functions and a decent PDF converter that could help you easily transform your bank statement into an Excel document. The other functions that you can find with this app include the signing, merging, splitting PDF, adding watermark to PDF, OCR, etc.
To convert PDF bank statement to Excel for free here's what you need to do:
Go and visit LightPDF's official page and look for the "PDF to Excel" function.

After that, upload the file you need to convert, click on "Convert" and wait for converting.

When the process is done, just click the "Download" button to save the file on your desktop.
Here is the converting effect of LightPDF: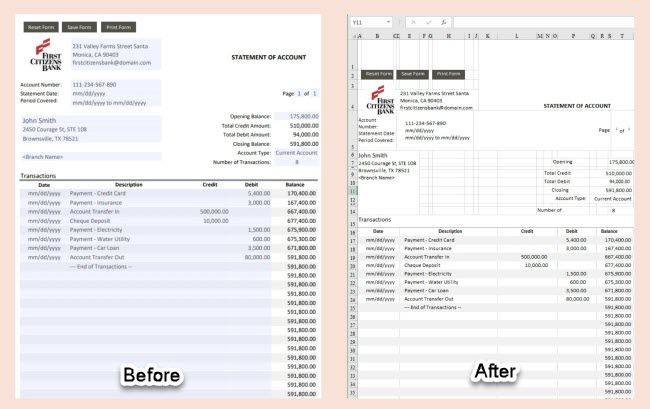 2. iLovePDF
This next free online program that you can utilize is iLovePDF. This is a well-known app, especially for those who often convert various files into another. Aside from converting multimedia files, it also offers document conversions. Transforming your bank statement into an Excel document is not complicated at all. All you need to do is to upload the file inside the app, select an output format and then click "Convert". However, PDF editing functions are not offered in this program.
iLovePDF effects contrast: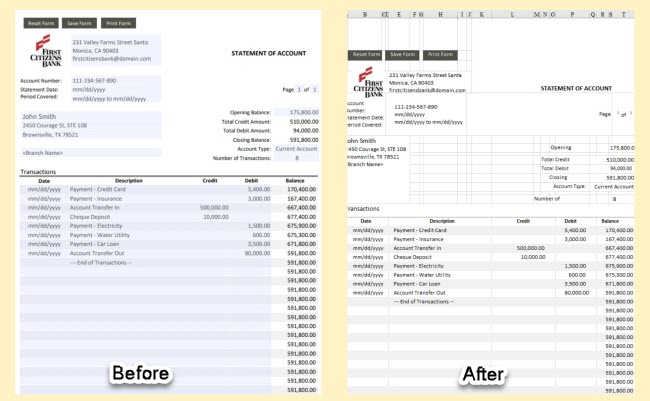 Using Desktop Program
Do you want to convert bank statements to excel but don't trust online applications? Well, a desktop program is what you might be looking for. By using a desktop tool, you can edit and convert PDFs regardless of the internet connections. It's also more stable and offers a lot of different PDF editing functions to use.
If you are interested in this tool, now you have the chance to get LightPDF VIP for free.
The desktop version of LightPDF is a perfect tool to convert PDF bank statement to Excel. Although this tool is not free, it thus provides extended functions that can make your tasks easier. It features both PDF editing functions and PDF conversion but is more extensive and feels more premium than its online version. Besides that, you can find the form function in the desktop version, which is not included in the online version. Converting your PDF to Excel bank statement through this tool is also faster since there's no need to upload the file online and its conversion speed is fixed and will just depend on how big the file that you'll edit is.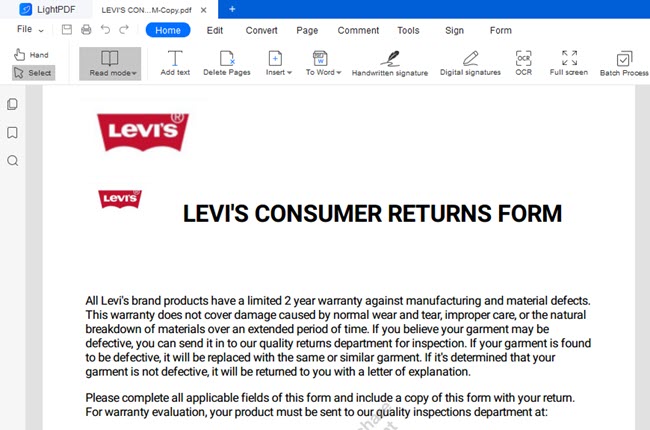 Extract PDF pages
Moreover, if you wish to rip a certain part of your bank statement only, the tool's "Extract" function can help you with it. Just open your PDF file, go to "Page" and then "Extract". Select the page to be extracted. You'll also be given an option either to extract pages as separate files or delete pages after extracting.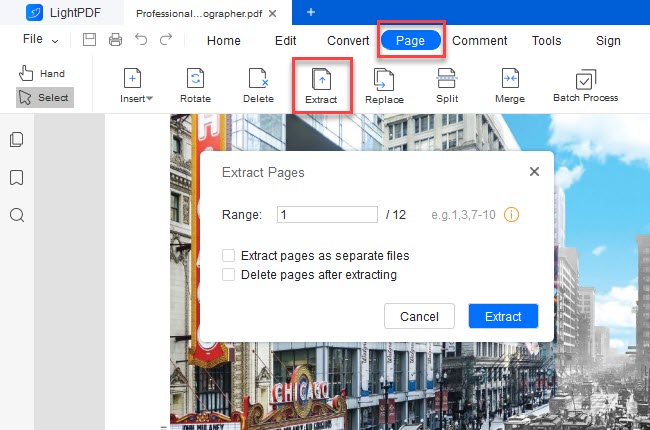 Convert PDF to Excel
To turn your bank statement from PDF to Excel, simply follow these steps.
Launch LightPDF and open the PDF file.

After that, click "Convert" from the top menu and select "To Excel". And the conversion process will begin right away.

Once done, the converted Excel file will be saved instantly to the output folder.
Combine PDFs
After you extract some pages from your monthly bank statement, and wish to combine it from the other month's statement. You can make it possible through LightPDF's "Merge PDF" function. It can help you combine PDF files despite bank statement.
Conclusion
Settling monthly bills is indeed a serious task, that is why it is necessary to tally everything properly. And this task could be easier if you convert PDF bank statement to Excel, so that you can accurately copy the figures as they're before computing them. That's why next time, be sure to use the ways and tools that we discussed above to ease your burden of managing your bank statements.